Coronavirus dealt brutal blow to Gandhian 'Charaka'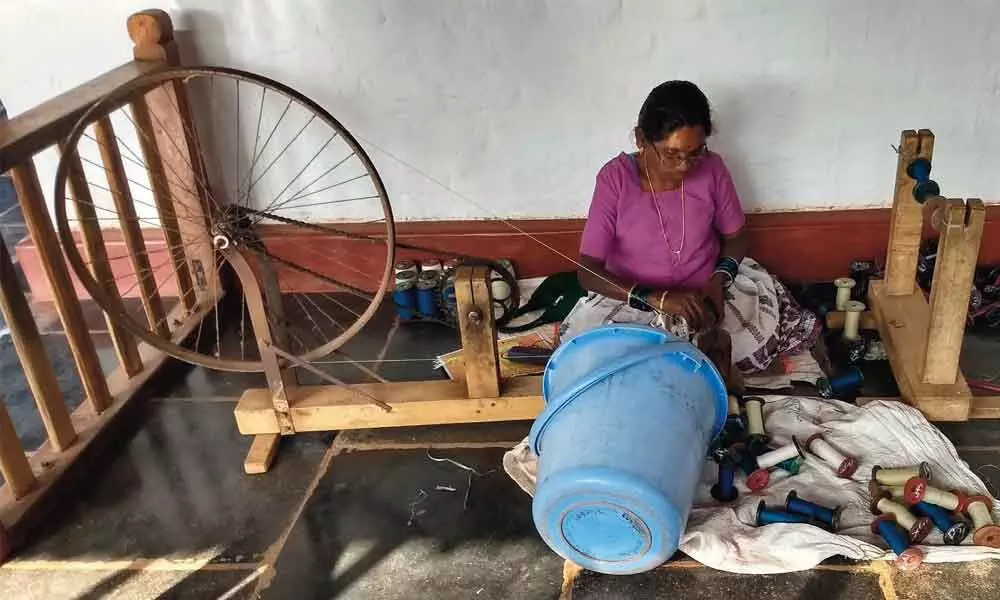 Highlights
The pandemic has dealt a brutal blow to largest naturally-dyed handloom fabric manufacturer, Charaka
Benagluru: The pandemic has dealt a brutal blow to largest naturally-dyed handloom fabric manufacturer, Charaka. In Karnataka's quaint village Heggodu, Covid-19 threw the lives of more than 800 weavers, dyers, and tailors out of gear. However, not to be cowed down by the pandemic impact, the weavers and tailors have launched a 'silent Satyagraha.
On Friday, the women employed with Charaka have engaged in de-silting tanks, building mud walls, creating art works, and several such activities in order to revive the organization. By cleaning the premises of the Heggodu Village Gram Panchayat office, through their symbolic act of 'satyagraha', the weavers and tailors have begun the task of removing the eclipse of ailing Gram Panchayat system and of bureaucracy.
"As part of this Satyagraha we are giving a call to all those engaged in agricultural labourers, cobblers, artisans, weavers, crafts persons and urban to begin cleaning premises of their respective village and town panchayat offices to take the Satyagraha to all villages and urban localities," the statement of Charaka read.
Charaka markets its handloom products through Desi, a charitable trust, is now saddled with a whopping 87,000 metres of unsold fabric. Desi has 15 stores in Karnataka and is left with a stock of garments worth around `1 crore.
Even though the lockdown saddled the economy the weavers society continued to pay its weavers, dyers and tailors.
"Charaka is the largest manufacturer of natural dyes in the country. Ever since people have got to know about Charaka at the verge of collapse we have received thousands of phone calls from across the country and abroad. Charaka is a symbol of rural poor fighting relentlessly for their livelihood.
However, the plight of a huge multitude of people engaged in agriculture and small rural industries is much more catastrophic. This situation inevitably calls for a sustained movement. Hence, women have, today, begun a peaceful Satyagraha to sensitize all concerned on the present crisis.," Prasanna founder of Charakaa said.
He has apprised the chief minister, B.S. Yediyurappa, about the decision to close Charaka owing to cash crunch. He also pointed out that Rs 1 crore was sanctioned by various state governments in the last 15 years for various projects but not a single paisa from that amount reached to the weavers.