99 trees chopped, more face axe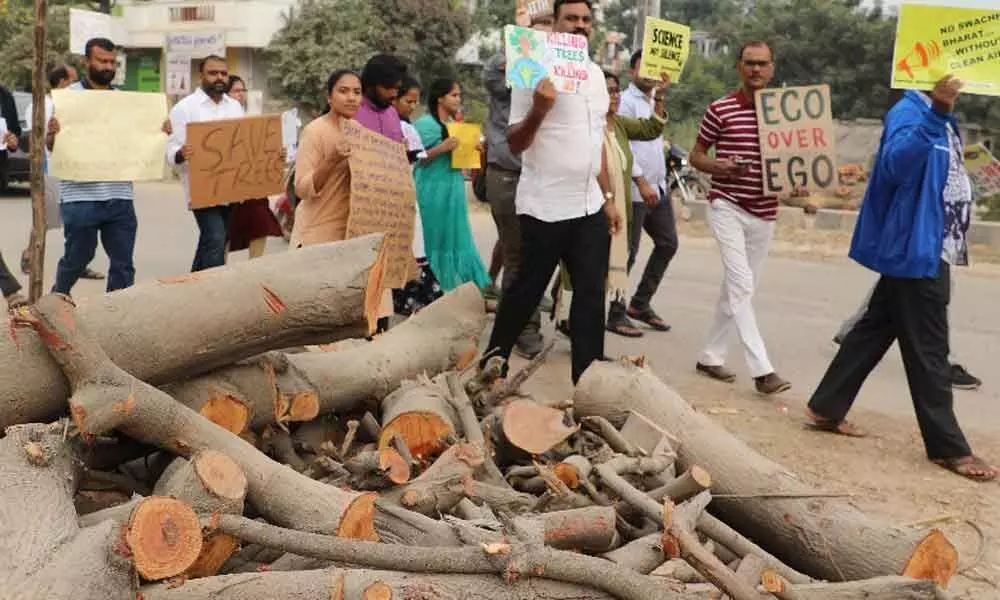 Highlights
As many as 99 trees were chopped within a week on the stretch of 100ft road from GNT Circle to Aditya Silicon Heights at Tellapur road in Nalagandla.
Tellapur: As many as 99 trees were chopped within a week on the stretch of 100ft road from GNT Circle to Aditya Silicon Heights at Tellapur road in Nalagandla. Environmentalists and hundreds of residents in the area protested against the cruel act towards trees.

Rajender, Deputy Commissioner, Urban Bio-diversity, Serlingampally, said, "The cutting of trees in the Nalagandla area is done to make space for the livelihood. The permission was granted by R&B department. We are also taking certain measures to ensure environment does not get affected, such as translocation of trees, widespread plantation in the area under Haritha Haram. Within a year or five years we shall grow trees rapidly to rectify the mistake."
R&B department requested permission to cut trees at Nalagandala area for road-widening works from Forest department of Telangana. Tree protection committee of the forest department approved the permission to cut trees by December 2018.
But, the permission letter is not reviewed and the R&B department chopped 99 trees, after presenting an old and invalid permission, claimed protestors and environmentalists. Social activists say that a fine of Rs 20,000 for chopping trees is not enough, instead they challenge the department to grow three times the number of trees cut, and urge department to make it possible in the next 10 years.
"Rs 20,000 fine makes no sense. The value of wood from the chopped trees is worth around Rs 40 Lakh. It's not about money. It's about climate condition. Nation's capital is suffering after chopping trees for road-widening works and is becoming a capital for pollution. Why should Hyderabad tread the same path?" said Maheshwari, Founder, Friday For Future (FFF).
Disturbed by this outrageous act, more than 100 people including residents of Nallagandla, environmentalists and civil societies from across the city gathered to express their strong dissent in a peaceful manner with the main intent of stopping the destruction of the green cover. Later, they approached Shivaiah from Forest Department. The official assured that the cutting of trees would be suspended and any future course of action would be taken only after taking consent from the residents of Nallagandla.
Also, the officials from Forest Department visited the site to look into the matter and found that there are clear lapses in the processes and assured to immediately suspend cutting of trees and also impose fine on roads and buildings department for cutting trees without permission.
The group of citizens gathered for the peaceful protest formed into a voluntary group 'Save Nallagandla Trees' and decided to continue their efforts in protecting the existing green cover. The group has called for forming human chain on Sunday at 8 am on Nallagandla-Tellapur road to sensitise the local residents on the issue.