BJP will win Huzurabad, asserts MLA Raghunandan Rao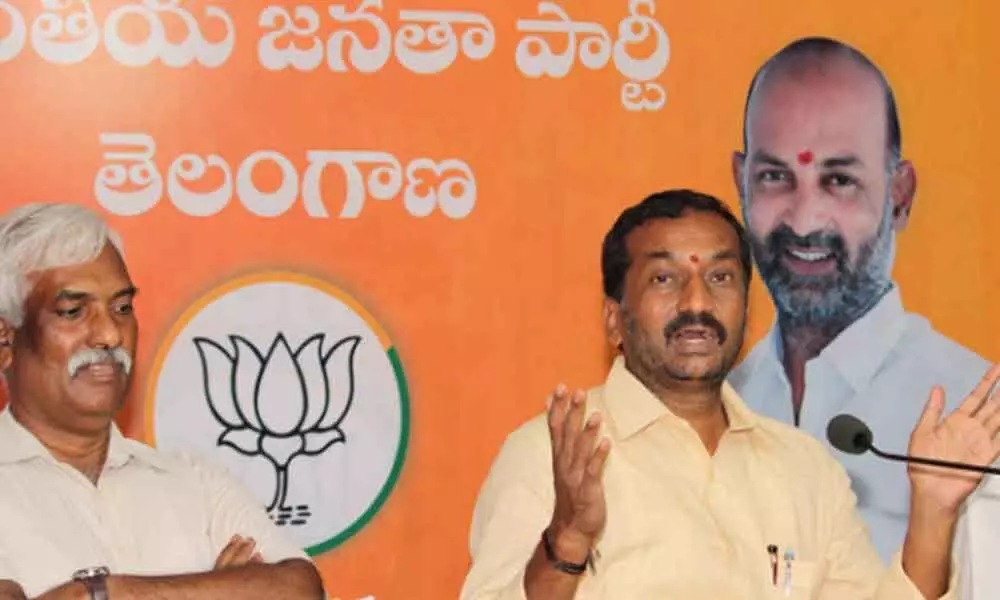 Highlights
Lashes out at Municipal Administration Minister KTR
Hyderabad: Dubbaka BJP MLA M Raghunandan Rao said on Tuesday that his party is destined to win the Huzurabad by-poll irrespective of the ruling party political manoeuvres.
Addressing the media here, he lashed out at Municipal Administration Minister KT Rama Rao projecting as if criticising Chief Minister K Chandrasekhar Rao and KTR amounted to insulting Telangana and its people. He reminded him to see the current fate of the century-old Congress which had gone overboard with "Indra is India and India is Indira". Rao alleged that his party voice has been stifled with no sufficient time and opportunity to speak in the Assembly. He said that both the TRS and the MIM have got about 60 minutes to speak to shower praises on the visionary leadership of the TRS chief. But all that the BJP had asked was six minutes to rebut the rhetoric of the TRS and MIM members. But it was denied, he said.
The MLA said the State government had to adjourn the Assembly session for three days with an hour's rain in the city. It exposed the claims of the TRS tall claims of Hyderabad being an international city.
He stated that the bunds of tanks constructed by the Kakatiya kings, the Nizam and even those constructed by farmers have not breached during rain experienced across the city. But, the bunds of Sundilla project constructed at a cost of Rs 1 crore has breached, he added. The BJP leader poo-pooed the TRS MLC raising the issue of problems faced by the MPTCs in the State. He questioned why it was not bothered about their fate for the past seven years.
Rao questioned the 'tall' claims of KTR as if several vaccine manufacturing, aerospace and other industries had come only during the KCR regime. He asked KTR to show one start-up which has come up Sircilla which he represents. Also, he criticised the minister for 'misleading' the Opposition parties' stand on the pharma city. He demanded KTR to provide details of orders of Bathukamma sarees to weavers of Dubbaka, Sircilla and Pochampally for the past seven years.
Interested in blogging for thehansindia.com? We will be happy to have you on board as a blogger.