GHMC Elections 2020: TRS, MIM post-poll alliance imminent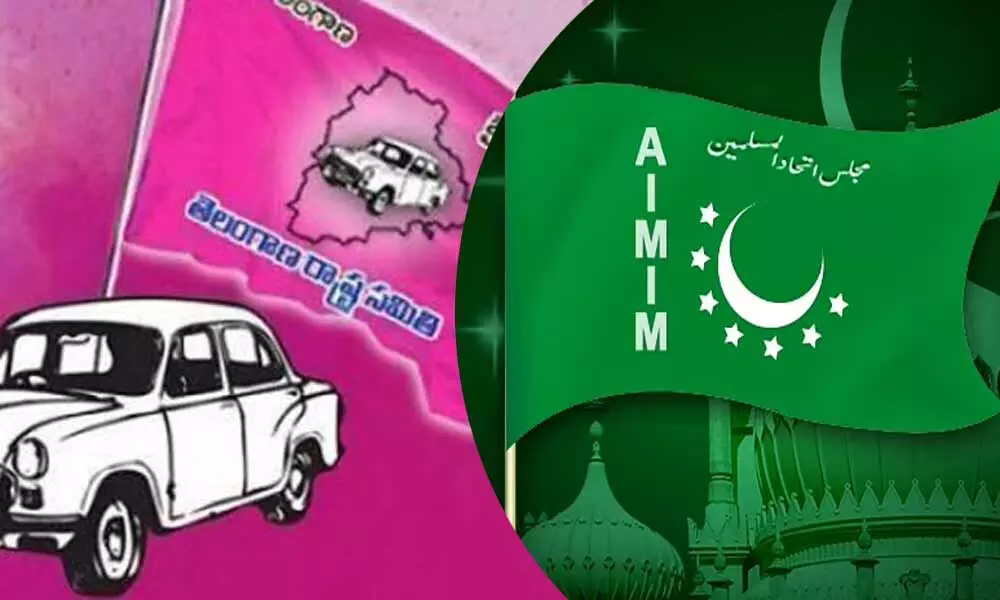 Highlights
The fractured verdict given by Hyderabad people in the just-concluded GHMC elections has put the election for the coveted Mayor and Deputy Mayor posts in a big suspense
Hyderabad: The fractured verdict given by Hyderabad people in the just-concluded GHMC elections has put the election for the coveted Mayor and Deputy Mayor posts in a big suspense. The TRS, which emerged as the single largest party by winning 56 wards, is still short of 20 wards to claim the stake in the Greater Hyderabad Council. Out of 150 wards, the magic figure required is 76 members.
It is learnt that the TRS is planning to join hands with its friendly political ally - AIMIM to have its candidate as the Mayor and Deputy Mayor posts on a rotation basis mutually which is akin to the 2010 GHMC elections when the Congress and MIM shared the two posts for two-and-a-half years each during the five-year term of the elected Greater Hyderabad council.
Party sources said that TRS chief K Chandrashekar Rao has already begun talks with MIM chief and Hyderabad MP Asaduddin Owaisi to arrive at a consensus on the two posts. Since the Mayor post is reserved for women ( general) sources said that KCR shortlisted a few names of the TRS corporators, which includes Sindhu Reddy elected from Bharati Nagar ward.
The TRS was certain that it would retain the Mayor and Deputy Mayor posts this time even though they may lose some seats as it has 31 ex-officio members as voters. They were confident that they would win around 70 seats. As the party could win only 56 wards, the only option before the TRS is to enter a post-poll alliance with MIM. The Majlis party is also keen to join hands with TRS. Sources said that the Mayor would be elected from the TRS and the MIM will ask for the Deputy Mayor post.
The BJP, which emerged as the second largest party by winning nearly 50 wards, has decided to sit in the opposition in the GHMC council as the party does not have the required number to claim the key posts in the Baldia council.