Hyderabad: BJP seat kitty swells to 48 from 4 in 2016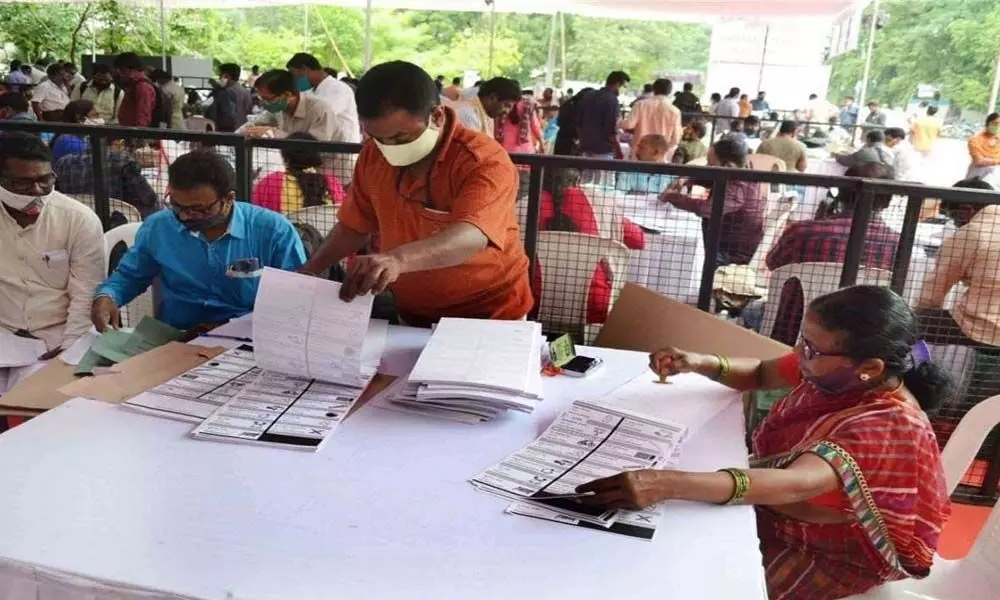 Highlights
Improves its vote share adding up 25.22 per cent from 2016 GHMC elections
Stands second in about 79 GHMC divisions in 2020
Hyderabad: The BJP has increased its total share from 10.35 per cent to 35.56 per cent in the GHMC elections from 2016 to 2020. Out of 150 divisions in the GHMC, the BJP could win only four seats in the 2016 elections.
However, 149 out of 150 divisions for which results have been declared in GHMC elections, the saffron party has got 48 seats, adding up about 25.22 per cent vote share from the 10.35 vote share it had got in 2016 GHMC elections.
Further, in about 79 municipal divisions it has stood the second position where mainly the ruling TRS party won, followed by Congress. In about 23 municipal divisions where the AIMIM and Congress have contested, the Lotus showed getting more votes than the ruling TRS. The overall voting percentage in 2016 touched 45.21 per cent as against 46.6 per cent in 2020.
Out of this, the BJP on its own had a vote share of 10.35 per cent in 2016. However, the total vote share of BJP which contested along with the TDP in 2016 had a vote share of about 23 per cent. The TRS had got 44 per cent of vote share over and above the BJP and its alliance partners. Cut to in 2020, while the BJP has got a vote share of 35.56 per cent as against the TRS vote share of 35.81 per cent.
The total votes polled for BJP during the GHMC 2020 elections stand at 11,95,711, registering only a difference of 8,456 votes less than the ruling TRS.