Hyderabad: Revanth Reddy condemns anti-farmer laws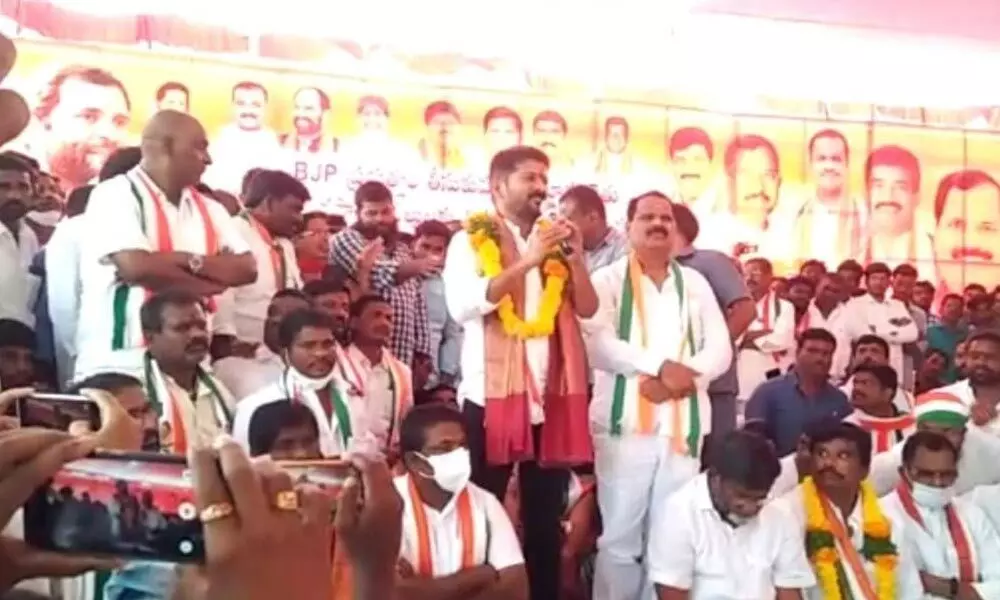 Highlights
Says new laws will sound a death-knell of MSP and market yard purchase systems
Shadnagar: Telangana State Congress working president and Malkajgiri MP Revanth Reddy participated in a dharna during Bharat Bandh in Shadnagar on Tuesday. Farmers unions across the country called for Bharat Bandh against Centre's farm bills.
Speaking on the occasion, Revanth Reddy said the new farm Bills would spell doom to the market yard system. "The new laws do not specify that the contract price should be above minimum support price (MSP). It is clear that the new laws do not empower or protect or give price assurance to the farmers. They are meant to give freedom to companies to contract farmers, but nothing for farmers. It will promote hoarding of food commodities by corporates," he said. The new anti-farmer laws would sound death knell of MSP procurement and market yard purchase systems, the MP said adding that only farmers had freedom to stock earlier, but now, companies were also getting unlimited stocking. "This leaves farmers to the mercy of big agri-business companies which will control the market," he alleged.
He said the farm laws were the Central government's plot to formulate "black laws", which would ensure that the farmer will not get minimum support price and let the agriculture sector go into the hands of corporates.
"The Telangana State government is not assisting farmers. They have not provided any assistance to the farmers during the floods. Their crops were completely damaged during the floods, but the State government did nothing to help the farmers or to provide relief to them," he said. He reminded the government that during its tenure of six years, a total of 6,383 farmers committed suicide and asked whether the government had provided any assistance to their families or not. Chief Minister K Chandrashekar Rao is just making fake promises to farmers and is cheating them," Revanth Reddy said.
Ranga Reddy district Congress party president Narasimha Reddy, former MP Mallu Ravi, former MLA Vamshi Krishna, Congress leaders Sathish Madiga, Shankar, Mohd ALi Khan, Balraju, Sudhershan Goud and others participated in the programme.