Kanchi seer lauds TTD's spiritual programmes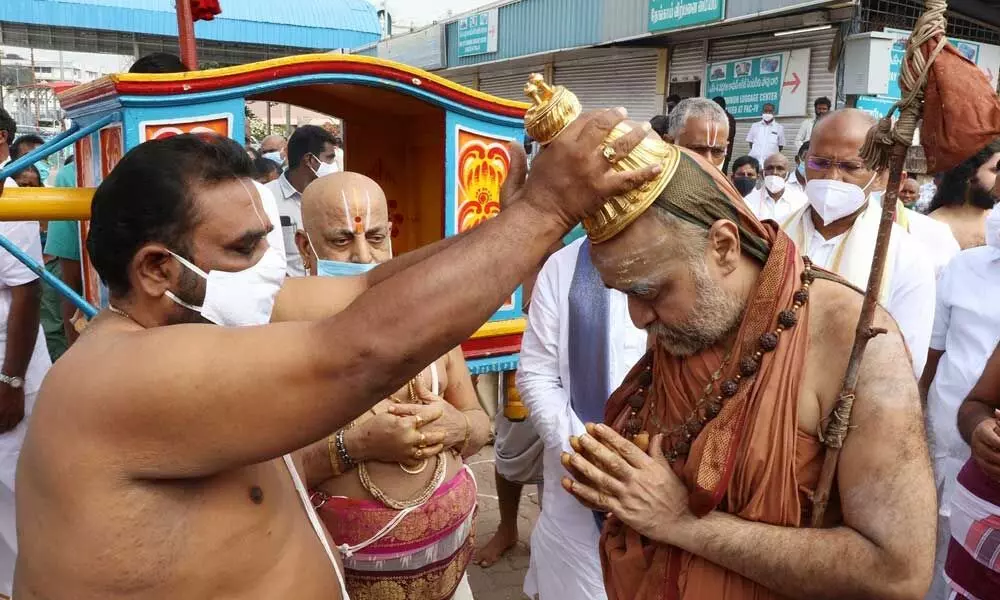 Highlights
Takes part in Krishna Yajurveda Jatha Parayanam at Ranganayakula Mandapam in the shrine
Tirumala: Kanchi Kamakoti Peetam Seer Sri Vijayendra Saraswathi Swamy offered prayers to Lord Venkateswara at Tirumala on Wednesday. After offering prayers, the pontiff took part in the Krishna Yajurveda Jatha Parayanam by the temple Vedic pandits in Ranganayakula Mandapam in the shrine.
Later speaking to media persons outside the temple, the seer was all praise for the TTD taking up parayanams and other spiritual prorammes boosting the morale of the devotees but also provide them a healthy and wealthy life. He also said the Karthika Masa Deeksha programmes at Vasantha Mandapam and also community Karthika
Deepotsavam in Tirupati were very good for the wellbeing of entire humanity. "The Siva Kesava Aaradhana in the holy Karthika month will provide health, security, and prosperity to all", he added. TTD board member Sekhar Reddy, CVSO Gopinath Jatti, Deputy EO
Haridranath, Temple Peishkar Jaganmohanacharya and others were present.