Padmavathi Devi blesses devout as Andal Sri Goda Devi in Tiruchanoor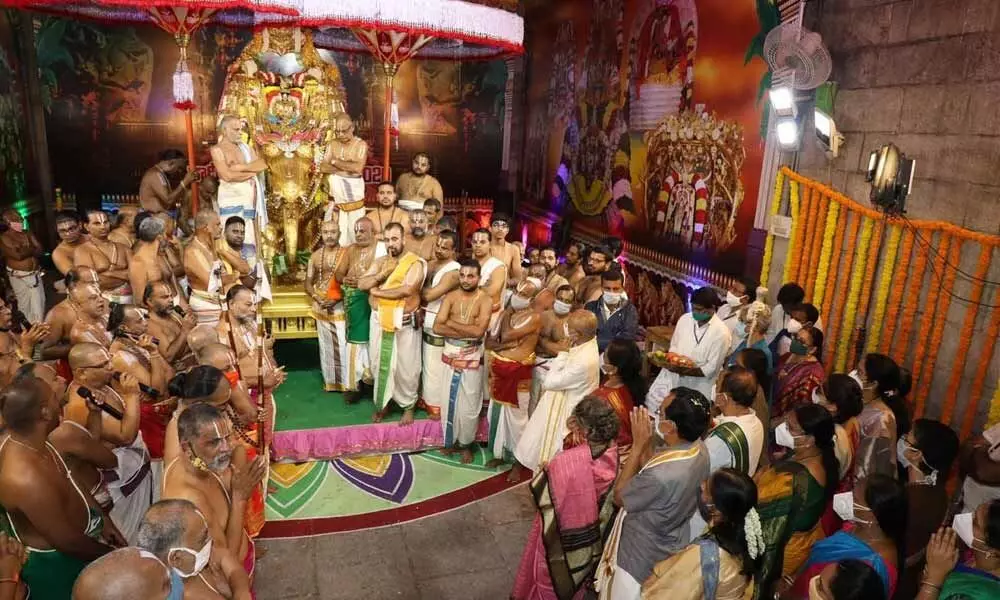 Highlights
Gaja Vahana Seva performed in the evening on Day-5 as part of Navahnika Karthika Brahmotsavams at Tiruchanoor
Tirupati: On the fifth day of ongoing annual Navahnika Karthika Brahmotsavams at Tiruchanoor, Goddess Sri Padmavathi Devi decked as Andal Sri Goda Devi mused devotees atop flower-decked Pallaki (palanquin) on Sunday morning.
The Pallaki Utsavam was held in Ekantham, with no pilgrim participation due to Covid restrictions at Vahana Mandapam.
Earlier, TUDA chairman and TTD trust board Ex-officio member Chevireddy Bhaskar Reddy presented silk vastrams to Sri Padmavathi Devi.
Speaking to media on the occasion, he said he had been offering the ropes on behalf of Tummalagunta Sri Kalyana Venkateswara Swamy temple on the day of Gaja Vahana Seva at Tiruchanoor every year and that he offers the vastrams in Padayatra from Tummalagunta to Tiruchanoor as temple tradition.
Later in the after noon, Vasanthotsavam also known as Upasamanotsavam was held in the shrine as part of ongoing annual Brahmotsavams.
Goddess Padmavathi was rendered abhishekam with sandal and other aromatic liquids to give a soothing feel after a hectic morning and evening Vahana sevas from the last five days.
In the evening, the processional deity Goddess Padmavathi mounted on Gaja Vahan blessed the devotees.
The deity adorned with dazzling ornaments including the huge Lakshmi Kasula Haram specially brought from Tirumala temple for adorning the deity on the occasion of Gaja Vahanam, enthralled the devotees.
Both Pedda Jiyar and Chinna Jiyar Swamijis of Tirumala, EO Dr K S Jawahar Reddy, JEO P Basanth Kumar, DyEO Jhansi Rani and others were also present.