Tirupati: BIRRD to provide bionic hand for free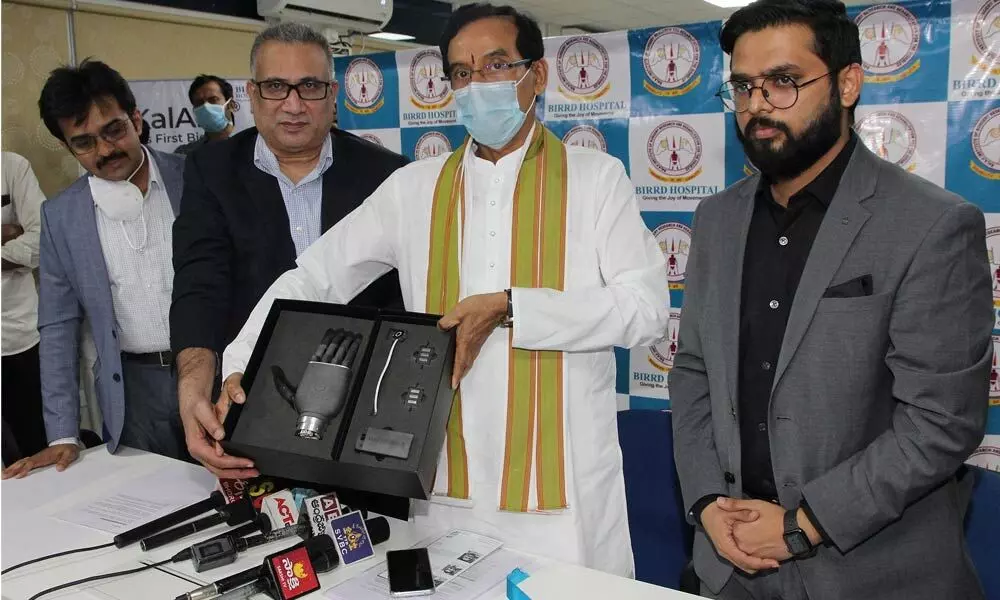 Highlights
TTD chief Subba Reddy says KalArm will help amputees to lead a near normal life
While this bionic arm will be fitted to the poor free of cost, others have to pay the cost
Tirupati: The TTD run BIRRD (Balaji Institute of Research and Rehabilitation of Disable) launched on Thursday a programme under which it will provide bionic hand free of cost to poor amputees.
The bionic hand christened KalArm helps the amputees with multi-articulating bionic and body-powered prosthetic hands for a near normal life. TTD chairman Y V Reddy formally kick-started the initiative through videoconference from Tadepalli on Thursday. He said that the latest facility which is first-of-its-kind in India made available in BIRRD would be a boon to scores of poor handicapped by enabling them attend their daily chores.
"I earnestly believe the launching the bionic hand facility with the inspiration of former president A P J Abdul Kalam on the International Day of Persons with Disabilities in BIRRD hospital as the blessing of Lord Venkateswara," said adding that Chief Minister Y S Jagan Mohan Reddy is keen on developing BIRRD as a centre of excellence for extending all the required services to the persons with disabilities helping them get a new lease of life.
Lauding the 'Maker Hive Innovations', the creator of KalArm for making it available at a cost of Rs 2.75 lakh here as against 35-40 lakhs in other countries, he said TTD would provide the facility to the poor free of cost under TTD's SV Pranadana Scheme.
The facility would also be provided to others who are in need of it on a cost basis and added that TTD would involve the donors for extending the facility to large number of people.
BIRRD which came into existence in 1985 is standing first at national level in the performance of surgeries, Subba Reddy said affirming that TTD would do its best to see the hospital emerge as No.1 in the country. He informed that TTD in association with the Maker Hive is contemplating to set up 'amputees fitment and training centre' in BIRRD. On the occasion, chairman interacted with Gayatri from Hyderbad who was the first to be fitted with the KalArm facility.
TTD JEO and BIRRD Director P Basanth Kumar said that TTD sent a proposal to Centre to offer a diploma course in training and artificial limb development in BIRRD hospital where the artificia l limb centre would be modernised soon.
Makers Hive representatives Pranav and Viswanath made a demonstration on the functioning of KalArm and informed that inspired by late president APJ Abdul Kalam, the firm named the facility KalArm (arm of the future).
BIRRD honorary director Dr Madan Mohan Reddy was also present.