Ramu's movie highlighted facts of NTR's life: Lakshmi Parvathi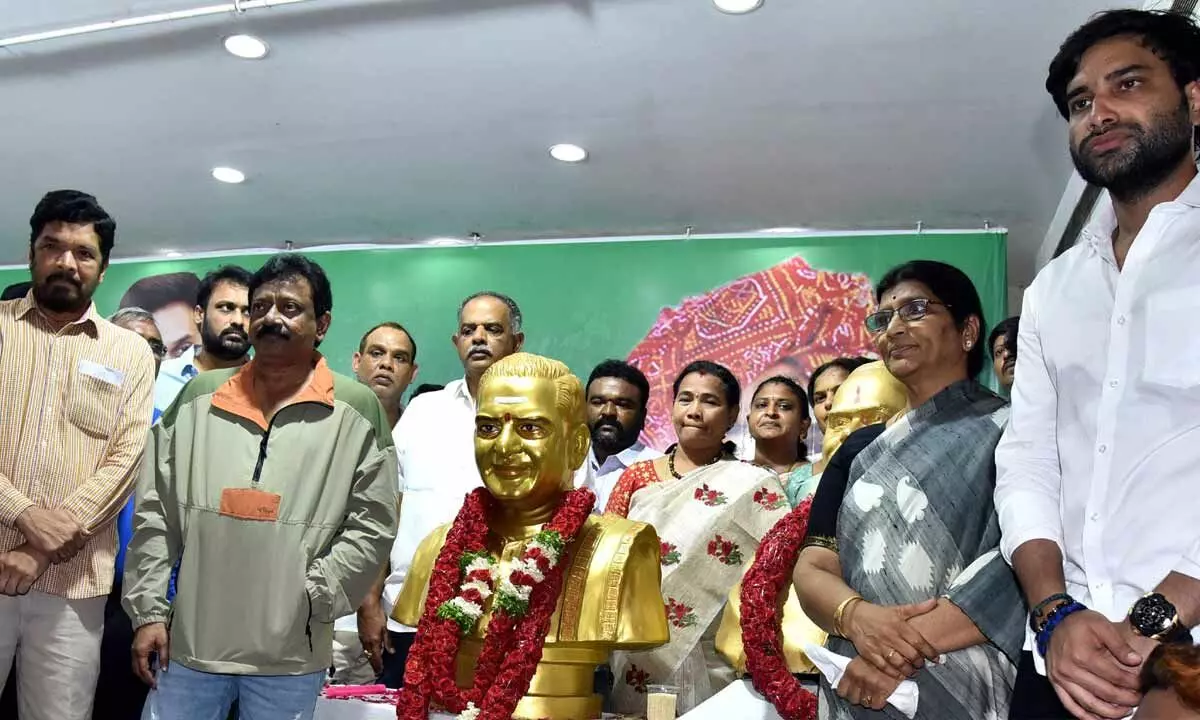 Highlights
Says the TDP founder had suffered mental agony due to the conspiracy hatched by N Chandrababu Naidu to dethrone him from power
Lauds services rendered by former minister Devineni Nehru to NTR
VIJAYAWADA: Telugu Akademi chairperson Nandamuri Lakshmi Parvathi has said that film director Ram Gopal Varma has exhibited facts in his movie 'Lakshmi's NTR.'
She said Ram Gopal Varma stood by her throughout and thanked him for extending support. She participated in the birth centenary celebrations of late NTR organised by Vignan Trust and Devineni Charitable Trust here on Sunday.
Vijayawada East Assembly YSRCP in-charge Devineni Avinash organised the celebrations. Addressing the gathering, Lakshmi Parvathi said NTR suffered lot of mental agony due to the conspiracy hatched by N Chandrababu Naidu to dethrone him from power.
She alleged that Naidu had harassed NTR during his last days of life along with other family members of NTR. She said Naidu hatched conspiracy to capture the power in Andhra Pradesh and it caused pain to NT Rama Rao, the founder of TDP.
She said NTR had a dream of conducting a mega meeting 'Simha Garjana' in Vijayawada. She said Devineni Nehru was with NTR till his last days of life and he was the real heir to the TDP founder.
She praised the services rendered by Devineni Nehru to NTR. Lakshmi Parvathi thanked Chief Minister Y S Jagan Mohan Reddy for naming a district after NTR and she stated that she was indebted to him for upholding her respect and dignity.
Andhra Pradesh Film Development Corporation chairman Posani Krishna Murali said NTR had invited Lakshmi Parvathi to take care of him when he was facing health problems.
He alleged that Chandrababu Naidu had spread many rumours against Lakhmi Parvathi and hatched a conspiracy to defame her. He recalled that lakshmi Parvathi stood by NTR when he suffered heart attack three times and served him.
Former minister and Machilipatnam MLA Perni Nani said the welfare schemes launched by NTR remain in the hearts of the people for ever. He recalled that NTR had launched welfare schemes such as one-kg rice for Rs 2, housing for all and also welfare schemes for the farmers.
He said the poor had benefitted immensely during the regime of NTR. Perni Nani alleged that family members of NTR had ignored and neglected him when he fell sick and Chandrababu Naidu dethroned NTR from the power.
He said Devineni Rajasekhar (Nehru) was a real heir to NTR and did a lot of service to the TDP founder.
Film director Ram Gopal Varma said Junior NTR had stayed away from the Mahanadu venue because he was against sharing the dais with the backstabbers of NT Rama Rao.