Vijayawada: Stage comes alive after 8 months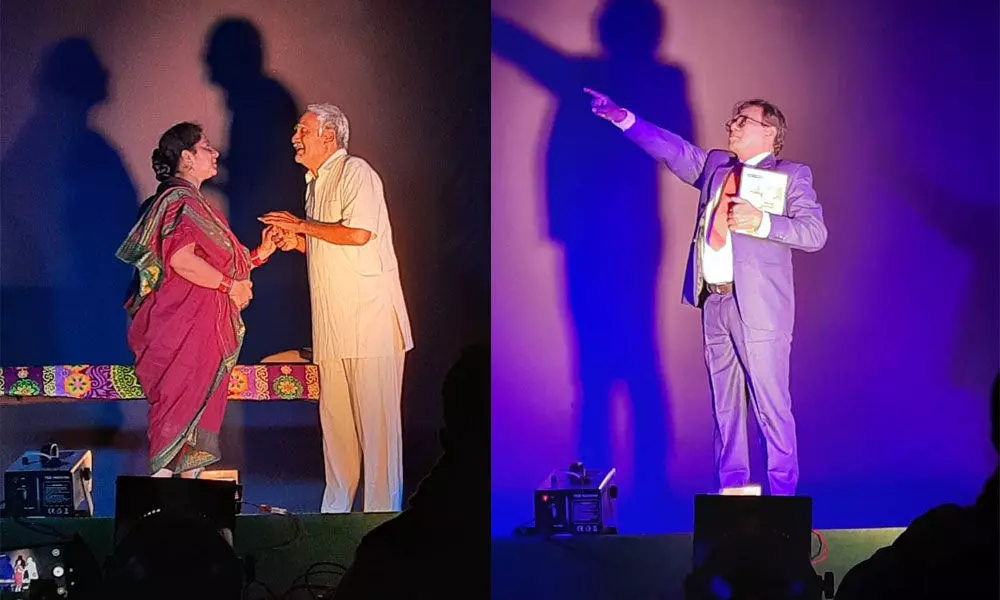 Highlights
Sumanjali Arts and Almighty Seva Samstha, Vijayawada jointly organise a play 'The Leader – BR Ambedkar'
Vijayawada: Sumanjali Arts and Almighty Seva Samstha, Vijayawada jointly organised a play 'The Leader – BR Ambedkar' on Monday evening at Ghantasala Venkateswara Rao Government Music and Dance College. The play was written by Velpula Nageswara Rao and directed by K Abraham.
The theatre lovers attended in large number to see the play as it was the first play that was staged after a gap of eight months in Vijayawada due to Covid 19. The play depicting the life sketch of Dr BR Ambedkar, who was recognised as Architect of the Constitution of India.
The incidents of the life of Ambedkar were aptly penned by the writer and showcased by the actors. If the coordination and stage play were brisker and tighter, they would have been more effective. About 35 artistes and technicians worked for the success of the play. The efforts were good.
The lead role of Ambedkar was played by K Abraham and the other characters were performed by R Rajeswari, ES Pavankumar, GV Ranga Reddy, N Ramanujacharyulu, P Srinivasa Rao, Karnati Madhusudhana Rao, Suresh, P Srinivasa Rao, YGMG Krishna, E Ramesh, Dr Venugopal, G Nageswara Rao, K Apparao, P Rambabu, R Ravi Babu, EV Sagar, Bayana Srinivasa Rao, G Rajanna, K Venkateswara Rao, G Kesavanandu Karthik, S Nityasri, Master Vibhav.
The director could have been taken care regarding lights. As it is a life sketch documentary, mostly full light could have been used duly to highlight the objects to avoid shadows. Costumes, makeup and music were good. Voice was given by Dr Rao and lighting by Chandra, makeup by Akkineni and music by Rajabhushanam.
Before the play could start a meeting was organised and Golla Narayana Rao presided over the meeting. Retired udge Jeda Sravan Kumar, Dr R Suresh Kumar, Velaga Joshi, Nandiwada Nani, S Gritan, A Malyadri, Vinaya Prakash, Vemula Hajarataiah Gupta, G Papa Rao, B Nageswara Rao, Chinta Venkateswarlu were also on the list of special invitees. The programme was coordinated by Koppula Ashok Anand.