Triump-hant Modi: US President hails PM Modi, forgets Mahatma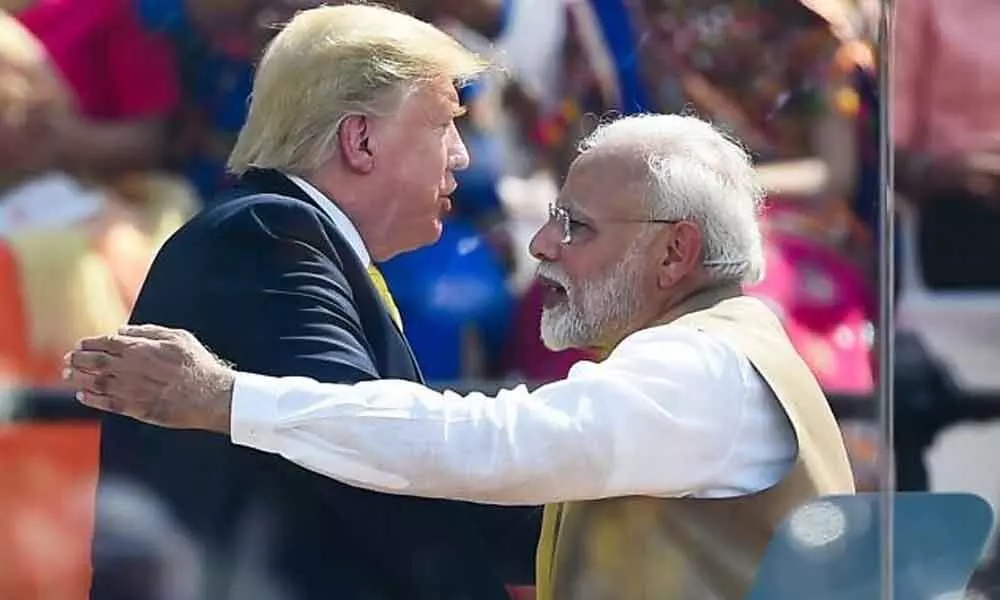 Highlights
'3 wise monkeys' presented to Trump
Trump fails to mention Bapu
Sachin, Kohli, Sholay and more
Trump praised the entertainment sector in India as an example of the contributions in creativity that India has made to the world.

"All over the planet, people take great joy in scenes of bhangra, music, dance, romance and drama... and classic Indian films like DDLJ and Sholay... You cheer on great cricketers like Sachin Tendulkar and Virat Kohli," President Trump told a packed stadium. "This is the country that produces nearly 2,000 movies a year from the hub of genius and creativity known as Bollywood," President Trump said.
In January 2015, during his visit to India, former US President Barack Obama had also borrowed a dialogue from "DDLJ". "Senorita, bade bade deshon mein... you know what I mean," Mr Obama had said, to deafening applause from the audience at an auditorium in Delhi. In the movie the line is spoken by Shah Rukh Khan to heroine Kajol.
'Never seen anything like this'
Enthralled by the grand-welcome accorded to Trump by thousands of people on the roads from Sabarmati Ashram to Motera Stadium, a senior aide of the US president said he has not seen a welcome like this. "In motorcade en route to the stadium. I've never seen anything like this.

Unbelievable!!!!," tweeted Dan Scavino Jr, Trump's assistant, while sharing the photos of people assembled on the road during the roadshow. The road-show was held from Ahmedabad Airport to Motera stadium, a distance of nearly 20 kilometers. People, hoardings, flags, lined up the road to welcome the US President.
Melania Trump's desi touch
Melania Trump stepped out in a pristine white outfit with a bright green sash. As a former model, Ms Trump's sartorial choices are closely scrutinized. This time, she put to rest rumours that she would wear an Indian designer for her first visit to the country, opting instead for a white jumpsuit Atelier Caito for Herve Pierre.

Her outfit, however, did have an Indian touch in the green sash. French-American designer Herve Pierre, who sometimes acts as Melania Trump's stylist, took to Instagram to explain that the green and gold brocade sash was cut "in an early XX century Indian textile documents" that he found in Paris.
"The sash is made out of green silk and gold metallic thread . We used the border which was the most Interesting piece we could use as it was a vintage piece," he said, sharing an illustration of the outfit that Melania Trump wore.
Bapu hero to the world: Obama
Loudest cheer for Ganguly
Gujarat, has indeed delivered the crowd that Trump expected to see. The seating in the stadium, interestingly is done according to districts in Gujarat, with people arriving as early as 4 am.

The VIP sections are platinum and gold, offering the best view of a cricket match or in this case, the Trump show. But the loudest cheers went up when BCCI president Sourav Ganguly walked in alonf with BCCI secretary Jay Shah.
Trump tweets in Hindi
प्रथम महिला और मैं इस देश के हर नागरिक को एक सन्देश देने के लिए दुनिया का 8000 मील का चक्कर लगा कर यहां आये हैं l अमेरिका भारत को  प्रेम करता है - अमेरिका भारत का सम्मान करता है - और
अमरीका के लोग हमेशा भारत के लोगों के सच्चे और निष्ठावान दोस्त रहेंगे l https://t.co/1yOmQOEnXE

— Donald J. Trump (@realDonaldTrump) February 24, 2020
Trump put out a second tweet in Hindi shortly after leaving from Motera Stadium. "Pratham Mahila (First Lady) aur main iss desh ke har nagarik ko ek Sandesh dene ke liye duniya ka 8,000 miles ka chakkar laga kar aaya hai. Amercai Bharat kop rem karta hai - America Bharat ko sammaan karta hai - aur America ke log hamesha Bharat ke logo ke sacche aur nishtavan dost rahenge."
"The First Lady and I have just traveled 8,000 miles around the globe to deliver a message to every citizen across this nation: America loves India — America respects India — and Americans will always be true and loyal friends to the Indian people." @realDonaldTrump https://t.co/FXJ4JwAESQ

— Stephanie Grisham (@PressSec) February 24, 2020
The tweet read like: "The first lady and I have traveled around 8,000 miles around the world to give a message to every citizen of this country that America loves India - America respects India - and People of America will always be true and loyal friends of the people of India."
हम भारत आने के लिए तत्पर हैं । हम रास्ते में हैँ, कुछ ही घंटों में हम सबसे मिलेंगे!

— Donald J. Trump (@realDonaldTrump) February 24, 2020
Earlier, on his way to Ahmedabad too, Trump had tweeted in Hindi and wrote, "Ham Bharat aane ke liye tatpar hain. Ham Raste me hain. Kuchh hi ghanton me hum sabse milenge." The tweet read like, "We are eager to visit India. We are on the way. In a few hours, we will meet you all."

Bottle art welcomes Trump
A bottle artist in Bengaluru welcomed Donald Trump to India in his own artistic style, by encapsulating the image of US President and Prime Minister Narendra Modi in a glass bottle.

"I extend my warm wishes and a hearty welcome to Trump with my beautiful glass art. I have carefully encapsulated his image in the glass jar," Basavaraju Somaraja Gowda told IANS.
An electrician by profession, Gowda, 46, spent three to four days to carefully assemble the images in the glass, costing him Rs 8,000. "Bottle art is my hobby. I have been doing it for more than 18 years," said a beaming Gowda.
Sonia Gandhi in 'no invitation list' upsets Cong; Leaders of Oppn in RS, LS to boycott President Kovind's dinner
Ahmedabad/New Delhi: US President Donald Trump and First Lady Melania Trump paid tributes to Mahatma Gandhi at the Sabarmati Ashram on Monday. After trying his hands on the spinning wheel (charkha), Trump wrote a message in the visitors' diary of the ashram, thanking Modi for the "wonderful visit" and calling the Indian PM his "great friend".
Many were surprised that Trump did not make any mention of Mahatma Gandhi in visitors' book. Unlike Trump, former US President Barack Obama, on his visit to India in 2010, had hailed Gandhi as "a hero not just to India but to the world".
Then in 2015, after visiting the Raj Ghat, Obama had written in the visitors' book, "What Dr Martin Luther King Jr said then remains true today. 'The spirit of Gandhi is very much alive in India today'. And it remains a great gift to the world.
May we always live in the spirit of love and peace- among all people and nations." Prime Minister Narendra Modi was seen showing around the Trumps at the Sabarmati Ashram and telling them about the charkha. PM Modi also presented a memento of Mahatma Gandhi's "Three Wise Monkeys" to the US president.
"This is a snapshot of the note that someone sent. It ostensibly is @realDonaldTrumps note at Sabarmati. No mention of the Great Mahatma. Does he even know who Mohandas Karamchand Gandhi was?" Congress leader Manish Tewari wrote while tweeting the pictures of the visitor book.
Trump did his homework well but missed on desi pronunciations as the Vedas became "The Vestas" and Swami Vivekananda became 'Swami Viveka-mu-nand during his speech. Leader of Opposition in Rajya Sabha Ghulam Nabi Azad has declined the invitation to attend the dinner invitation extended by the President Ram Nath Kovind in honour of Trump.
Sources close to the Congress leader said, "since no invitation has been extended to Chairman of the Congress Parliamentary Party (CPP) Sonia Gandhi, so it would not be appropriate for him to attend the function." Leader of Opposition in Lok Sabha Adhir Ranjan Chowdhury had declined the invitation by giving the same reason. Former PM Manmohan Singh will also not attend.
Iltija Mufti, the daughter of former J&K Chief Minister Mehbooba Mufti, who operates her mother's twitter account has hit out at the Modi government. In a tweet, Iltija talked Trump's India visit and wrote about the anti-CAA violence in Delhi and the rights of Kashmiris. She alleged that Mahatma Gandhi's legacy is remembered only at perfunctory visits to the Sabarmati ashram while his values have been forgotten.
The Shiv Sena asked Trump "not to interfere" in issues pertaining to religious freedom in India as the same were India''s "internal matter".
Referring to media reports that Trump is likely to express his reservations on aspects of religious freedom with Prime Minister Narendra Modi, the Sena said that besides faith, issues like Shaheen Bagh, Citizenship (Amendment) Act, National Register of Citizens and National Population Register are "all domestic concerns of India" which the (Indian) government is tackling.
"This country is run by a democratically elected government and needs no lessons from outsiders on matters pertaining to freedom or dignity... it will be better if the US President completes his ''sight-seeing tours'' of Ahmedabad, Delhi and Agra and packs off," the Sena said in a sharp edit in the party-run newspapers, Saamana and Dopahar Ka Saamana.
Subscribed Failed...
Subscribed Successfully...