Cash-for-vote: Verbal duels intensify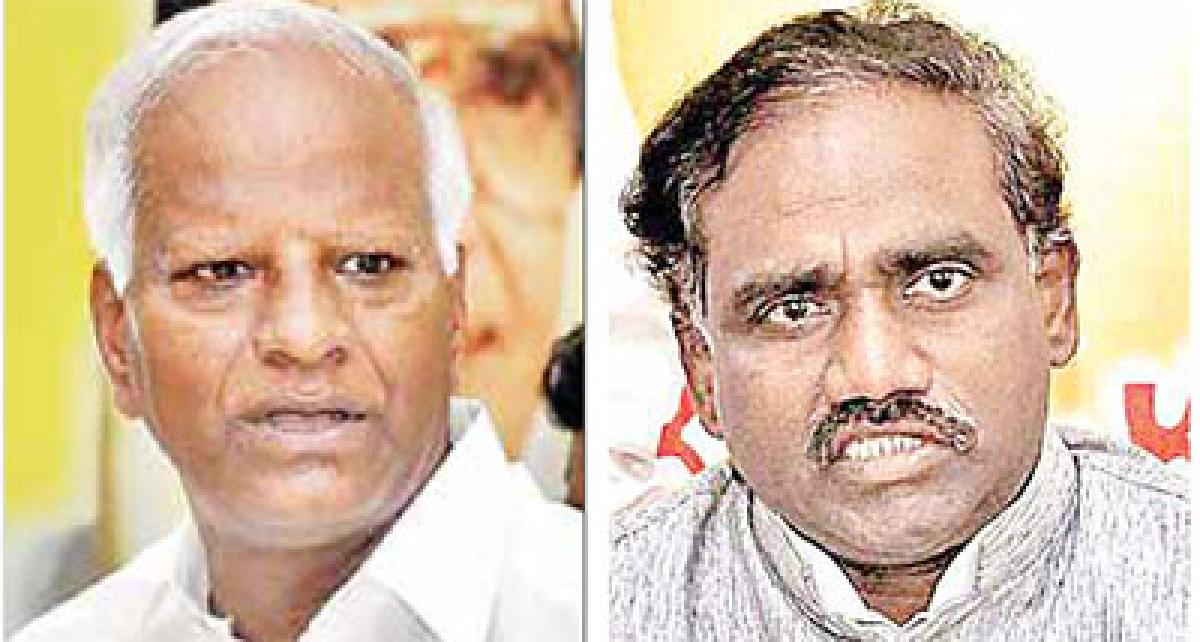 Highlights
The political war between the TDP and TRS is getting murkier with ministers and leaders from both sides levelling accusations and counter accusations against each other. While Telangana Agriculture minister Pocharam Srinivas Reddy and other ministers on Tuesday demanded resignation of Andhra Pradesh Chief Minister N Chandrababu Naidu in the cash-for-vote controversy, AP Social Welfare Minister Ravela Kishore Babu
TS, AP Ministers target each other's CMs
AP Social Welfare Minister Ravela Kishore Babu says TS Chief Minister in his utterances against AP CM indirectly aknowledged tapping of phones
TS Minister Kadiam Srihari accuses AP Chief Minister of misleading people by alleging phone tapping
TS Minister P Mahender Reddy says having worked with Naidu in the past, he can confirm his voice
Hyderabad:
The political war between the TDP and TRS is getting murkier with ministers and leaders from both sides levelling accusations and counter accusations against each other. While Telangana Agriculture minister Pocharam Srinivas Reddy and other ministers on Tuesday demanded resignation of Andhra Pradesh Chief Minister N Chandrababu Naidu in the cash-for-vote controversy, AP Social Welfare Minister Ravela Kishore Babu and another TDP leader Somireddy Chandramohan Reddy demanded a through probe into the poaching of TDP and Congress MLAs.
They are also training their guns on the Governor E S L Narasimhan alleging that he has not been using his powers and seems to have forgotten that he is Governor for both the states. The AP leaders are demanding that the Centre issue guidelines in regard to Section 8 of the AP State Reorganisation Act.
Taking a strong objection to the tone and tenor of Telangana Chief Minister K Chandrashekhar Rao's speech at Nalgonda on Monday, Kishore Babu said that the Telangana CM had admitted that they got the AP CM's phone tapped. AP Finance Minister Y Ramakrishnudu said that the AP government would not take the issue of phone tapping lying low. "We know how to deal with the situation," he said
Calling Naidu 'My Old Sir,' Pocharam Srinivasa Reddy said Naidu should resign if he has any moral values. The Minister went on to attack him for meddling with the affairs of Telangana and 'getting caught' in the process. "Chandrababu's case is akin to a thief calling others as thieves," the minister remarked.
He also ridiculed TDP MLA and cash-for-vote accused, A Revanth Reddy, for claiming that he referred to TTDP floor leader Errabelli Dayakar Rao as his 'boss' in the video and not to Chandrababu Naidu. Deputy Chief Minister Kadiam Srihari said that the Telangana government did not tap the telephonic conversation between Andhra Pradesh Chief Minister and nominated MLA Elvis Stephenson in connection with 'Cash-for-Vote' case.
Speaking to media persons in Warangal, the Deputy CM accused Naidu of trying to mislead the people by leveling allegations of phone tapping against the TRS government. He said that the conversation was recorded by the nominated MLA himself with the help of Anti-Corruption Bureau. He said instead of trying to shift the blame on TS CM K Chandrashekhar Rao or his government, Naidu should undergo a lie detector test to prove his innocence.
He advised Naidu to resign from his post and face investigation to prove his innocence. Telangana Transport Minister P Mahender Reddy on Tuesday warned that TDP supremo and his party will get decimated in Telangana State. He found fault with Naidu's outburst against KCR at the Mahasankalpam programme at Guntur. Warning of dire consequences if he continued to target the TRS government, which has no role in the Revanth's bribe offer episode, Mahender Reddy said, "Having worked with the TDP chief, I am sure the footage found on the TV channels has Naidu's voice and he should respond on it."
He also felt that it would not take much time to book Naidu in the case. Bank accounts of those involved in the bribery episode have been frozen, he said. Leader of opposition in Telangana Assembly K Jana Reddy demanded action on guilty in cash for vote.
Subscribed Failed...
Subscribed Successfully...