Our politics is still regressive vis a vis women representation: Brinda Karat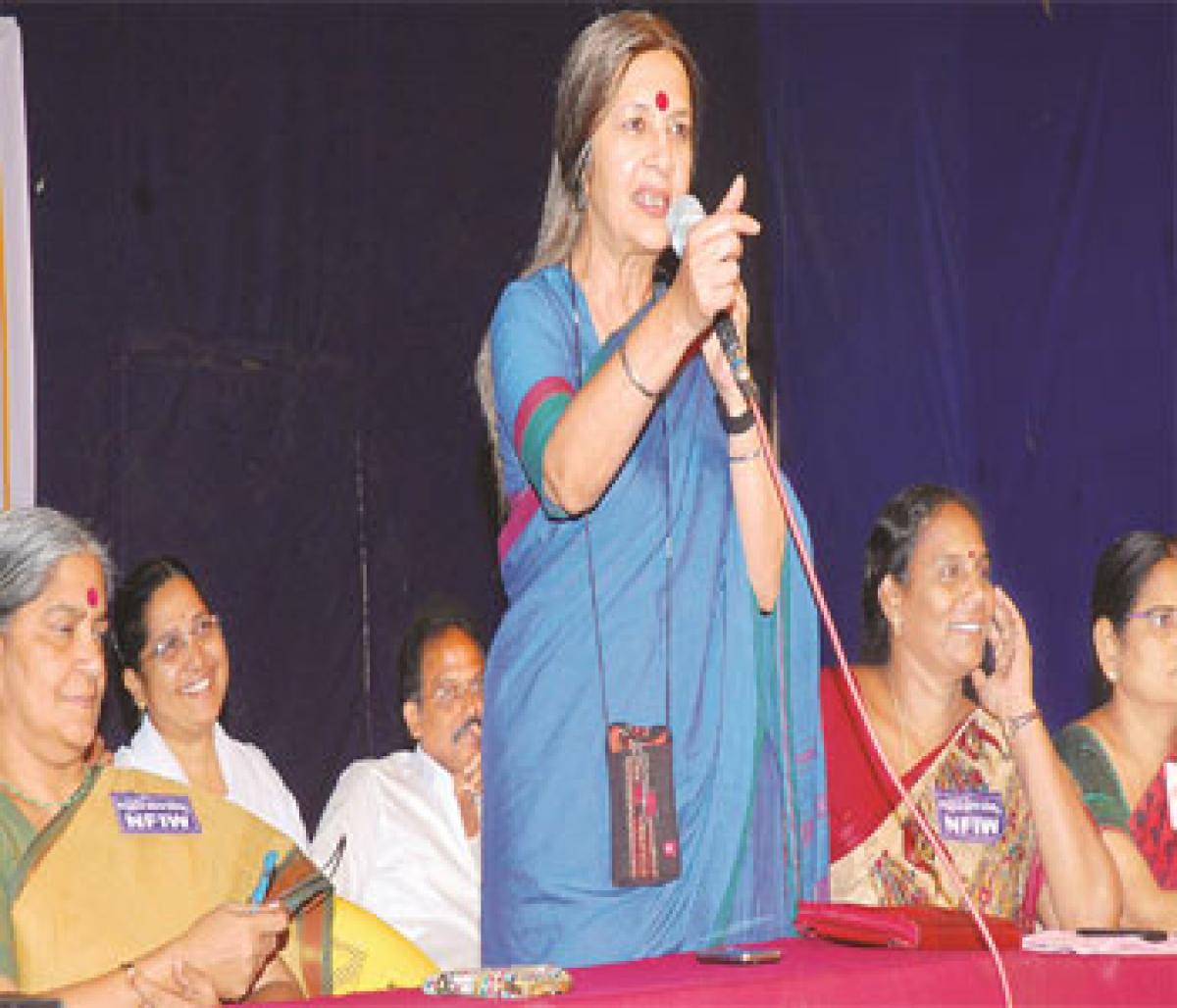 Highlights
Brinda Karat, who crusaded for adequate representation for women within her party, settles for a meagre two women members in the 16 member politburo.
Brinda Karat, who crusaded for adequate representation for women within her party, settles for a meagre two women members in the 16-member politburo. She is the CPM's first woman Politburo member. In a freewheeling discussion with Mounika Gali, she touches upon the issues of poor representation for women even in the contemporary Indian politics, fate of women reservation bill, and the need for 'feminisation' of the budget
Q. Was your entry into politics by choice or was it an accident?
It was very much by choice. I was born into a family which was deeply involved with the freedom struggle. Both mother's and father's side were fully associated with the freedom movement. My mother is a Bengali and father a Punjabi. They broke all conventions, fell in love, and got married. We were brought up in a very liberal atmosphere. We were never bound by any caste and community or the usual ways in which girls were brought up back then. I had gone to England to study Drama and then I worked in London for a while. While working in London, I got involved with the anti-imperialist movement during the Vietnam War. That was my first political activity. And it drew me to Marxism and I studied Marx's works as much as I could at that age. Then I left my job against my father's wishes, came back to India and joined the CPI (M) at the age of 22.
Q. Do you think Left politics is conducive for women?
I think politics practiced by Left parties, both theoretically and in practice, havedeep understanding of oppression against women and discrimination. It is the only political formation today which is conducive for women.
Q. If Left parties are indeed conducive for women, then why don't we see many women leaders like you in Left politics?
There are! But unfortunately, the media chooses not to see them. For example, look at the strong women leaders we have in Andhra Pradesh like D.Ramadevi (AIDWA State Secretary).
Q. In the 16-member politburo, the CPI (M) has only two women. Isn't that number very small?
That's huge! We have come a long way. Earlier, there was one and now we have two. There are other social sections also which require representation. We need to have a good mix in the politburo.
Q. Were there are any instances of regrets for you for being in politics?
No, never. I never regretted joining politics. In fact, my way of politics is driven by the belief in social change and social revolution. That has not changed at all. Otherwise, at this age, you won't find me running around the country the way I am!
6. There is a general impression that politics is still a male bastion. Do you agree with this?
At the top, it is true – in decision-making and elected bodies. This is a reflection of the secondary status accorded to our women in the society. Although politics should be the driver of social change, the scenario in Indian politics just remains a mirror to reflect the unequal status of women. India is 106th in the list of 190 nations as far as women's representation in Parliament is concerned. This is such a shame because India has given the world a new model of grassroots democracy in the form of Panchayats.
Q. Left parties have been in the forefront of demanding reservation for women in legislative bodies. Why can't they follow the same within their organizational set-up?
That's a very important question. In my party, we have only 15.5per cent women as members at the all India level. During the emergency, this number was only 6.5 per cent . Because there is a huge support for the party among women, we decided to ensure that we get at least 25 per cent women into the party in the next three years. Our party is not a 'missed call' party where you give a missed call and become a member. To join the CPI (M), it means lot of effort. Without lowering the quality of the membership, there are so many women outside the party who are capable of becoming members. The challenge is to make the political process more women-friendly.
Q. Budget season is round the corner. As a woman leader, what are your expectations from this budget for women?
I was very disappointed with the last year's budget. It has been a trail of broken promises starting with the women's reservation bill. The Modi government's budget has been very cruel to women. The gender budget was slashed by as much as 20 percentage last time. I hope it will be addressed in this budget. There is a huge shortfall in allocations for MGNREGA. At present, in the entire country, the money for MGNREGA is over. We still have four months left and Rs 34,100 crore that was allocated for it is already over. This is a huge blow to women's employment in rural areas. In this budget, we want much bigger allocations for MGNREGA. Also, the Nirbhaya Fund with Rs 2000 crore is lying there without bringing any palpable change in women's live.
Q. When do we hope to see you as the CPI (M) General Secretary?
(chuckles) I am up for retirement in a couple of years.