Kotanka village role model in water conservation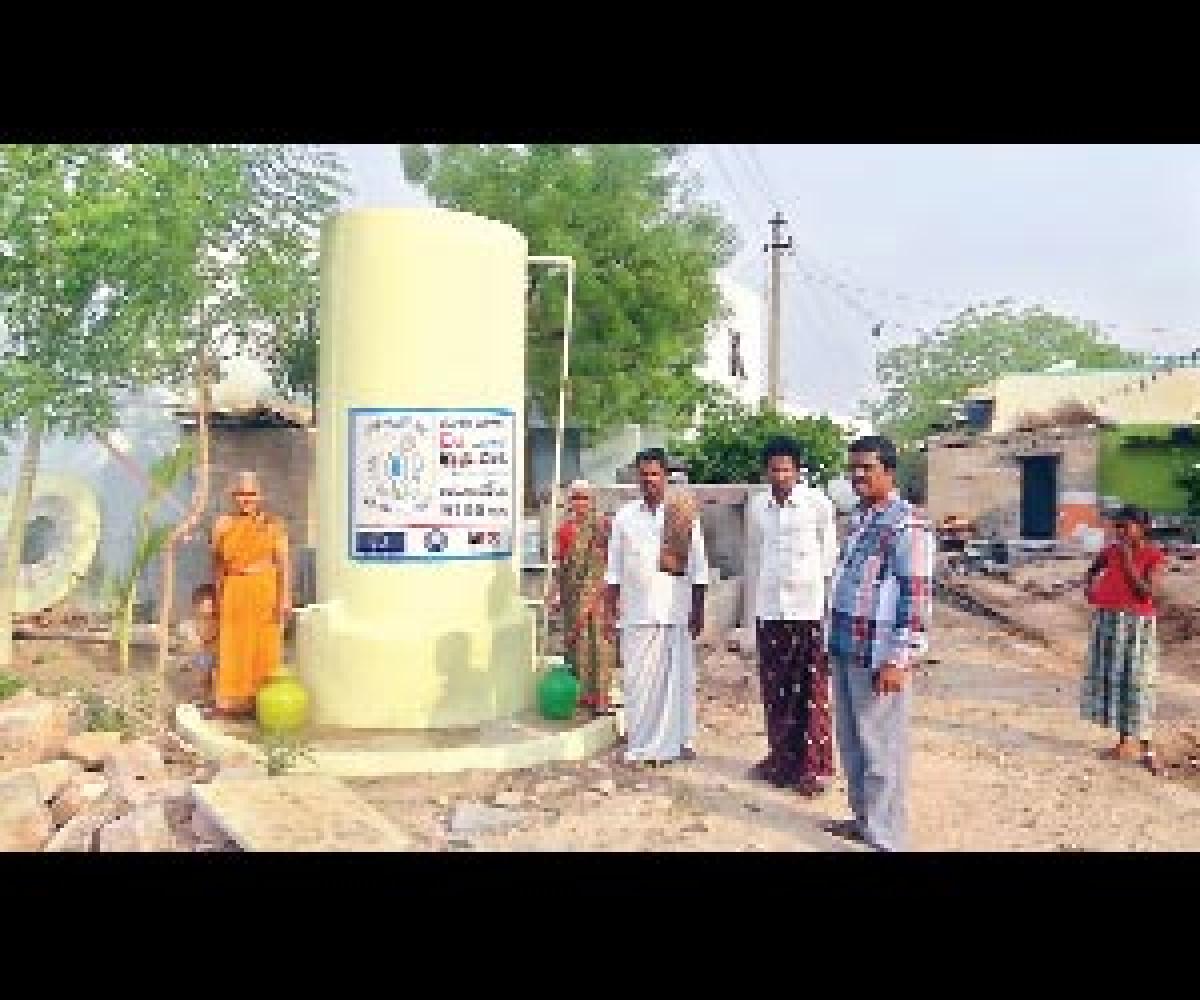 Highlights
Out of 370 borewells, 182 were gone dry and remaining were giving poor yields as of December 2011. However, the village today is teeming with life
- Out of 370 borewells, 182 were gone dry and remaining were giving poor yields as of December 2011. However, the village
today is teeming with life
- Hyderabad based CWS through RIDS, an NGO, is working with the village people for recharge of groundwater levels
Kotanka (Anantapur): Kotanka village with a population of 2,500 and 630 families was at one time in a precarious state with half of their
borewells totally dried up and 200 borewells were giving poor yields due to the depletion of groundwater to alarming levels. This resulted
in axing of more than 500 sweet orange trees and the village population struggling to get a pot of drinking water even for each
household. The village was declared as water scarce area and drilling of new borewells was completely prohibited by the government of
Andhra Pradesh. Out of 370 borewells, 182 were gone dry and remaining were giving poor yields as of December 2011. However, the
village today is teeming with life, thanks to the 'Community Based Sustainable Ground Water Management' project funded by European
Union and Bread For the World international agencies and implemented by Hyderabad based Centre for Water Studies(CWS) through
RIDS, an NGO based in Anantapur which is working with the village people at the ground level.
RIDS Project Director V Kistappa speaking to The Hans India said that the people had their own inhibitions when they were approached
by the NGO on the ground water recharge project. The village elders, sarpanch and all stake holders were taken into confidence and one
borewell selected and recharged through this technology, recharge impact was clearly seen on surrounding another five borewells and
yields got improved. Subsequently, 15 borewell recharge structures were constructed in the village and the dry borewells number got
reduced to 96 by June 2014. Now, the drinking water crisis was completely solved and all households are getting sufficient water. This
village was promoted as one of the model village to surrounding villages and they are visiting and encouraged by the measures they took
for water conservation.
Centre for Water Studies Executive Director Ram Mohan told The Hans India during an interaction that the ground waters which were in
their rock bottom levels a couple of years ago have today sufficient water for every household apart from water for animals. Water
cisterns were set up at different points in the village for the benefit of animals and even birds. 3 single phase motors were fixed and 7
mini water tanks were installed and 250 metres pipe line laid connecting water sources to households. Besides 2 RO water plants were
set up and 20 litres of drinking water was being supplied every day to 634 families. Besides, the people were organised and educated on
all fronts. Drip irrigation was organised for crops with 72 per cent subsidy covering 35,000 acres of agriculture and horticulture lands.
Capacitors were fixed to pumpsets to make them energy efficient. Solar street lighting was installed especially at the water tanks for
hassle-free operation. A village committee had been constituted with 11 members representing all communities under the chairmanship
of Ramalinga Reddy.
The committee also established a MACS society for lending micro-loans and encouraging thrift. As many as 85 farm ponds were also dug
in the village as part of measures for recharging of groundwater sources. The committee is working in coordination with Sarpanch
Peddakka. Every day, 450 labourers go for NREGS work, the highest in the mandal. All the local programmes were being coordinated by
Suresh Naidu.
The RIDS is also doing a similar work along with CWS in Masakavankapalli village in Nallamada Mandal, which is one of the over
exploited villages in the Anantapur district on the water resources front. Village committee chairman Ramalinga Reddy said that he never
imagined that unity in the village could pay such rich dividends, thanks to the initiative of RIDS and CWS in this regard.
Ravi P Benjamin