New Forest Act helps tackle menace: DGP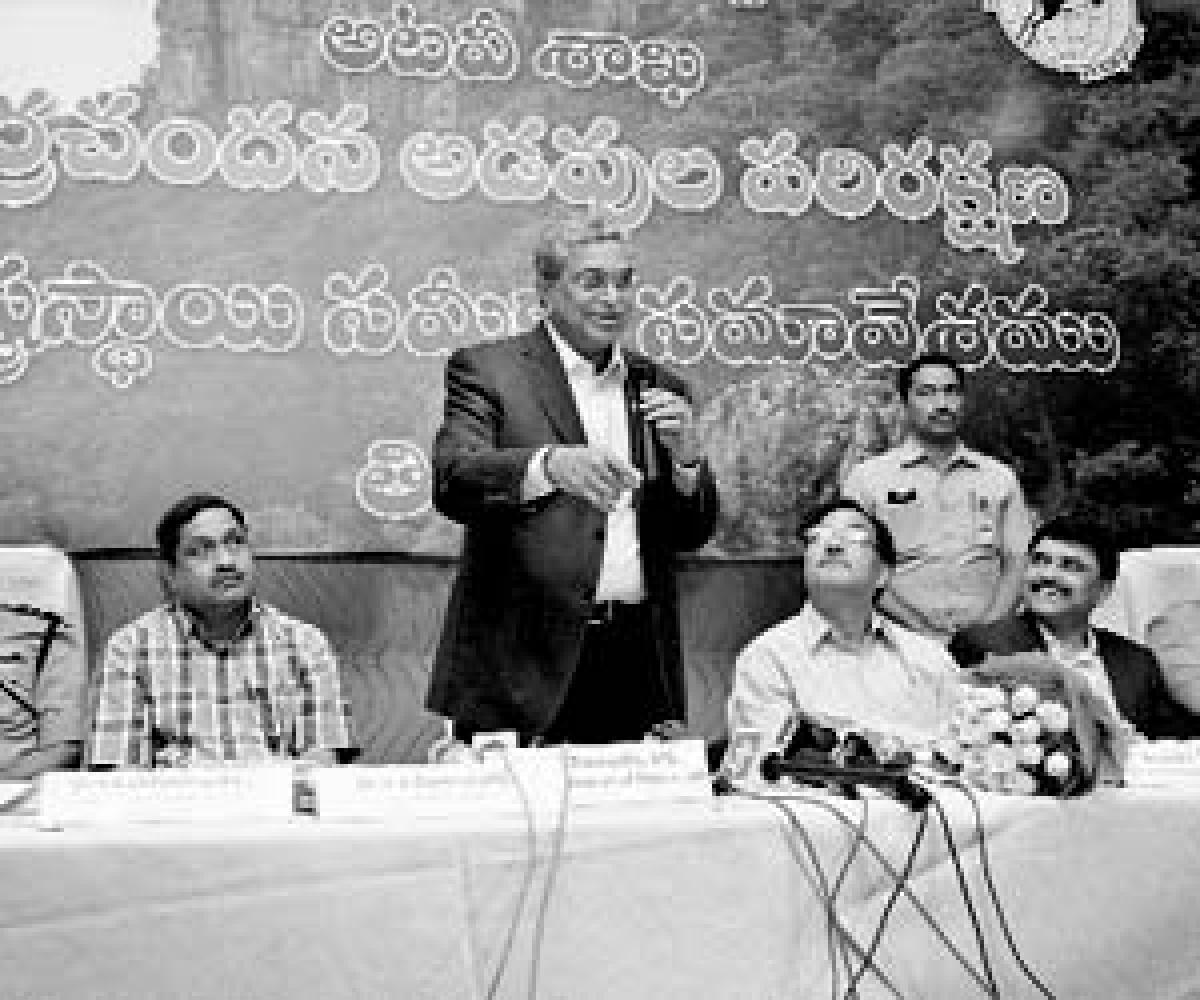 Highlights
Police would go all out to make use of the amended Forest Act to wipe out smugglers to preserve the precious red sanders trees in the
- DGP J V Ramudu alleges political support behind smuggling
- e-Surveillance to be stepped up
- Sophisticated electronic gadgets to be installed

Tirupati: Police would go all out to make use of the amended Forest Act to wipe out smugglers to preserve the precious red sanders trees in the Seshachalam forest, DGP JV Ramudu said while addressing a state level meeting of revenue, forest and police officials here on Monday to chalk out a strategy to bring an end to red sanders smuggling.
DGP was candid enough to say that due to vested interests including political support, the smuggling of the valuable red sanders from the forests in Kadapa and Chittoor districts went on over two decades. "We have not been able to solve this problem all these years because of weak law and order system allowing the smugglers have their say, but it is not so now with a changing scenario," he said besides sending a strong signal that the police would tolerate red sanders smuggling no more.
Ramudu in this connection stressed on the government departments like revenue, police and forest to work as a team to end the smuggling to protect the precious gift of nature viz. red sanders which grow nowhere other than the Seshachalam forest. Stating that the amended forest law gave much needed teeth to the act, he wanted the police including the task force to make use of it to deal a lasting impact on smuggling.
Simultaneously, renewed efforts should be made to wean away the poor people like the woodcutters and others involved in the smuggling at ground level from the illegal activity, as the State police were able to do in the case of Naxals, he said. He lauded the efforts of Chittoor SP G Srinivas in enlisting the support of the community leaders in Katiganahall, suburb of Bangalore city and recently a haven for red sanders smugglers. Principal Chief Conservator of Forests SBL Misra said that plans are afoot to step e-surveillance covering entire periphery of Seshachalam forests in Kadapa and Chittoor district by increasing CCTV cameras and also installing sophisticated electronic gadgets like RFID, Geo and laser fencing.
He said that the leadership came after the bifurcation was responsible for the stringent initiatives since 2014 against red sanders smuggling resulting in 70 percent decline in smuggling in just two years. RSASTF DIG Kantha Rao said that 22145 men were arrested, 7865 vehicles and about 13500 MT red sanders logs were seized in the last two decades. After the task force was set up in 2015-16, 2586 persons were arrested with 355 MT tone red sanders logs and 474 vehicles were seized. This indicates a declining trend in smuggling. He further said that 90 percent of those involved in the smuggling as wood cutters and carriers of logs were found to be from Javvadumalai area in Tamil Nadu.
Rao said that he had made an in-depth study of the forests and outside, interacted with the arrested smugglers and their families in Tamil Nadu to know the pattern of red sanders smuggling in order to draw a plan to prevent the smugglers right at the forest entry point. DGP further said that renewed efforts are on to set up special courts to deal effectively with long pending smuggling cases. He further added that the State police was coordinating with DRI and other States police to arrest all kingpins of red sanders smuggling. Locals who would be found providing the logistics to smugglers, would also be penalised, he added. Special Chief Secretary PV Ramesh Babu, Collectors of Chittoor, Kadapa, senior forest and police officials were present.