World Environment Day celebrated all over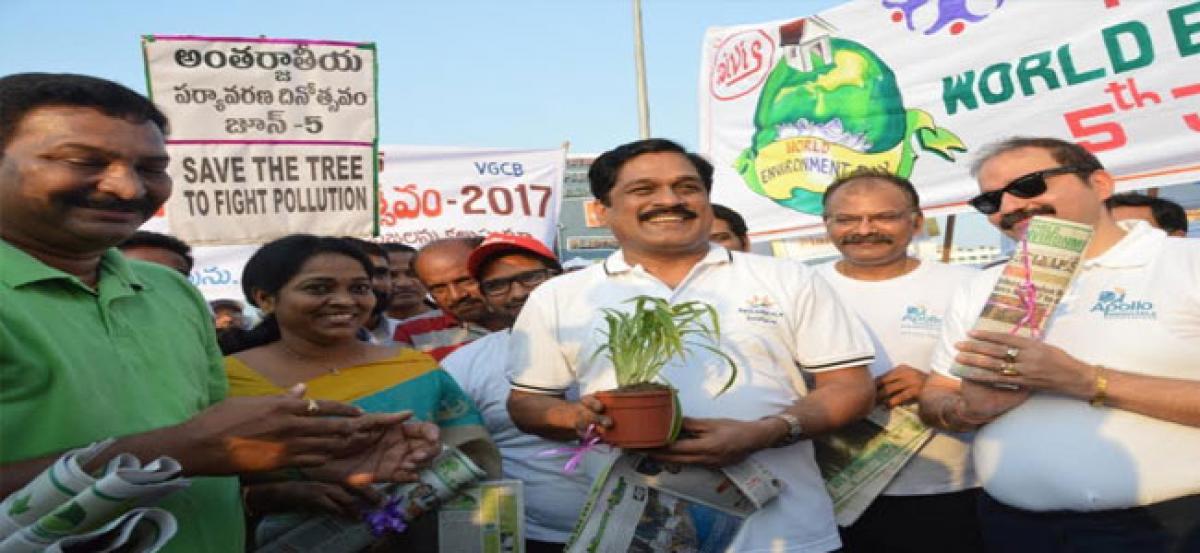 Highlights
Large number of major, medium industries, organisations and environment activists celebrated World Environment Day in various parts in the city on Monday. Plantation, seminars, beach and public area cleaning programmes were organised to mark on the occasion.
Visakhapatnam: Large number of major, medium industries, organisations and environment activists celebrated World Environment Day in various parts in the city on Monday. Plantation, seminars, beach and public area cleaning programmes were organised to mark on the occasion.
HPCL
Hindustan Petroleum Corporation Limited (HPCL) - Visakh Refinery organised several programmes on the occasion. At a function organised in the refinery premises, Joint Chief Environmental Engineer of APPCB NV Bhaskara Rao explained the importance of petroleum products in life and the need for leveraging technology to check and control pollution during the production as well as usage of these fuels.
He enumerated various environment friendly measures like usage of treated domestic effluent, co-processing of hazardous waste, rain water harvesting, etc. While explaining this year theme, "Connecting People to Nature", he cited how an individual can contribute to nature by usage of solar power, usage of bio degradable materials such as paper plates, jute bags, etc. and say no to plastics.
General Manager (Technical) HPCL-VR, B. Balagangadharam explained how we are part of nature, how intimately we depend on it and the need thereof to arrest excessive usage of natural resources. He highlighted the achievements by the refinery towards environmental improvement such as usage of low sulphur fuels, improved hazardous waste disposal, commissioning of sewage treatment plant, etc.
Chief Manager Technical HPCL-VR SK Ghosh mentioned the activities carried out by the refinery including plantation of saplings free, PUC check-up for two wheelers at HP Petrol, bunks, free sapling distribution in the refinery and various competitions conducted for the employees in the last fortnight on the occasion.
At another programme, Vizag West MLA PVGR Naidu (Ganababu) inaugurated free PUC check-up camp at HP Classic Petrol Outlet in Malkapuram. Speaking on the occasion, he explained how emissions from vehicles can contribute to environmental pollution in cities where the vehicular traffic was more. General Managers ASV Ramanan B. Balagangadharam, DGM Narisetty Rajarao, and Senior Manager U S Sarma were present.
Waltair Division, E C Railway
Waltair Division of East Coast Railway observed World Environment Day by organising plantation programme in the Railway colonies to explore its future course of action to prevent pollution. Divisional Railway Manager, Mukul Saran Mathur, ADRM Ajay Arora, Senior Divisional Engineer Ashok Kumar, officers and staff took part in the programme.
Railway staff of Simhachalam station in co-ordination with NGO "All we can" has organised cleanliness drive at Simhachalam station and also created awareness programme amongst the traveling public, to avoid usage of plastic. NGO president Dinesh Kumar and Vice president Shivshankar were present.
GPL
The Gangavaram Port Limited initiated a week long green belt development and awareness programme at the port premises to create knowledge and express their commitment towards environmental sustainability. Keeping in line with the current year theme of 'Connecting people to Nature' the GPL began the Environment Day celebrations from May 31.
As a part of the initiatives the staff and the management of the port kick-started the green drive by planting more than 5,000 saplings, with a pledge to plant more than 60,000 saplings in the port premises and neighbourhood area during the year. Directors of GPL V Janardhana Rao G Brahmaiah, Senior Vice President K Rajaratnam Naidu, and Smt Assistant Vice President D Jyothi were present.
Apart from sapling plantation at the port premises Gangavaram Port senior officials and employees voluntarily participated in the "Green Rally" organised by AP Pollution Control Board.
VSP
NV Bhaskar Rao, Joint Chief Environmental Engineer , Andhra Pradesh Pollution Control Board, who was a guest of honour was all praise for RINL for extensive green cover in and around the Steel Plant and lauded the pollution control measures and environment protection initiatives being implemented by the management. The theme for this year is "Connecting people to Nature".
Speaking on the occasion, Bhaskar Rao said that VSP revived the greenery lost during Hudhud in a systematic manner and the collective efforts of RINL helped reduced the pollution and preserved the environmentP Madhusudan, CMD, RINL highlighted the importance of preserving the nature for the survival of the mankind and said RINL has been playing a vital role in that direction right from the beginning.

The RINL was implementing various environment protection initiatives and considered as one of the best eco-friendly steel industry in the country. He said that RINL is one of the best industry to reuse, recycle the wastes to generate wealth. A mime show by the employees highlighting the conservation of water was appreciated by one and all.
Beach cleaning programme
Wings for Life Foundation, an NGO took up Vizag Beach cleanup drive which will be a weekly drive to make the Vizag Coastal Corridor an environmental safe belt. Collector Pravin Kumar, Commissioner, GVMC M Hari Narayanan and several other officials were present in the programme. Jyothirmayi Mukthineni who is the Founder of Wings for Life Foundation Jyothirmayi M and several other NGO representatives were present.