Losses driving chilli farmers to end lives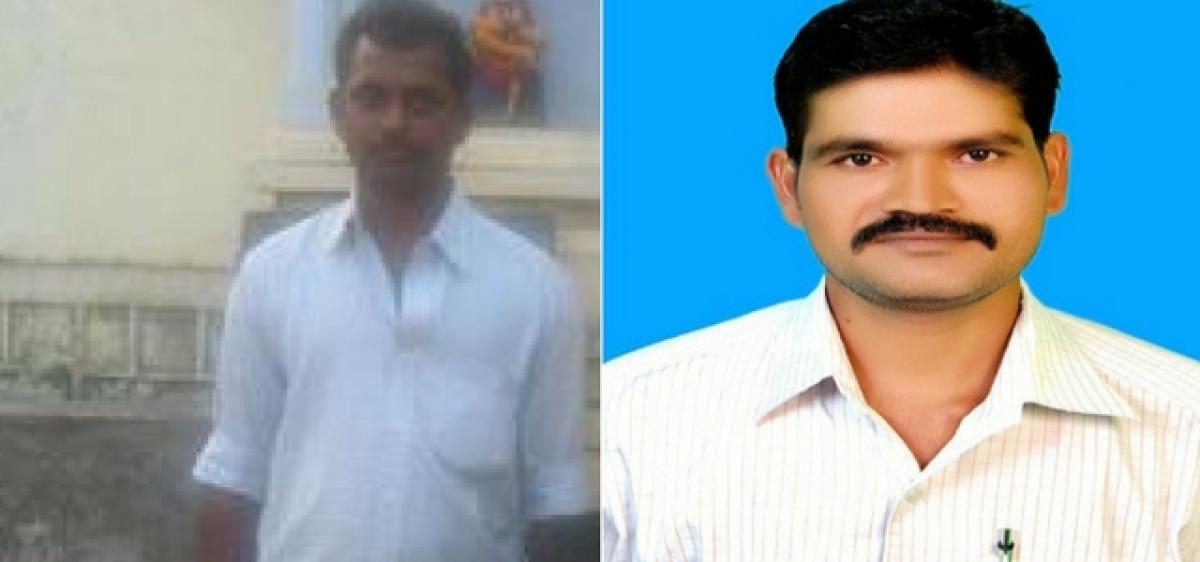 Highlights
Twelve-year-old Meda Rakesh Sai was trying to understand why all the villagers came to their house. He and his twin sister Lakshmi Sai could not comprehend why their father was not responding to them. 
​Ongole: Twelve-year-old Meda Rakesh Sai was trying to understand why all the villagers came to their house. He and his twin sister Lakshmi Sai could not comprehend why their father was not responding to them.
A few minutes ago he promised them to bring mangoes. Holding them together, their mother Padmavathi, a physically-challenged woman, remained blank in her thoughts.
Forty-year-old Meda Srinivasa Rao of Bobbepalli in Martur mandal owns 4-acre land and took another 11 acres on lease to raise chilli and cotton. He put all his efforts but weather failed him. After making some calculations, he found himself mired in Rs 25-lakh debt.
Unable to find a way of relief and face the money lenders, Rao went to his farm in Yanamadala and consumed pesticide last Thursday. A few hours later some shepherds found him dead and informed locals.
Sagili Venkateswarlu is a chilli farmer from Thumada village in Zarugumalli mandal. Though he owns 3-acre land, he used to cultivate chilli in 15 acres of leased farms. He did not want his daughter and son to be farmers like him.
He provided them good education in Chennai after making arrangements for their stay at relatives place. Due to bad weather in Prakasam, he lost the crop for the last three years. He pinned hopes on the crop this year.
He brought popular brand of seed frequently advertised on television and elsewhere. But he did not get good yield. Unable to digest that he was cheated by fake seeds, he committed suicide in January 2017.
The family members, who do not have an idea about the legal proceedings to get relief from the government, cremated the body of Venkateswarlu without any post-mortem. Now, his wife Seshamma, daughter Narayanamma, who is studying MBA, and son Srihari, who is studying engineering, are now working on the same farm to clear the loans of about Rs 10 lakh.
"It took us few weeks to understand that we are in the middle of the sea and no one could help us. The government officials reject our request for the relief as we did not get the post-mortem done. Though he does not like the children working on the farm, I have no other alternative. It is unfortunate that it has become the responsibility of the children to clear his debts," said Seshamma.
This is the same situation in the houses of farmers like Janigarla Kondala Rao of Voletivaripppalllem, Tangirala Venkateswara Reddy of Itivaram in Pullalacheruvu mandal, Namburu Venkateswarlu and Kankata Venkateswarlu of Pusapadu, Vaka Ramanareddy of Inamanamelluru, Paila Venkateswarlu and others who committed suicides in Prakasam district.
Most of their families are denied relief from the government though it is common knowledge that they committed suicide unable to bear the burden of loans. In 2015, the Government of Andhra Pradesh issued GO No. 62 making changes to the existing relief for the relatives of farmers who committed suicides.
As per the modified GO, the 3-member committee consisting of officials from revenue, police, and agriculture departments sanctioned a relief of Rs 5 lakh to the bereaved family members. In those Rs 5 lakh, a maximum of Rs 1.5 lakh should be used for the one-time settlement of all loans thus by making the family members free from any liability.
Pentyala Hanumantharao, general secretary of Kaulu Raitu Sangham, said, "Since 2010, nearly 70 farmers committed suicide in the Prakasam district. This season ten chilli farmers committed suicides. Most of the farmers committing suicides are tenant farmers or small farmers.
This year the chilli farmers are facing a very tough time. When compared with the last year, the total area under chilli cultivation has increased by 19.2 percent while the produce is increased by 17 per cent. The announcement of government offering Rs 1,500 extra to the market price damaged the market further and the prices dropped to a level around Rs 1,500 to Rs 2,000 which is less than the cost of picking, grading, and processing cost.
As the government claimed that there is enough market for chillies but the extra produce is affecting the market, we are demanding the government to buy the extra 20 per cent of produce through MARKFED and stabilise the market to Rs 10,000 per quintal, which is the last year's price and save the farmers committing suicides.
A person, who may have tendencies to commit suicide, can be identified by his behaviour, We can help and prevent them from committing suicides, said Dr NB Sudhakar Reddy, general secretary of Andhra Pradesh Counselling Psychologists Association.
"People suffering from depression can easily be identified as they have sleep and food disorders. They do not sleep or sleep for more hours. They do not have the appetite or eat more. They avoid meeting friends and relatives and discuss death with the people they meet.
Hopelessness can be observed in their dialogues. Farmers or any other people with these symptoms should be given counselling and they should be provided alternate solutions to their problems. Cognitive behavioural therapy, relaxation techniques, and medication would help them regain their spirits and see the world with a positive perspective.
It is the duty of the government to reintroduce motivational programmes for the farmers and public, which were a hit a few decades ago, to save farmers from killing themselves now," said Sudhakar Reddy.