Scanty rainfall affects pineapple yield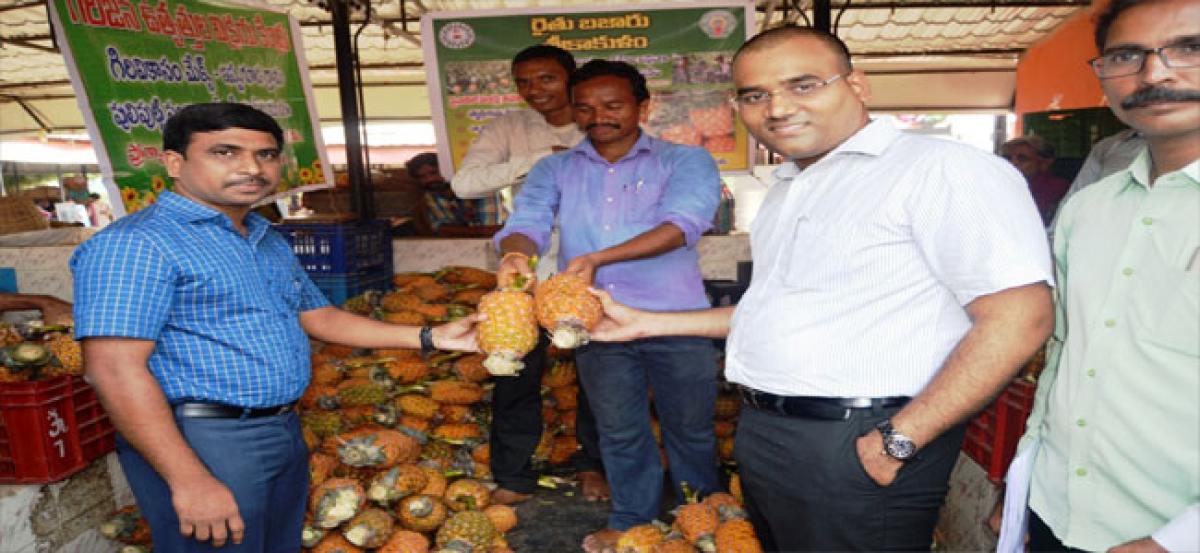 Highlights
Scanty rainfall from October 2016 to May this year led to reduction of pineapple yield in the Agency area in Srikakulam district. Pineapple is being cultivated in an extent of 10,000 acres in the Agency mandals under Sitampeta Integrated Tribal Development Authority (ITDA) limits. Yield for per acre is about three tonnes, but this year the yielding is only two tonnes in one acre. The pineapple cro
Srikakulam: Scanty rainfall from October 2016 to May this year led to reduction of pineapple yield in the Agency area in Srikakulam district. Pineapple is being cultivated in an extent of 10,000 acres in the Agency mandals under Sitampeta Integrated Tribal Development Authority (ITDA) limits. Yield for per acre is about three tonnes, but this year the yielding is only two tonnes in one acre. The pineapple crop ripening stage begins from first week of June every year.
Highlights:
Traders and middlemen trying to exploit farmers

Officials open a stall at Srikakulam Rythu Bazar
There are no storage facilities for pineapple in the Agency mandals. Therefore, unsold stock is decaying quickly. By taking these two disadvantageous into consideration, traders are exploiting the farmers through middlemen every year.
This year also traders from various places deployed their agents across the Agency mandals to procure the fruits from tribal farmers at a cheaper price. But, the ITDA officials initiated exercise to provide reasonable price to farmers by providing market facilities to them.
"We have opened a stall at Srikakulam Rythu Bazar to provide better price to farmers to their produce and planning to open stalls at all Rythu Bazars in two districts soon," said ITDA project officer Lotheti Sivasankar "By shifting pineapple directly to Rythu Bazars is helpful to farmers to get good price and customers will also get the fruit at a cheaper price than open market," B Sanjiva Rao representative of an NGO explained.
"Officials need to open stalls at all Rythu Bazars as early as possible to protect farmers from middlemen exploitation as they are moving across Agency to procure it from farmers directly," said tribal Farmers Cooperative Association member Savarathota Mukhalingam.
By ch lakshmana rao