Growing statue cult triggers turf wars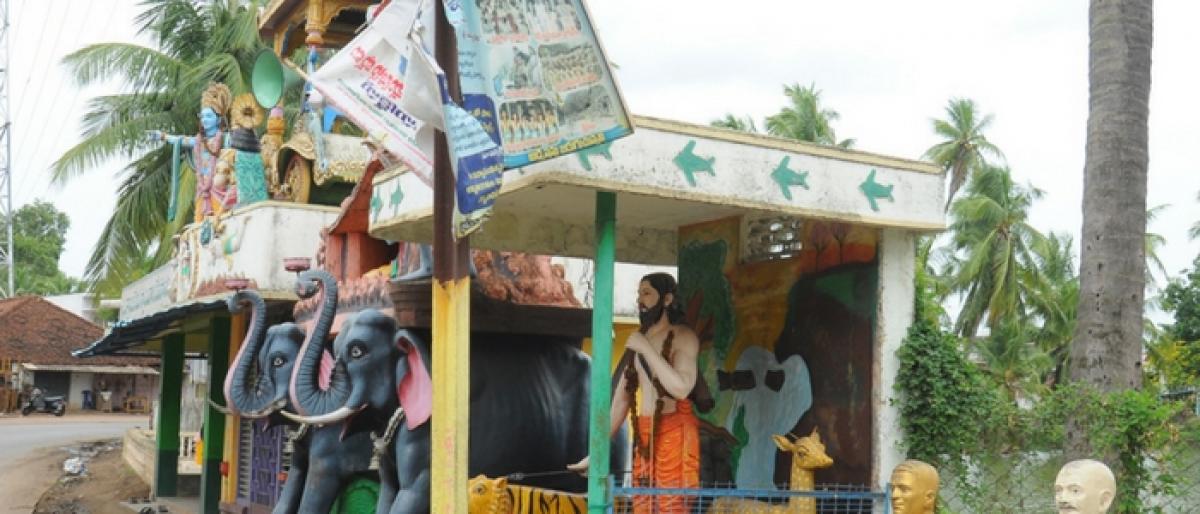 Highlights
The growing cult of statues in the Godavari deltla comes under the spotlight in the wake of a conflict between the Dalits and upper-castes  over installing a statue of B.R. Ambedkar in this village. 
​Garagaparru (West Godavari Dist): The growing cult of statues in the Godavari deltla comes under the spotlight in the wake of a conflict between the Dalits and upper-castes over installing a statue of B.R. Ambedkar in this village.
One cannot avoid taking a glimpse of the imposing statues of great personalities adorning a water tank at the centre upon entering the village located on the Bhimaravam-Tadepalligudem road in West Godavari district.
The statues of Alluri Sitarama Raju, Tandra Paparayudu, Sir Arthur Cotton and Potti Sriramulu lining up along a water tank in the heart of this village represent the growing culture of statues in the coastal Andhra region.
A drive through the Krishna and Godavari delta areas with swaying lush-green paddy fields helps visitors come across `n' number of statues of Vangaveeti Mohan Ranga, Congress former MLA from Vijayawada, NT Rama Rao, matinee idol and former Chief Minister N.T. Rama Rao, YS Rajasekhar Reddy, Congress former Chief Minister, and, of course, B.R. Ambedkar and Babu Jagjeevan Ram.
Statues of each personality will have a particular designated place for installation in line with the acceptance and adoration of each social group. Social mobilization, identity politics and politics of appeasement revolve around the statue cult.
In the Godavari delta region comprising East and West Godavari districts is thickly dotted with the statues of Sir Arthur Cotton and Alluri Sitarama Raju in the patches dominated by Kshatriyas.
Although Cotton is a foreigner belonging to a colonial class against which the country launched a spirited struggle for Independence, people in the Godavari delta however adore him a lot, cutting across caste lines and politics.
They vowed their affluence to his benevolence that helped in conceiving and realizing the Irrigation system. People in a large number of delta villages even express their gratitude for Cotton by building temples and performing prayers on his birthday every year.
Alluri Sitarama Raju, hailing from Mogallu, a stone's throw from Garagaparru who became a jungle hero after he laid down his life while leading the Rampa rebellion against the British in defending the rights of Adivasis in the Agency of the undivided East Godavari district and the adjoining Visakhapatnam, is owned up by his community people.
M Satish Chandar, a Dalit writer from Narasapur, ridiculed the claim of Kshatriyas as Alluri's successors. "After all, Sitarama Raju gave up association with his community and crusaded for the cause of Adivasis. The assertion of Kshatriyas as his inheritors is meaningless," he commented.
The statue culture took its roots in the Krishna-Godavari delta regions in the early 1990s after the killing of Vangaveeti Mohan Ranga, icon of Kapus, while on fast close to his house in Vijayawada in December, 1988.
His lynching created a social divide between the resource-rich Khammas and Kapus, considered as have-nots, triggering installation of hundreds of Ranga statues in every nook and corner of the two delta regions.
Then, came the statue trend in favour of NT Rama Rao and YS Rajasekhar Reddy, both belonging to rival political parties in the mid 90s and late 2010s. As Andhra politics is polarized on the caste lines, NTR and YSR enjoyed public support accordingly.
Khammas claim political legacy from NTR while Reddies in Rayalaseema from Rajasekhar Reddy. After the Ranga's murder, non-Khammas led by Kapus rallied behind YSR.
Strikingly, the statues of YSR in larger than life sizes came up in public spaces along with those of Mahatma Gandhi who got relegated to insignificance in terms of prominence.
"The portraits of Dr BR Ambedkar embellish government offices and all the leaders holding high positions in government garland his statues on his birth anniversary.
Then what prevents him to find a place along with the statues of other leaders," asks Pirre Ravi Deva, convener, Mala Aikya Vedika.