TCC, MCT join hands to improve greenery in Tirupati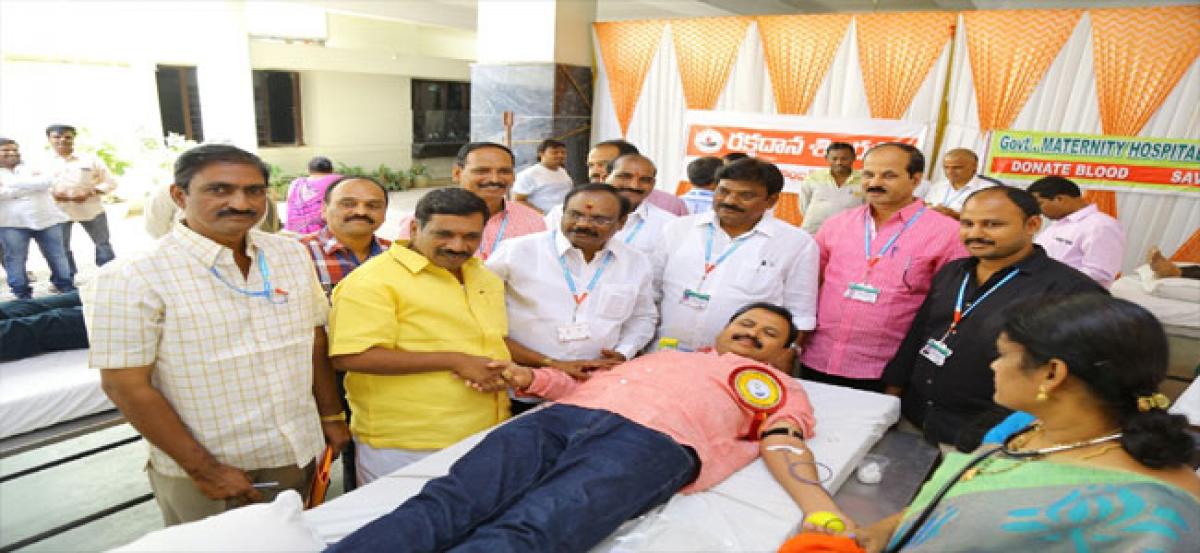 Highlights
Tirupati Chamber of Commerce (TCC) will join with the Municipal Corporation of Tirupati (MCT) to improve greenery in a big way in the pilgrim city, said TCC president Manjunath. Speaking at the second anniversary celebration and general body meeting of TCC held here on Sunday, Manjunath said TCC had already held discussion with the MCT authorities on taking up sapling plantation in the corporatio
TCC president Manjunath is seen donating blood in the blood donation camp held on the occasion of TCC second anniversary celebration in Tirupati on Sunday
Tirupati: Tirupati Chamber of Commerce (TCC) will join with the Municipal Corporation of Tirupati (MCT) to improve greenery in a big way in the pilgrim city, said TCC president Manjunath. Speaking at the second anniversary celebration and general body meeting of TCC held here on Sunday, Manjunath said TCC had already held discussion with the MCT authorities on taking up sapling plantation in the corporation limits.
TCC will not wash off its hands after plantation but would continue its efforts for the protection of the plants grow into trees, he said. TCC which has taken up development, welfare and skill enhancement programmes for its members will here after undertaking programmes for the welfare of employees working in the shops and establishments.
He said that scholarships will be provided to meritorious children of shop employees for higher education. Amara Raja Group of Companies Chairman Galla Ramachandra Naidu said that as the pilgrim city, which was hitherto confined only to temples, is rapidly expanding with more and more industries, corporate, hospitals, hotels, malls,
recreation houses coming up, it is soon going to become the third largest city in the state with huge economic and business potential throwing up enormous opportunities to the entrepreneurs to develop.
The TCC apart from engaging in the welfare activities related to its members should also focus on social issues
and service to keep in tune with commercial and trade growth of the city. TCC secretary Madhusudhan Rao presented the annual report and a brief account on the activities in the last one year. Marking the occasion, a blood donation camp was conducted by TCC in which 50 members donated blood.