Tirupati police seize 98 red sanders logs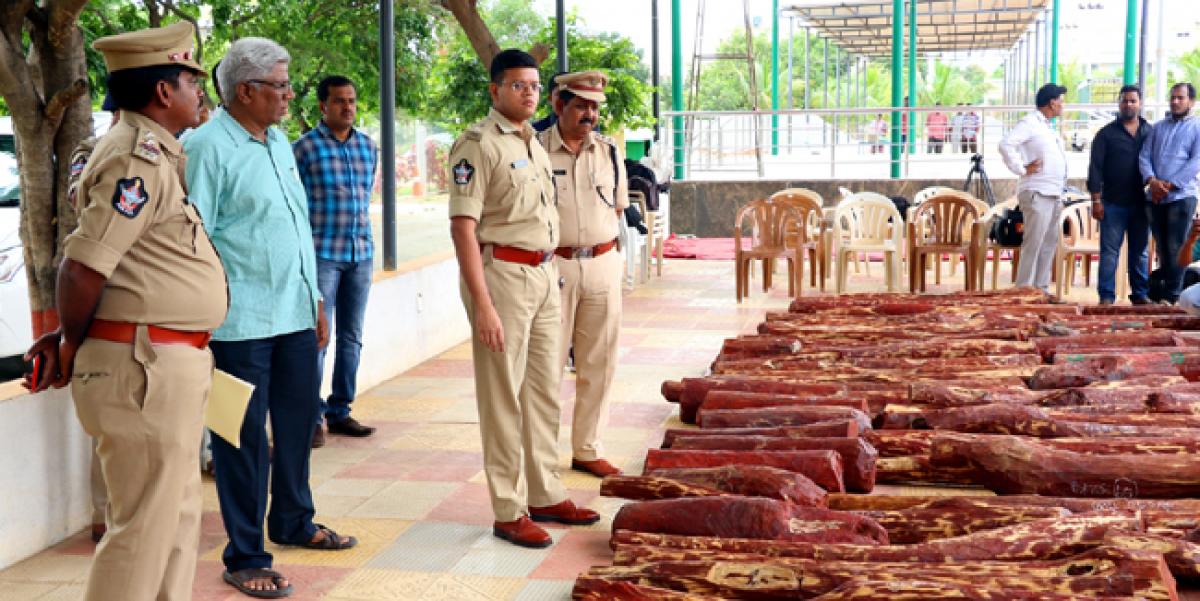 Highlights
In a major haul, Gajulamandyam police under Tirupati Urban district seized 98 red sanders logs weighing 286 tonne on July 5 and July 7 Twentytwo logs were seized from a truck after intercepting it near Gajulamandayam on July 5 while 76 logs were recovered from a saw mill at Kanakapura town, Karnataka, after a raid by the Tirupati urban police on July 7
Tirupati: In a major haul, Gajulamandyam police under Tirupati Urban district seized 98 red sanders logs weighing 2.86 tonne on July 5 and July 7. Twenty-two logs were seized from a truck after intercepting it near Gajulamandayam on July 5 while 76 logs were recovered from a saw mill at Kanakapura town, Karnataka, after a raid by the Tirupati urban police on July 7.
Speaking to media here on Sunday, Tirupati Urban SP Abhishek Mohanty said that Gajulamandyam police intercepted a truck during the inspection of vehicles leading to the recovery of 22 logs weighing 631 kg red sanders from the vehicle after arresting a smuggler identified as S Kumar of Annaikadu village, Salem district of Tamil Nadu while a few more smugglers in the vehicle managed to flee.
Gajulamandyam police who took up investigation based on the information culled from the intense interrogation of Kumar, launched a search operation to nab the remaining accused, A police team which went to Kanakapura in Ramnagar district, Karnataka took L Maadhu (35) the accused (No. 6) in the red sanders smuggling case registered by Gajulamandayam police after the seizure of 22 red sanders logs, into custody when he was standing near a bus stop on July 7.
In the interrogation that followed, Maddhu who is also from Tamil Nadu Salem district Nannuru village, spilled the beans and led the police to a saw mill owned by one Deepu located on Dhegula Matham road in the town, 55 km from Bengaluru city and haven for the international smugglers engaged in the illegal sale of red sanders logs smuggled from Seshachalm forests .
The police team in a swift operation recovered a huge stock of 76 red sanders logs that were felled and smuggled from Seshachalam forests by the Tamil Nadu wood cutters, from the saw mill which is used as a godown by international smuggler Afsar alias Afroz . He and other accused in the case are still at large. Intense searches are on to trace out the notorious smuggler Afsar.
The Urban SP said Afsar is facing six cases of red sanders smuggling registered in various police stations in Chittoor district and is one of the most wanted smuggler having links with exporters supplying logs to international market. Mohanty, who along with senior police officials inspected the seized logs and also the truck by Gajulamandyam police that were stored in the Police Parade ground here on Sunday. He patted the police team for their meticulous planning and investigation resulting in the seizure of huge stock red sanders.