Dr Chinamilli Satyanarayana Rao receives Excellency Award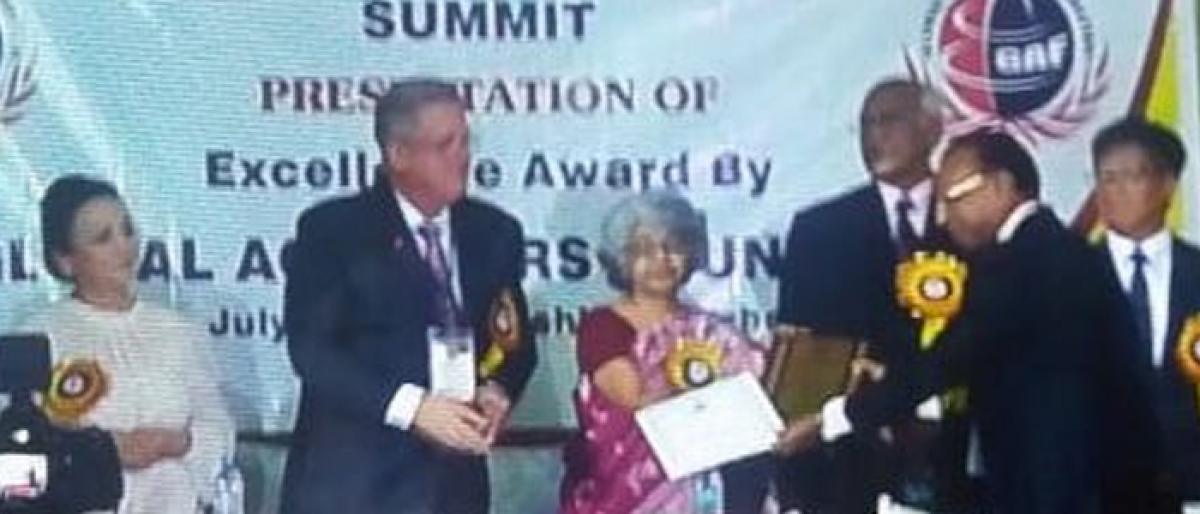 Highlights
Secretary and Correspondent of YN College and Lions Clubs international exdistrict Governor, Dr Chinamilli Satyanarayana Rao has received the international Excellence Award for Social Services from Global Achievers Foundation in Tashkent, Uzbekistan on Monday
​Narsapur: Secretary and Correspondent of YN College and Lions Clubs international ex-district Governor, Dr Chinamilli Satyanarayana Rao has received the international Excellence Award for Social Services from Global Achievers Foundation in Tashkent, Uzbekistan on Monday.
The Global Achievers Foundation awarded this award on the occasion of international Seminar held on "Globalisation of Economic Growth and Social Development" in Tashkent,Uzbekistan. ln this summit, Dr Chinamilli received award from Sipra Ghosh, Acting Ambassador, Embassy of India, Tashkent, Adolot Nasirora, Former Governor Tashkent, Uzbekistan and CEO, The Hospitality Services, Uzbekistan.
Dr Chinamilli has been popular in Narsapur and Coastal areas as Poorman's Doctor. He has served the poor for over 50 years as a medical practitioner. He contributed to the field of education in the Narsapur Town by contributing to the development of studies from LKG to PG. As the Secretary and correspondent of Sri YN College, since 1983, he developed the college from UG to PG.
Because of his untiring efforts and in being the driving force, the college could get national recognition by getting three times NAAC 'A' grade and as a College with 'Potential for Excellence'. The college also got Autonomous status due to his efforts. So also, he could get for the college the Skill Development Centre and HRD Centre with the support of State and Centre Governments (NSDC and APSSDC). With his efforts recently, the college could get rupees Two Crores from RUSA (Rashtriya Uchchatar Shiksha Abhiyan) for the greater development of the college.
The college Vice-President, GVK Rama Rao said the Excellence Award was presented to Chinamilli Satyanarayana Rao in recognition of his services in health, education and social services. On this occasion Dr Y Gopala Krishna Murthy, Treasurer, and GB Members of the College, Dr ARS Kumar, Principal, Dr N Chinta Rao, Director, PG Courses, Dr K Venkateswarulu, Vice-Principal, Muthyala Kalyana Rama Krishna Rao, B.Ed. Principal, teaching and non-teaching staff and students congraturlated Dr Chinamilli Satyanarayana Rao for his achievements and recognition.