Cops should hone skills to probe cyber crimes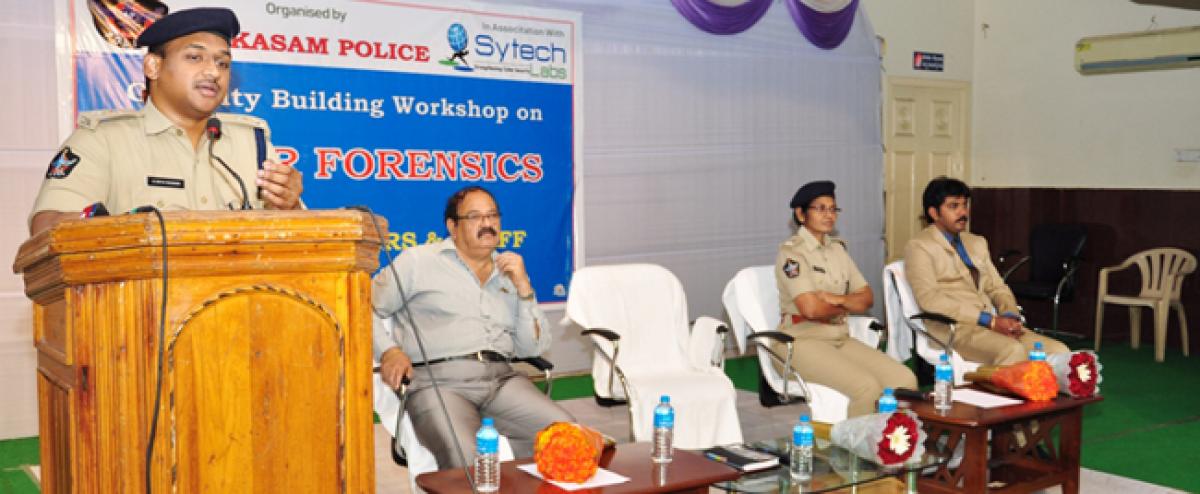 Highlights
The Prakasam district police department organised a workshop for police on Cyber forensics in association with the Sytech Labs, Hyderabad, here on Tuesday
Ongole: The Prakasam district police department organised a workshop for police on 'Cyber forensics' in association with the Sytech Labs, Hyderabad, here on Tuesday.
District Superintendent of Police Bhusarapu Satya Yesubabu emphasised the importance of cyber forensics and the need of police personnel to upgrade their technical knowledge and skill to investigate cyber crimes.
He explained the personnel how a few cases were solved in the district with examples. He discussed on how the cyber criminals can challenge the safety and protection of civil society using the advanced technology.
He said that the participation in the workshop and practising the procedures helps the personnel in personal and professional areas and helps them solving of the cases easily.
Sandeep Mudalkar, CEO of the Sytech Labs, explained various types of cyber crime, including how the credit or debit card frauds, e-Commerce and investment frauds, unauthorised access to data through malwares, cyber stalking, identity theft, posting of obscene and morphed photos of people on internet. He also explained about the IP locating through headers of e mails, IP tracking, tracing the location of a suspect by various tools and web services.
He discussed about the e mail spoofing, spamming, phishing the people through dummy websites and explained about the decoding of chats, WhatsApp messages and other encoded databases and sending Trojan horses to computers hack mobiles to listen them.
A selected group of police personnel from DSPs to constable level officers, including the Additional SP ABTS Udayarani, are participated in the workshop and its procedures.
On Wednesday, cyber-crime awareness programme for the common people is being organised by the police department to educate them on the types of cyber-crimes and how they should avoid themselves falling prey to them, announced Superintendent of Police BS Yesubabu.