Araku bamboo chicken, biryani enter Rayalaseema region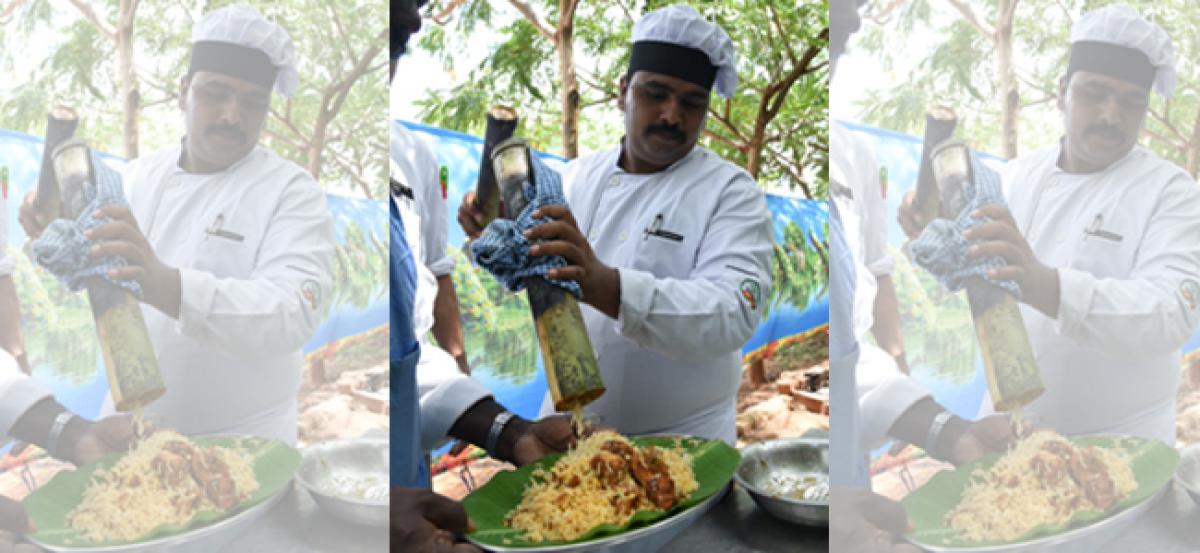 Highlights
The State tourism department introduced the mouthwatering cuisine Araku Valley bamboo chicken and biryani, which were recently recognised as signature food of the state by the state government, in Rayalaseema region
Tirupati: The State tourism department introduced the mouth-watering cuisine Araku Valley 'bamboo' chicken and biryani, which were recently recognised as signature food of the state by the state government, in Rayalaseema region.
Officials of the State Institute of Hotel Management, Catering Technology & Applied Nutrition, Tirupati (SIHMCT&AN) conducted a training programme on a large-scale for star hotels, private restaurants and tourism department chefs here on Wednesday.
As part of popularising bamboo chicken and biryani, the tourism department brought them here, for the first time outside Vizag district. More than 30 chefs from star hotels and reputed restaurants attended the training programme and learnt cooking techniques of Araku bamboo chicken and biriyani from the State Institute of Hotel Management, Tirupati, official trainer and master chef Sivarama Krishana.
In this connection, chef Sivaram told The Hans India that this is the first time the state tourism department was introducing this north Andhra local cuisine Araku bamboo chicken biryani in Tirupati region. "This biryani is made with less oil and using different spices.
Rice and chicken are mixed in spices and stuffed into a piece of raw bamboo piece and would be cooked on natural fire till outer layer is turned into charcoal to make Bamboo Chicken Biryani. The bamboo sprout is an extremely hard material with hollowness inside having segmented air pockets.
The stuff filled in each pocket is served as a single portion. The opening of bamboo pipe is closed with green leaves to block the steam while food gets cooked. Result is the rich flavour of bamboo extracted by the circulating steam while aroma of food itself remains largely retained," explained Master Chef Sivarama Krishna.
AP Tourism Development Corporation Tirupati divisional manager R V Suresh Kumar Reddy said the corporation had decided that to conduct training continuously in making bamboo biryani to attract the food lovers of this region as well as tourists who all the away come to Tirupati for site-seeing. Also, we are planning to incorporate the Araku bamboo chicken biryani as week-end menu in private hotel restaurants and our restaurants".
AP Tourism Authority Andhra cuisine development wing assistant director J Nishar Ahmed said from now onwards bamboo chicken biryani lovers need not to go to Vizag Araku Valley taste the tribals' delicious cuisine. "It will be availed within days at tourist restaurants.
We are going to conduct another training programme for housewives and hotel cooks in making of delicious foods like Pootharekulu and Ulavacharu in Tirupati shortly," he added.