AP CM flags off electric cars in Vijayawada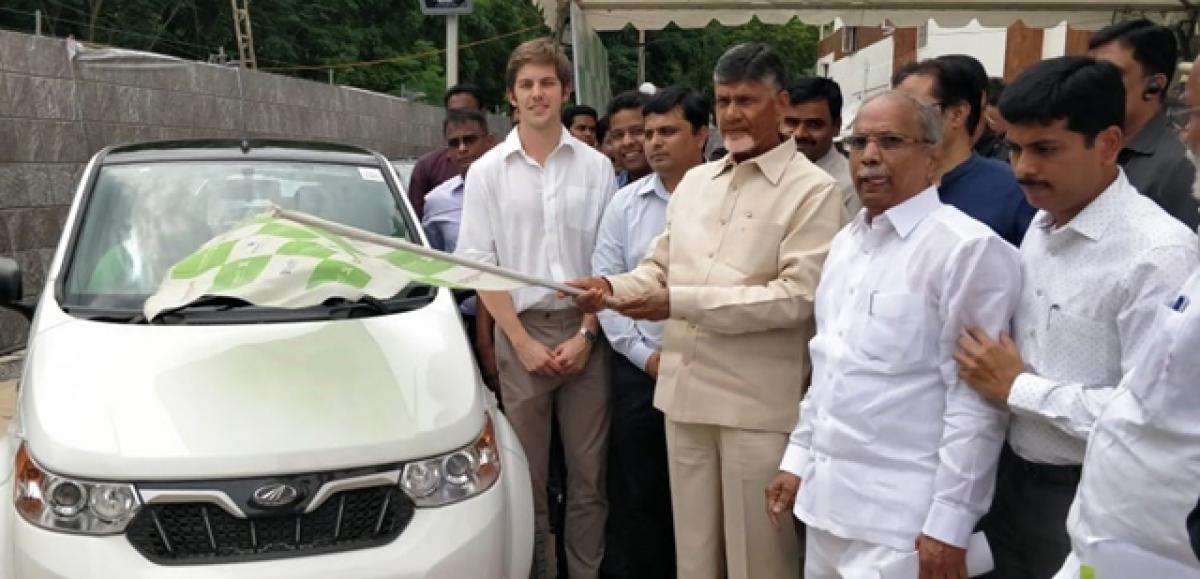 Highlights
Chief Minister N Chandrababu Naidu flagged off 15 allelectric Mahindra e2oPlus on the Zoomcar platform in the city on Wednesday Mahindra Electric and Zoomcar announced the extension of their unique service of offering electric vehicles EVs as shared mobility solution to Vijayawada in association with the AP Tourism
Vijayawada: Chief Minister N Chandrababu Naidu flagged off 15 all-electric Mahindra e2oPlus on the Zoomcar platform in the city on Wednesday. Mahindra Electric and Zoomcar announced the extension of their unique service of offering electric vehicles (EVs) as shared mobility solution to Vijayawada in association with the AP Tourism.
The programme is aimed at promoting connected, shared and electric mobility as a model, in line with the recommendations in the NITI Aayog report on the government's 2030 vision.
Vijayawada is one of the most important cities and an important business hub for the south region of the country. Greg Moran, Co-Founder and CEO of Zoomcar, said, "We are thrilled to partner with Mahindra Electric to bring innovative, green mobility solutions to the people of Vijayawada."
He said the rolling out of 15 EVs coupled with best-in-class fast charging infrastructure is an extension of the AP government's vision for a cleaner and greener India.
Mahesh Babu, CEO of Mahindra Electric, said "As pioneers of electric mobility in India, Mahindra Electric takes several initiatives to ensure the EV technology is adopted far and wide."
Mahesh Babu said that he was happy to announce to extend partnership with Zoomcar to bring electric shared mobility solutions for the citizens of Vijayawada and added they are confident that this initiative will prove to be an important step towards the mission of adopting sustainable mobility.
Acharya Jayarami Reddy, Chairman of APTDC, Mukesh Kumar Meena, Secretary of Tourism and Culture department and Himanshu Shukla, MD, APTDC were present.