Kerala experience hones state SDRF's skills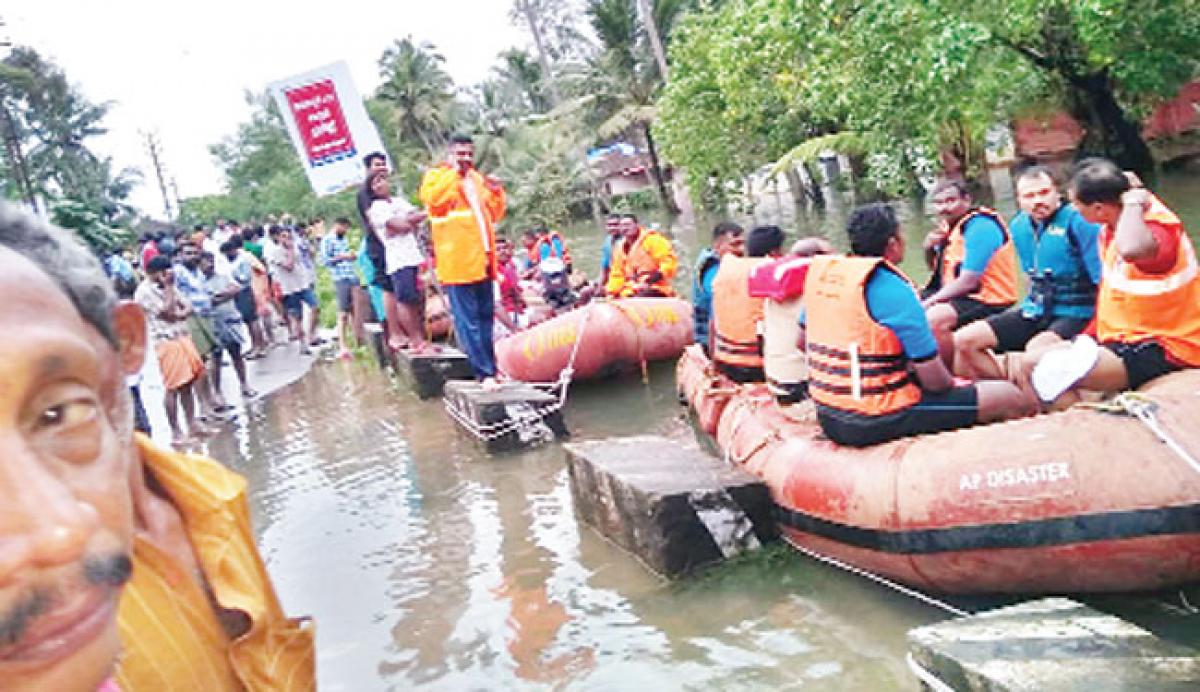 Highlights
Andhra Pradesh State Disaster Response SDRF and fire services personnel gained rich experiences by taking part in rescue and relief operations in...
Vijayawada: Andhra Pradesh State Disaster Response (SDRF) and fire services personnel gained rich experiences by taking part in rescue and relief operations in Kerala which was hit by heavy rains and floods recently.
The Andhra Pradesh government, in response to the disaster faced by Kerala, sent a team of 66 personnel of SDRF along other material. The AP rescue team joined local Kerala teams and national rescue teams in the flood relief operations in Kottayam and Tiruvalla. It had taken 3.68 tonne material needed in disaster mitigation in special Air Force plane from Gannavaram to Trivandrum in August second week.
After the rescue operations, the state team returned with their belongings and rich experience in tackling the floods. SDRF director general K Satyanarayana told The Hans India that the state SDRF team gained rich experience in taking up rescue and relief operations by participating services in flood hit Kerala. He said the state sent 66 personnel and added that it was ready to send more teams if necessary.
Referring to SDRF in the state, Satyanrayana said the SDRF had trained 650 personnel to combat various types of disasters like floods, cyclones, fire accidents, road accidents, earth quakes and other calamities. He said the 650 members are positioned all 13 districts.
The rescue team members who went to Kerala said they gained valuable experience and saved the lives of people stranded in the floods in Kerala in two districts. L Bala Rambabu, a member of the team, said the situation was very horrible in Kerala as lakhs of people were surrounded by flood waters.
He said the state team worked in co-ordination with the district administration and mainly concentrated on evacuating the stranded people to safer areas particularly rehabilitation centres in Kottayam and Tiruvalla. He said the experiences gained in Kerala would be very useful to face disasters like floods and cyclones.
Another member of the rescue team Md Sakhavatulla said materials like inflated rubber boats, life jackets, ropes and Aska lights taken from Andhra Pradesh to Kerala were found useful to the flood victims.
He said the rescue teams have to work very quickly in dangerous conditions as people scream for help. He said the SDRF teams earlier worked during the Hudhud cyclone in Vizag and also worked in Chennai when floods inundated the city.
Another team member Ch Madhubabu said the local guides play very important role to work in co-ordination between the rescue teams of Kerala and other states. Language becomes a very big barrier during calamities like floods and cyclones.
District fire officer, assistant district fire officers supervised the rescue teams of AP in Kerala. Twelve inflatable rubber boats, 12 out-boat motors, 12 air pumps, 24 pedals, 24 oil canes with tubes, 12 engine keys, 12 floor boards, 50 life buoys, 100 life jackets, 5 Aska lights, 10 power saws, 24 ropes and 250 gum boots were airlifted in Air Force plane.

Subscribed Failed...
Subscribed Successfully...