Poster for Maha Garjana released at Sundarayya Bhavan in Kakinada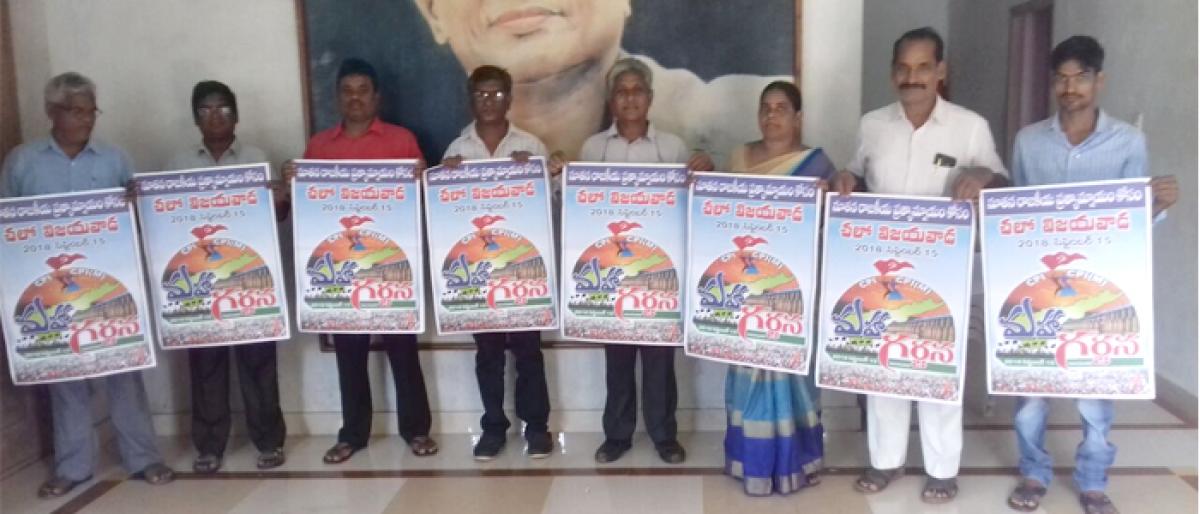 Highlights
The CPM leaders appealed to public and party cadres of CPM and CPI to make the Maha Garjana slated for September 15 at Vijayawada a great success
Kakinada: The CPM leaders appealed to public and party cadres of CPM and CPI to make the Maha Garjana slated for September 15 at Vijayawada a great success.
At a programme organised at Sundarayya Bhavan in Kakinada on Thursday, the CPM leaders released posters seeking support for Maha Garjana.
Speaking on the occasion, CPM East Godavari unit secretary KS Srinivas said that both CPM and CPI had been trying hard for a new political alternative in the state.
As part of this effort, a bus yatra from Visakhapatnam would reach Kakinada on September 7. Srinivas also said that a public meeting would be organised at Bhanigudi Centre on the same day.
He said that apart from CPM leaders Dadala Subba Rao, P Madhu and Mantena Sitaram, the CPI state leaders would also participate.
Srinivas appealed to the people to make the public meet at Kakinada a success.