Damaged roads hit public transport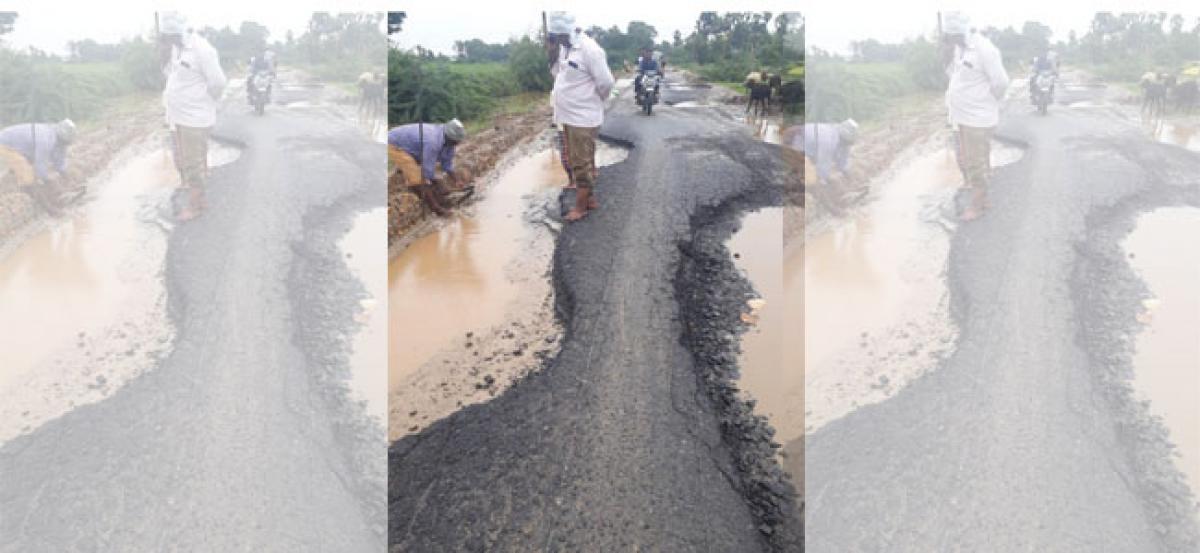 Highlights
Public suffering due to damaged roads in Pedakurapadu Assembly constituency in Guntur district Two major roads, including a road from Rajupalem to Amaravati and another road from Utukur to Atchampeta, were damaged completely due to movement of heavy and overloaded sand laden lorries
Amaravati: Public suffering due to damaged roads in Pedakurapadu Assembly constituency in Guntur district. Two major roads, including a road from Rajupalem to Amaravati and another road from Utukur to Atchampeta, were damaged completely due to movement of heavy and overloaded sand laden lorries.
Schoolchildren could not go to the schools without paying Rs 25 to Rs 40 to an auto-rickshaw for even short distance, since the school buses and APSRTC buses are not plying on these damaged roads at certain villages. Sand mining was stopped here due to lack of proper roads, informed local MLA Kommalapati Sridhar.
A road from Rajupalem to Amaravati is an important state highway as it connects many villages in Rajupalem, Bellamkonda, Krosuru and Atchampeta mandals. This road witnesses heavy traffic due to plying of sand laden lorries and tippers.
Due to partial wet condition, over loaded vehicles movement and frequent rains, the road was badly damaged, and surface was pitched off and making it dangerous to vehicular traffic, explained N Sukanya, superintending engineer, roads and buildings department, Guntur, in a letter to the engineer-in-chief of the department.
It was estimated that more than 3,000 commercial vehicles were carrying sand every day. The locals are saying that there was an urgent need for widening and strengthening Rajupalem Amaravati Road up to 31 km. Another road, Utukuru to Konur connects many villages in Atchampeta mandal and leads to Amaravati capital city.
MLA Sridhar said that there is a need to widen the road as double line to avoid traffic problems. Proposals were prepared widening Utukuru- Atchampeta road up to 12 km and Utukuru–Konur via Kastala road to an extent of 10 km. To repair all these roads, the government has to allocate at least Rs 80 crore, according to official estimation.