State has better happiness index in country: CM Nara Chandrababu Naidu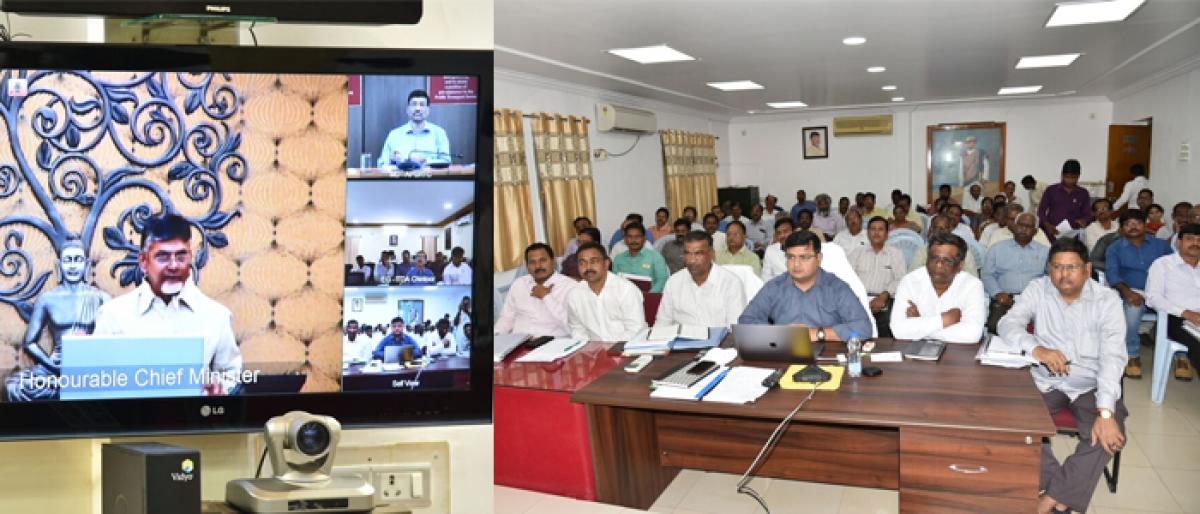 Highlights
Chief Minister Nara Chandrababu Naidu announced that the state achieved good results in design and implementation of welfare programmes and development with active partnership of public and officials and asked them to continue the same in future
Ongole: Chief Minister Nara Chandrababu Naidu announced that the state achieved good results in design and implementation of welfare programmes and development with active partnership of public and officials and asked them to continue the same in future.
He participated in a statewide videoconference with the Collectors and mandal-level officers on Thursday and ordered them to participate in Grama Darsini and take feedback on government programmes.
The chief minister congratulated the officials who brought awards to the state with better performance in MGNREGS and housing schemes and asked all of them to utilize technology for better results.
He said that the state was implementing many schemes that were unavailable in any other state, but managing to way ahead in the country.
He said that the government was providing quality life standards to the public to help them lead a happy life and that was the reason for the state to have better happiness index.
Chandrababu Naidu ordered the Collectors to see more number of officials participate in the Grama Darsini programme and provide infrastructure in the villages.
He suggested the officials to visit the panchayats and record the ground level realities.
He asked them to let the public know about various development activities to be taken up in their village and wards in the coming six months.
The chief minister reviewed district wise performance with the feedback received from the public on infrastructure in villages, mid day meals, Chandranna Bima, housing, energy, NTR Vaidyaseva, maintenance of aanganwadi centers, MGNREGS, Balamrutham, Anna Amrutha Hastam, 108, CM Health Centers etc.
He ordered the officials to distribute assets to eight lakh people in the coming four months and announced that the government was going to distribute 3.5 lakh ration cards in the state soon.
The District Collector, Vadarevu Vinay Chand explained that there was GST issue on the payment for the aanganwadi construction bills and explanation was sought from the concerned officials.
He also requested the chief minister to release matching grant of Rs 25 crore for the works being taken up under MGNREGS and convergence.
The CM assured that the funds would be released after talking with the concerned secretary.
The AJC, D Markandeyulu, CPO Venkateswarlu, ZP CEO Kailash Giriswar, RDO Penchala Kishore and other district officials also participated in the videoconference with the chief minister.
Subscribed Failed...
Subscribed Successfully...