CM N Chandrababu Naidu for US to address UN session on zero budget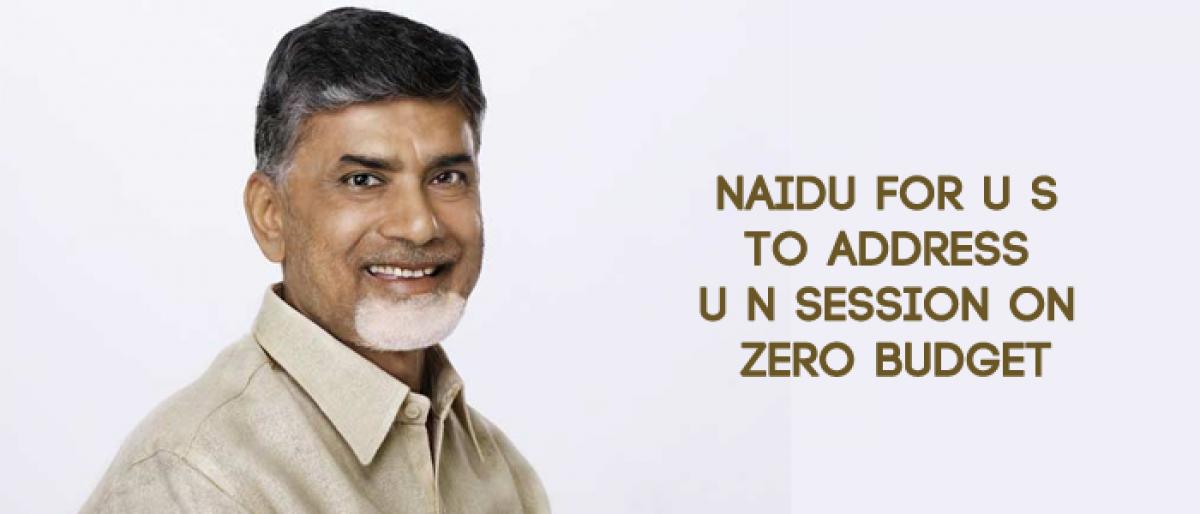 Highlights
Chief Minister N Chandrababu Naidu will leave for the US on September 22 to attend a session on Zero Budget Natural Farming ZBNF at the UNO
Amaravati: Chief Minister N Chandrababu Naidu will leave for the US on September 22 to attend a session on Zero Budget Natural Farming (ZBNF) at the UNO.
Naidu will be visiting the US from September 23 to 27.
On September 25, he will deliver the key note address on ZBNF in a session on Financing Sustainable Agriculture: Global Challenges and Opportunities, on the sidelines of the United Nations General Assembly.
The global event is being organised by the UN Environment Programme in collaboration with UN Women, BNP Paribas SA, World Agroforestry Centre and several other international organisations and financial institutions.
Chandrababu Naidu will be focusing on how blended finance models can support countries in achieving inclusive growth and emissions reduction goals.
He will share the lessons learned from implementing ZBNF in the State. Chandrababu Naidu announced 2018 as ZBNF year in the State and is promoting the concept.
He aims to convert at least 60 lakh farmers into ZBNF by 2014, official sources said.
Erik Solheim, Executive Director of UN Environment, requested Chandrababu Naidu to give key-note address at the event on transformative environmental, social and economic impact through pioneering ZBNF programme.
Chandrababu Naidu will also speak on South-South collaboration also.