Make people happy with government services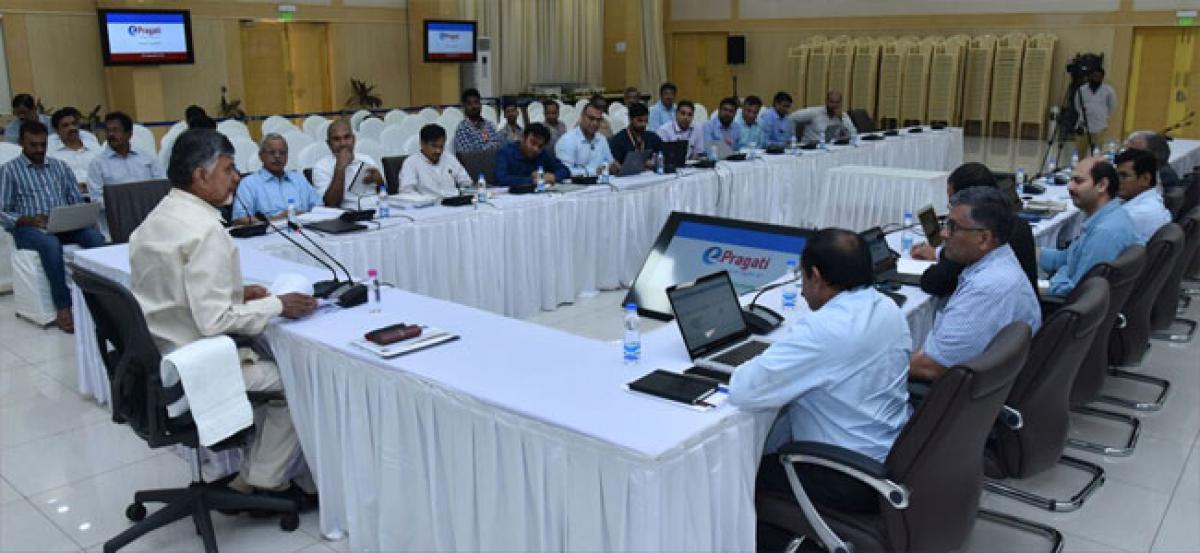 Highlights
Giving a clear indication to entire administration mechanism in the State, the Chief Minister, Nara Chandrababu Naidu, said he will conduct Collectors Conference every month hereafter and focus keenly on progress of each and every programme to ensure 80 per cent satisfaction levels among citizens
Amaravati: Giving a clear indication to entire administration mechanism in the State, the Chief Minister, Nara Chandrababu Naidu, said he will conduct Collectors Conference every month hereafter and focus keenly on progress of each and every programme to ensure 80 per cent satisfaction levels among citizens.
Making this announcement while reviewing the progress of e-Pragati at Praja Vedika on Saturday, the Chief Minister said officials should concentrate on adopting futuristic approaches to promote innovation and Artificial Intelligence by involving students. He said every employee should have computer knowledge for effective delivery mechanism.
Naidu asked all the departments to collaborate under e-Pragati portal to ensure 80 per cent satisfaction level among people in regard to public services. He reminded them how the UN was all praise for the State's novel initiative of promoting Zero Budget Natural Farming (ZBNF) practices. The e-Pragati officials explained to the CM what they were doing to render better services to the people. Several sectors would be linked with e-Pragati by the end of October, they said, but the CM would have none of it and set the December end as the deadline for all the departments to join the portal.
A global living hackathon is being organised in the state in the next two months, at Visakhapatnam from January 8 to 10. Details of all landholdings will be made available to the public through a mobile app. AP Fibrenet officials said they are targeting 7 lakh connections by the end of October. However, the CM observed it should be expedited.
During review of law and order situation, officials said that 14,770 CC cameras would be installed across the state for better surveillance and spotting trouble. Citing the Maoist attack in Visakhapatnam agency, the Chief Minister ordered that all gaps be plugged to maintain law and order. Reviewing education progress, the CM asked for 4,000 virtual classrooms to be ready by December. He was informed around 1000 such classrooms were put in place so far.
The CM stressed importance of data analytics and Artificial Intelligence. Let there be a working group to promote AI in the state, he said. Besides, AP Content Corporation should be involved for knowledge delivery and promotion of innovation. He stressed the need for convergence of departmental data for a happy living concept. Referring to Drones Corporation, the Chief Minister asked the officials to prepare a road map for development of drones by involving one educational institution in each district.
CCLA Special Chief Secretary Anil Chandra Punetha, who is going to take charge as Chief Secretary on Sunday, was present along with IT Advisor J Satyanarayana, IT Secretary K Vijayanand, CM secretaries Girija Sankar, A V Rajamouli, e-Pragati CEO N Balasubrahmanyam and others.