Agriculture department recommends 698 cr input subsidy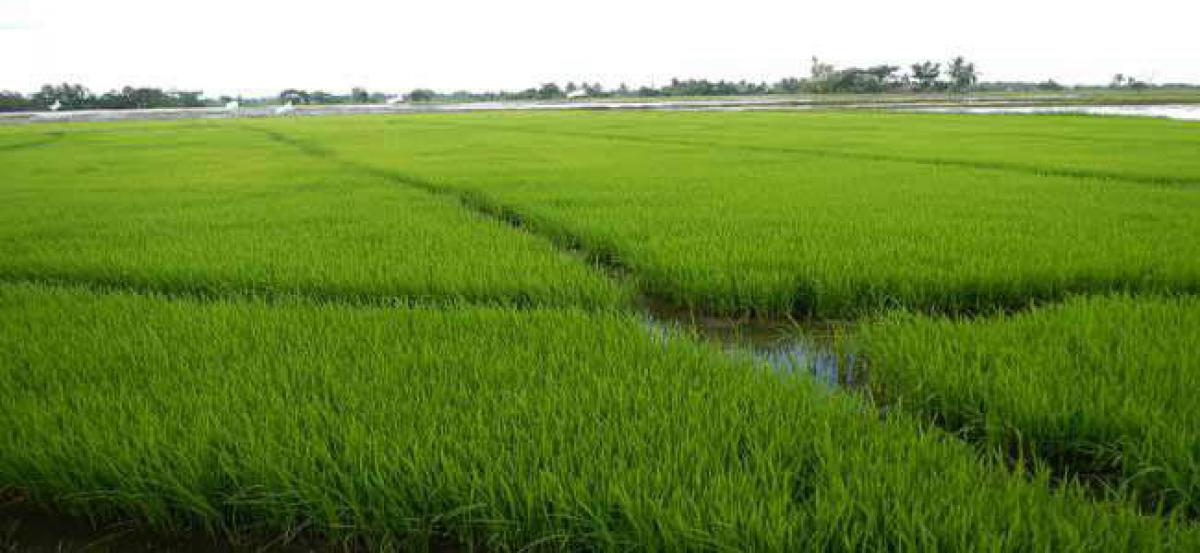 Highlights
Similarly, Korrain 1575 hectares, jowar in 155 hectare,, cowpea in 159 hectares,sugarcane in 184 hectares, rai in185 hectares were damagedPrincipal Secretary Agriculture BRajasekhar visited Chittoor district and interacted with groundnut farmers to know the details He examined damaged groundnut crop fields also
Guntur: Agriculture department recommended the state government to pay input subsidy of about Rs.698crore to 7,47,730 farmers whose crops were damaged due to severe drought caused by the deficit rainfall in Kurnool, Anantapur, Chittoor, Prakasam, Kadapa and Nellore districts. Red-gram, maize,cotton, groundnut, castor, bajra, paddy and sesamum cropswere damaged in the six districts for more than 33%. The farmers whose crops damaged more than 33% are eligible to get input subsidy from the government.
After assessing crop damage, the special commissioner of agriculture DMuralidhar Reddy recommended the government to release input subsidy of about Rs.698 crore to the farmers.
Groundnut crop is the worst hit due to drought in the six districts. According to official reports, groundnut damaged in 2,89,327 hectares and 4,47,722 farmers in six district. Cotton crop damaged in 1,11,572 hectares, red-gram in 55,668 hectares, castor in 15,546 hectares. bajra in 9,156 hectares, maize in 9,139 hectares and paddy in 5,610 hectares damaged.
Similarly, Korrain 1575 hectares, jowar in 155 hectare,, cowpea in 159 hectares,sugarcane in 184 hectares, rai in185 hectares were damaged.
Principal Secretary Agriculture BRajasekhar visited Chittoor district and interacted with groundnut farmers to know the details. He examined damaged groundnut crop fields also.
According to official sources, Prakasam district requires 401.5 mm rainfall, district received 224.9 mm till 30th September, 2018. The district received 44% deficit rainfall. Nellore district requires, 338.8 mm rainfall, so far district received 173.8 mm rainfall, 48.7 % deficit rainfall.
Chittoor district requires 446.4 mm rainfall, so far district received 285.9 mm rainfall, 36% deficit rainfall. Kadapa district require 401.8 mm, so far district received 202.3 mm rainfall making a deficit rainfall of 49.7%. Anantapuram district requires 346.2 mm rainfall, district registered 212.6 mm rainfall, a deficit rainfall of 38.6 per cent.
Normal rainfall in Kurnool district is 465.4mm, district received 264.7 mm, making it 43.1% rainfall. While, state requires, 565.7 mm rainfall, so far received 457.9 mm rainfall, making it a deficit rain fall of 19.1 per cent.