Festival rush chokes Tirupati railway station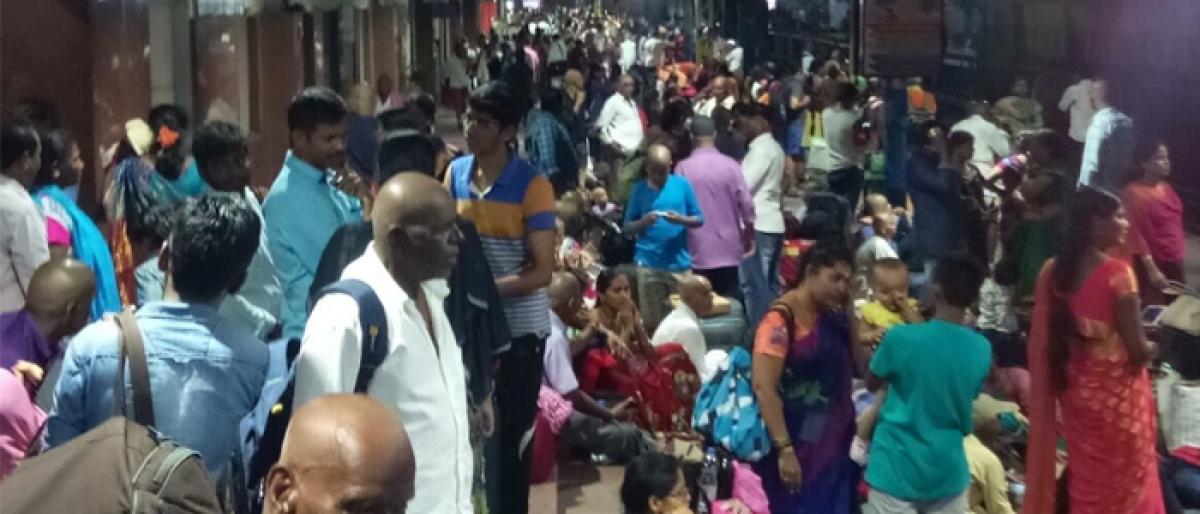 Highlights
The heavy influx of pilgrims in these Dasara holidays making Tirupati railway station over crowded
Price of platform ticket doubled for 10 days
Additional booking counters are in place and trains get extra bogies wherever possible
More RPF and GRP staff are deployed to control the crowds
Tirupati: The heavy influx of pilgrims in these Dasara holidays making Tirupati railway station over crowded.
Scores of people were coming from various places to go to Tirumala and worship Lord Venkateswara making the railway authorities to run providing additional facilities.
These festival holidays coincided with Navaratri Brahmotsavams which were going on in Tirumala and conclude on Vijayadasami day provides an opportunity to pilgrims to worship Lord and witness Vahana sevas in Tirumala.
The station gets 35,000-45,000 passengers on an average per day and during the peak days, the number will go up by more than 10,000.
The rush has been increasing gradually from Friday. With narrow platforms, it looks over crowded even in normal days making the movement of passengers from one place to another a herculean task.
With the increasing number of passengers, the station has been over crowding especially during morning and evening which are the peak hours with the arrival and departure of several trains.
With various special trains, more than 60 trains pass through the station in a day. It was observed that there was more demand for trains from passengers towards Vijayawada and Chennai.
Long queue lines were seen at general counters and the officials responded quickly to the situation and opened additional booking counters to make hassle-free purchase of tickets.
As was being done for the past few years, the platform ticket price was doubled taking it up to Rs 20 from Rs 10.
This was done to control extra crowd on the platforms at least to some extent and the increased price will be in force till October 21.
On an average, daily about 1,000 platform tickets are being sold in Tirupati. Officials have been warning the people that without either the platform ticket or travel ticket one should not enter the platform and any violation in this regard will attract a fine of Rs 1,000.
"We have been attaching additional bogies to trains wherever possible and some additional trains were being run already.
All the authorities have been constantly monitoring the situation from time to time to take decisions on crowd management," Station Director K Satyanarayana told The Hans India.
The services of retired employees were pressed into use and from Sunday as rush may further increased and may go to peak from October 18 to 21.
In view of heavy influx of passengers, steps were taken so that no stampedes take place while boarding trains and to provide security, RPF and GRP officials have sent 40- member teams each additionally, he explained.