Durga temple witnesses unprecedented rush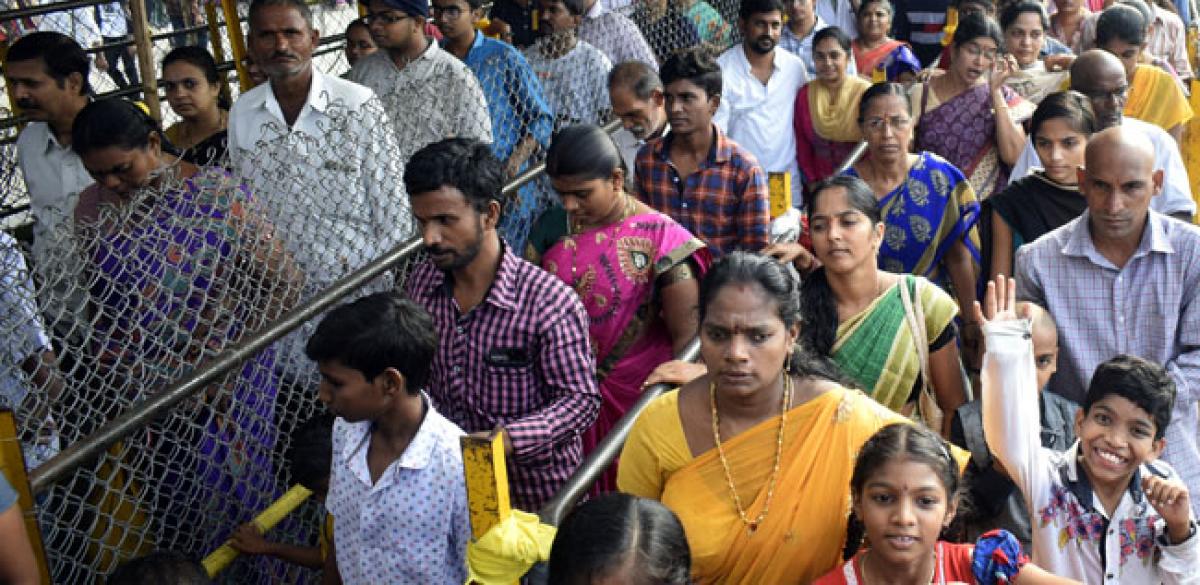 Highlights
Unprecedented rush was witnessed at Durga temple atop Indrakeeladri hill here on Sunday on the auspicious day of MulaNakshatram, on the fifth day of Dasara celebrations
Vijayawada: Unprecedented rush was witnessed at Durga temple atop Indrakeeladri hill here on Sunday on the auspicious day of MulaNakshatram, on the fifth day of Dasara celebrations.
Devotees visited the temple for having darshan of Goddess Kanaka Durga from 1.00 a.m. Predicting huge rush of devotees, the temple administration opened the temple in the wee hours and the devotees were allowed from two entry points, on Canal Road and on KummaripalemJunction queue lines.
The temple administration cancelled Rs.300 and Rs.100 and VIP queue lines and all the lines were converted as free queue lines. It is estimated that by afternoon, more than two lakh devotees visited the temple. The deity was decorated in SriSaraswatiAlankaram.
Antaralayamdarsanam was also cancelled to prevent the rush inside the temple. The police have faced a tough task in regulating the crowds in queue lines and to prevent stampede. They stopped the flow of devotees at more than 10 places to prevent stampede. Vehicular movement was also banned around the temple since Saturday night.
The police erected barricades near Vinayaka temple, Kaleswaram Market, KummaripalemJunction, Krishna Lanka highway and PrakasamBarrage to prevent movement of vehicles.
Except some police and VIP vehicles, all other vehicles were prohibited from passing on GhatRoad. Two vehicles were allotted for media till Saturday. On Sunday, the two vehicles were not allowed to pass on Ghat road.
By night over 5 lakh devotees had darshan of goddess on MulaNakshatram Day. The deity was decorated in Saraswati Devi alankaram. District Collector B Lakshmikantham monitored the arrangements since morning.
Temple EO V Koteswaramma, Trust Board Chairman Y GaurangaBabu, members and temple officials monitored the arrangements. Lakhs of drinking water sachets were distributed to the devotees. For the first time in recent years, the devotees had to wait for four to five hours in queue lines for the Darshan on Sunday.
District Collector Lakshmikanthamexplained about the arrangements to Chief Minister NChandrababu Naidu, when the latter visited the temple to present PattuVastramsto the Goddess in the afternoon.