Police vow to involve in more social service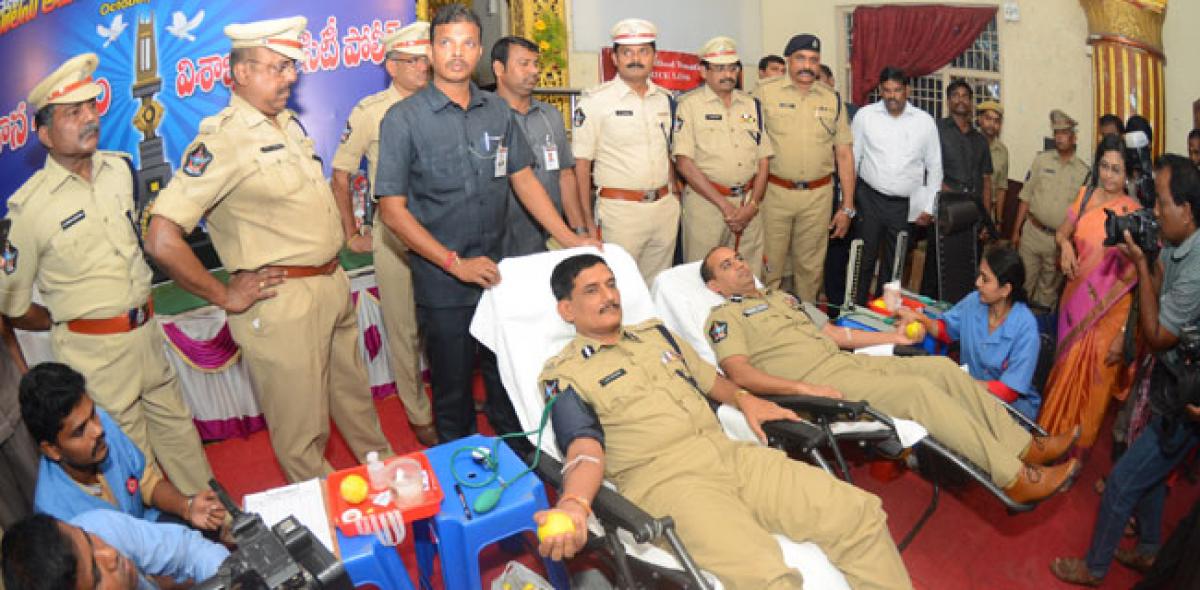 Highlights
As a part of the Police Martyrs Day to be observed on October 21, DGP R P Thakur has announced that police officers across the state will donate blood yearly once Thakur, along with CP, Visakhapatnam Mahesh Chandra Laddha donated blood at a special blood donation camp organised in the city on Tuesday
Visakhapatnam: As a part of the Police Martyrs Day to be observed on October 21, DGP R P Thakur has announced that police officers across the state will donate blood yearly once. Thakur, along with CP, Visakhapatnam Mahesh Chandra Laddha donated blood at a special blood donation camp organised in the city on Tuesday.
As a part of the social service, it has decided to donate blood to save persons in the emergencies, the Andhra Pradesh Police would release a calendar to donate the blood, the DGP added. Talking to media after the blood donation, the DGP said that next to maintaining law and order in the state, AP police have decided to involve in more social service activities across the state.
The blood reserves in the state are unable to meet the demand and by AP Police joining to donate blood will save many lives in emergencies. Blood is not a commercial product to buy in the markets and everyone should feel that it is a social responsibility and come forward to donate blood, he added.
Talking about the Maoists activities, the DGP said that the police will never compromise in maintaining law and order situation. After the Araku MLA K Sarveswara Rao and former MLA S Soma murders, the police intensified the combing operations in the agency area. Strict security has been given to the Maoist targeted leaders across the state.
Talking about the recent Exchange of Fire and Maoists allegations, the DGP said that the Maoists allegations are not correct. The police would do their duty and never compromise to prevent any illegal activity, he stated. While talking about the ganja smuggling, Thakur said that the police are taking stringent action on the ganja cultivation and transportation. Whoever involved in any illegal activity would be punished, he warned.