Titli cyclone impact Regarding power supply Official figures varied at field level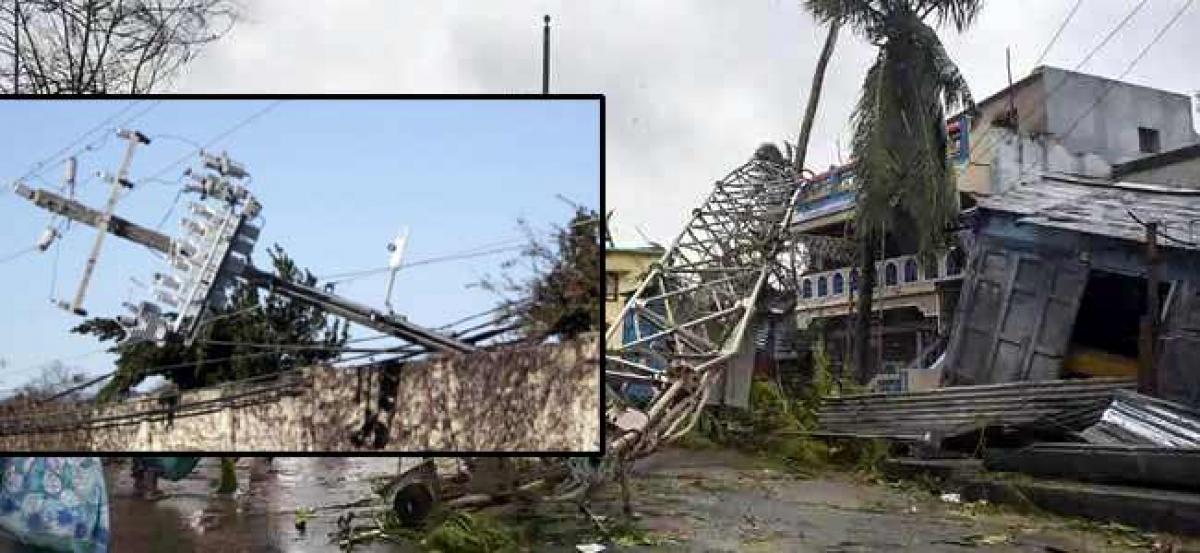 Highlights
Power is yet to restored in number of major villages and habitations in Titli cyclone affected area till Wednesday evening But AP Transco CMD, KVijayanand, principal secretary of energy department, Ajay Jain and other officials saying that they restored power in 98 percent villages except four villages and 20 small habitations
Srikakulam: Power is yet to restored in number of major villages and habitations in Titli cyclone affected area till Wednesday evening. But AP Transco CMD, K.Vijayanand, principal secretary of energy department, Ajay Jain and other officials saying that they restored power in 98 percent villages except four villages and 20 small habitations. Field level situation and ground realty is totally varied to the statements of officials regarding restoration of power supply. No doubt 10,000 workers have been engaged and they are working to restore supply on war foot. But officials are making statements that they restored power supply system in 12 days by Tuesday evening on 23 October.
Power supply not restored in Pallegollagandi and its colony, Ramayyapatnam, Pottarakhanda, Jagatikesupuram, Makarnapuram, Gushabhadra, Raligam, Thallabhadra, Yerramukkam, Donkaluru villages and its surrounded habitations till Wednesday evening in Sompeta mandal. Power also not restored for Chinnaballiputtuga, Talaganaputtuga, Lorthaputtuga, Ramayyaputtuga, Narthuputtuga, Manikyapuram, Chandiputtuga, Kakarlaputtuga, Yalamanchiputtuga, Madiyariputtuga villages and its surrounding habiations in Kaviti mandal till Wednesday evening.
In Palasa mandal power supply not yet restored for Laxmipuram, Garudakhandi, Banapuram, Mathanapalli, Neelavathi, Gurudasupuram, Rangoyi villages and its habitations. Power supply only restored up to Palasa and Boddapadu sub-stations in Palasa mandal till Wednesday and supply not extended to villages and remote areas. In Vajrapukotturu mandal also power not restored Nuvvalarevu, Pallesaradhi, Bathupuram, Gollalapadu, Dokulapadu, Chinavanka, Kidisingi villages and its surrounding habitations. In Vajrapukotturu mandal power supply restored up to Akkupalli and Nagarampalli sub-stations and it is not extended to villages.
'Most of the fishermen villages in Sompeta, Kaviti mandal power supply yet to restored' B,DhilliRao, T.Kodanda Rao, N.Krishnaveni of Pallegollagandi, Ramayyapatnam villages explained to The Hans India. 'Power supply yet to restore our village till Wednesday evening' L.Sridevi of Laxmipuram village explained. 'Power supply not yet restored in fishermen villages in Palasa and Vajrapukotturu mandals along sea coast' said P.Kameswara Rao of Boddapadu village.
Interested in blogging for thehansindia.com? We will be happy to have you on board as a blogger.