Drugs worth 2Lakh seized, 7 held in Vijayawada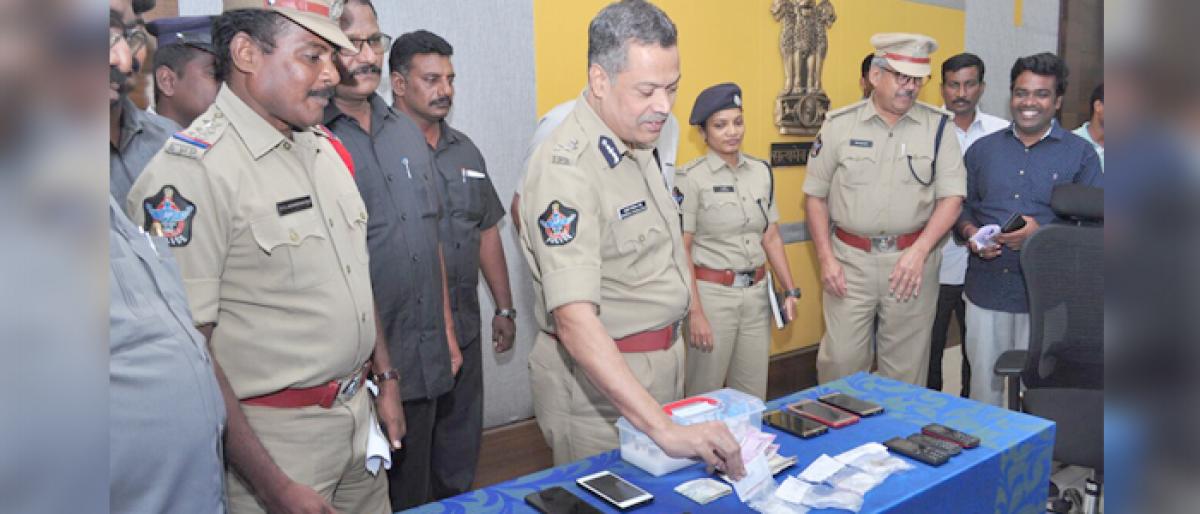 Highlights
The drug mafia, which is mainly confined its activities to metro cities like Mumbai, Kolkata, Hyderabad is seems to be spreading its network to smaller cities like Vijayawada too
For the first time in the history of Vijayawada, police seized four grams of cocaine, 10 grams of heroin from a gang
Commissioner of Police Dwaraka Tirumala Rao says the sale of drugs is a serious offence and the culprits will be punished as per the law
Vijayawada: The drug mafia, which is mainly confined its activities to metro cities like Mumbai, Kolkata, Hyderabad is seems to be spreading its network to smaller cities like Vijayawada too.
For the first time in the history of Vijayawada, the police seized drugs like cocaine and heroin and arrested a seven-member gang which includes five women.
Addressing media at the Command Control Room here on Saturday, Commissioner of Police Dwaraka Tirumala Rao said the seven-member gang was trying to find clients for drugs in the city.
In a joint operation, he said the Task Force team and Ajit Singh Nagar police nabbed a three-member gang near Pipula road junction, which came from Mumbai and Kolkata in search of clients to sell the heroin and cocaine in a vehicle.
The police seized four grams of cocaine, 10 grams of heroin and 10 mobile phones from their possession, he added.
The accused were identified as Pallavi Nikumbu, Omkar Purushottam of Mumbai and Reshma Sardan of West Bengal. The trio along with four others came to Vijayawada for drug trade in the city.
During interrogation, the gang confessed to the police that four other members camped near Seetammapadu Centre near Prakasam barrage.
The police immediately rushed to Seetammapadalu and nabbed the four members, Shaik Mastan Ali, Rahima Bibi, Monia Sardar of West Bengal and Sulenki Rekha alias Sonia Begum of Gujarat.
The police seized five grams of heroin and five mobile phones from their possession.
By and large, the police seized four grams of cocaine and 10 grams of heroin valued at Rs2 lakh. Dwaraka Tirumala Rao said that sale of drugs was a serious offence and the culprits would be punished as per the law.
He appealed to the people to inform the police if they have information about the drug traders to 0866-257 9999, 0866 2576956 and police WhatsApp number 732 890 9090.