Bhairavanitippa project to become reality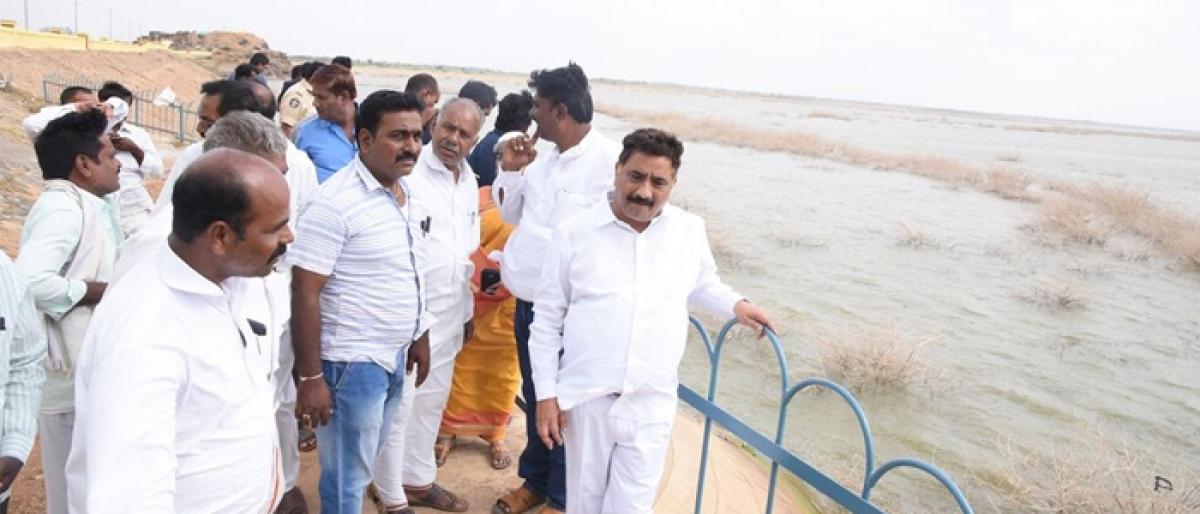 Highlights
The Rs 969 crore Bhairavanitippa project designed to irrigate 22,300 acres in Rayadurgam and Kalyandurgam constituencies will be completed in 18 months from now, according to Information Minister Kalva Srinivasulu, who had prevailed upon Chief Minister N Chandrababu Naidu to revive the 40yearold project which had become defunct due to number of reasons like building of additional projects
CM gives nod for project completion with Rs 969 crore in 18 months
Bhairavanitippa to irrigate 22,300 acres in Rayadurgam and Kalyandurgam constituencies
Rayadurgam (Anantapur): The Rs 969 crore Bhairavanitippa project designed to irrigate 22,300 acres in Rayadurgam and Kalyandurgam constituencies will be completed in 18 months from now, according to Information Minister Kalva Srinivasulu, who had prevailed upon Chief Minister N Chandrababu Naidu to revive the 40-year-old project which had become defunct due to number of reasons like building of additional projects on Karnataka side and erratic rainfall over the years.
The original source of the project was Vedavati river in Karnataka which flows into the Bhairavanitippa project in Rayadurgam constituency.
Moved at the plight of people and farmers, who had gone on a migration spree caused by drought conditions, after the project became defunct, the Minister made a determined effort to revive the age-old project and get the administrative sanction from the Chief Minister.
The Bhairavanitippa project entails diverting of Krishna waters which comes to Jeedipalle reservoir further to Garudapuram village in Gummagatta mandal and from there to Bhairavanitippa in Rayadurgam mandal through 14 lifts and two canals.
Under the project, 3.7 tmcft of water will be diverted to the two constituencies through 14 lift irrigation schemes. 1.7 tmcft of water will be given to 114 tanks in Kalyandurgam.
From Kalyanadurgam, 2 tmcft of water will be given to Bhairavanitippa project. A 2,870 km-long canal will be dug from Jeedipalle reservoir to Garudapuram in Kalyandurgam.
The canal will have a water flowing capacity of 13,464 cusecs of water. Out of 22,300 acres which will be irrigated by the Bhairavanitippa project, 10,300 acres will be covered in Gummagatta mandal.
The project besides filling village tanks will recharge groundwater. The project is expected to transform the entire Kalyandurgam and Rayadurgam constituencies into a fertile and green belt benefiting thousands of farmers.