Foreigners study snakes at Eastern Ghats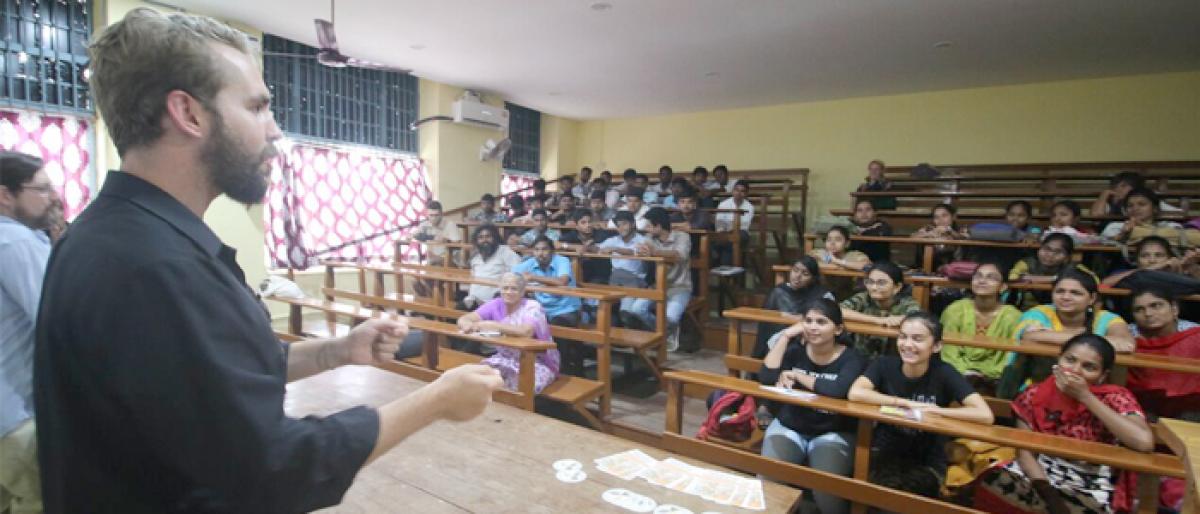 Highlights
A team of six persons from four countries USA, Canada, Netherlands and Czech Republic conducted a study for seven days to understand the social, cultural, ecological and anthropological dimensions of native reptile diversity and their conservation challenges
A team consisting of six persons from four countries study for seven days to understand lives of various types of snakes at Eastern Ghats
Visakhapatnam: A team of six persons from four countries (USA, Canada, Netherlands and Czech Republic) conducted a study for seven days to understand the social, cultural, ecological and anthropological dimensions of native reptile diversity and their conservation challenges.
Using their experience at Eastern Ghats a documentary will be developed using all the footage shot during this period to help garner international support for snake conservation in Eastern Ghats.
For this, members from Save The Snakes (STS), a US-based non-profit organization working for snake conservation worldwide visited the city to help their project partner Eastern Ghats Wildlife Society (EGWS), a non-profit organization from Visakhapatnam and Murthy Kanti Mahanti (co-founder of STS and founder of EGWS).
On a mission to assist and film the community outreach programmes on mitigating human-snake conflict and interaction with local people to understand their perceptions of snakes. Besides, the team is visiting school and varsities to educate students about the snakes.
They visit to sites where human-king cobra negative interactions were observed in Eastern Ghats, and participate in training programmes co-hosted by EGWS.
On Monday, they conducted an awareness session at Andhra University Environmental Science Department to the students about identifying venomous and non-venomous snakes. According to sources, about 50,000 people die of snakebite across India owing to human-snake conflict.

The team was led by Michael G. Starkey (USA), co-founder and executive director STS who is a conservation biologist and ecological consultant and Dr David Wojnowski, Professor, Georgia State University, USA and STS member.
The other members are Maaike Plomp, professional animal welfare and behavior specialist, world traveler and wildlife photographer, ChotiSingh-Board Member of Save The Snakes (Canada) and Matej Dolinay and Zuzana Dolinay- Wildlife Filmmakers from Czech Republic.