All religions follow same age for marriage: DLSA Secy T Raja Venkatadri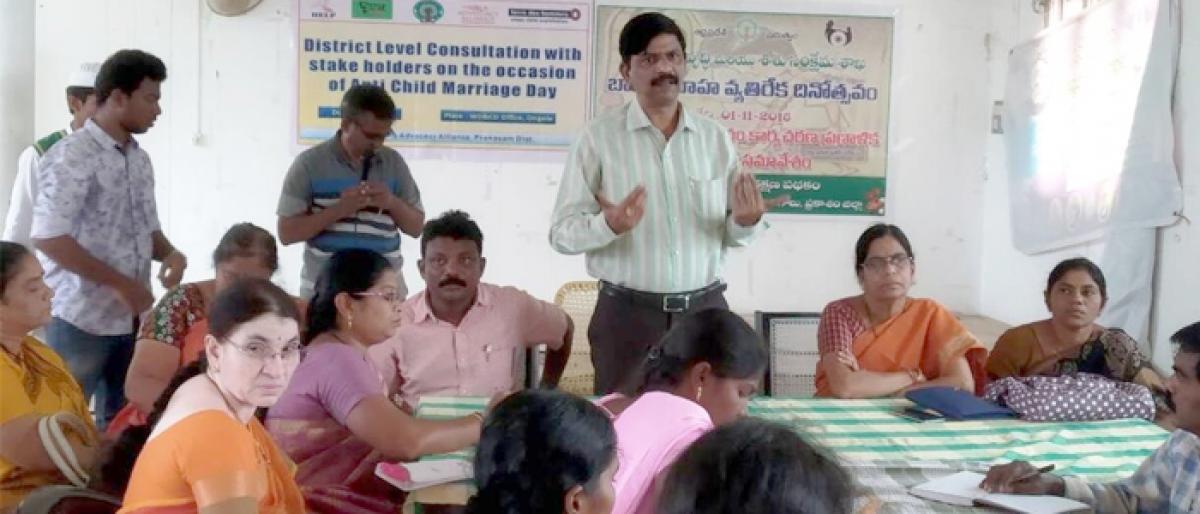 Highlights
The Prohibition of Child Marriages Act, 2006 can be applicable to all people, irrespective of their religion and culture, announced secretary of District Legal Services Authority and senior civil judge T Raja Venkatadri
Ongole: The Prohibition of Child Marriages Act, 2006 can be applicable to all people, irrespective of their religion and culture, announced secretary of District Legal Services Authority and senior civil judge T Raja Venkatadri.
He participated as chief guest at the district-level consultation with the stake holders on the occasion of 'Anti-Child Marriage Day', organised jointly by the Women and Child Welfare Department, HELP NGO, Girls Advocacy Alliance in Ongole.
The judge said that everyone in society shares the responsibility of protecting child rights and stopping the child trafficking and child marriages.
Responding to a question by a social worker that different kinds of marriage acts for different religions were becoming an issue in stopping child marriages, Venkatadri said that as per the Section 1 of the Prohibition of Child Marriages Act, 2006, all religions should follow same age restrictions for marriage and child marriages were prohibited in all of them.
The additional project director of the Women and Child Welfare Department, Visalakshi said that voluntary organisations were playing a key role in creating awareness on child marriages as they were working at the ground level with the public.
The Town II CI, Suresh Kumar Reddy asked the authorities to give the responsibility of creating awareness on child related issues at ground-level to the Panchyat secretaries and award severe punishments to the people encouraging child marriages.
The Child Welfare Committee member, Padmavati said that follow ups were needed in the incidents where child marriages were averted. If not, she said, they attempt the child marriages again after sometime.
She advised the authorities to set up child committees in schools and strengthen them to receive information about child marriages.
The Child Welfare Officer, N Jyothi Supriya said that the government was training about 68,000 children from the district under Kishori Vikas scheme on various social issues and the aanganwadis and youth representatives were also made part of it.
The officials from the departments concerned, representatives from the voluntary organisations, children, members from Girls Advocacy Allianace, HELP, Childline 1098 staff also participated in the programme.