Awareness meet on skills for girls held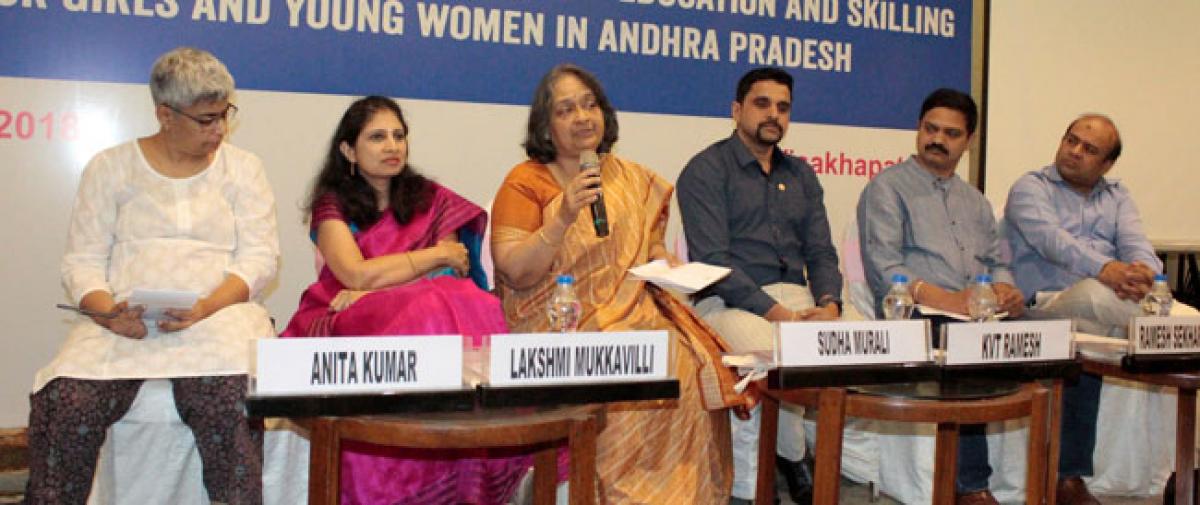 Highlights
CII Young Indians Yi, Indian Women Network IWN Visakhapatnam Chapter in association with Mahita and Plan India under the aegis of Girls Advocacy Alliance organised an awareness session on Prioritisation of Secondary Education and Skills for Girls and Young Women in Andhra Pradesh on Wednesday
Visakhapatnam: CII - Young Indians (Yi), Indian Women Network (IWN) Visakhapatnam Chapter in association with Mahita and Plan India (under the aegis of Girls Advocacy Alliance) organised an awareness session on 'Prioritisation of Secondary Education and Skills for Girls and Young Women in Andhra Pradesh' on Wednesday.
The objective of this session was to focus on Prioritisation of Secondary Education and Skills for Girls and Young Women in Andhra Pradesh, to draw attention of the private sector representatives to the larger gamut of issues concerning Gender Based Violence (GBV) which in the two states is manifested in the forms of child marriages and trafficking, to draw attention of the corporate sector representatives to the vulnerabilities of adolescent girls.
While addressing the gathering, Sudha Murali, International Child Protection Specialist, UNICEF who oriented the audience on various data related to girls and young women which calls for more attention to them especially if we want overall development of the state as well as communities.
She stressed that girls and women who are educated and equipped with skills are in a better position to negotiate and help in leading a quality life later. She also stated that integration of skills in the regular curriculum is the need of the hour.
Anita Kumar, Senior Programme Manager, Plan India, said that this engagement would be seen as a forum to persuade to invest in girls and young women who are especially vulnerable to child marriages and trafficking in AP.
In her address, Lakshmi Mukkavilli, Chairwoman, IWN, AP and MD, Patra India BPO Services, said that efforts are being made by CII- IWN on the issues of education for girls especially by addressing the issues of sanitation and drinking water in schools.
They have also been investing in municipal schools so as to increase the enrollment and retention rates in these schools which are within the community. KVT Ramesh, Chair, Yi Visakhapatnam and MD, Maharshi Academy, said that it is imperative that even on personal level, high need to begin to take action and bring about a change as to how we perceive girls and women in every aspect of our personal and professional lives.
Mr Subrat K Panda, Program Manager, TdH Netherlands, suggested that there are many ways in which CSR actions can be directed towards promoting secondary education and job oriented vocational training especially in terms of building toilets, supplying drinking water and transportation.