10 hurt as APSRTC bus hits palm oil tanker in Ongole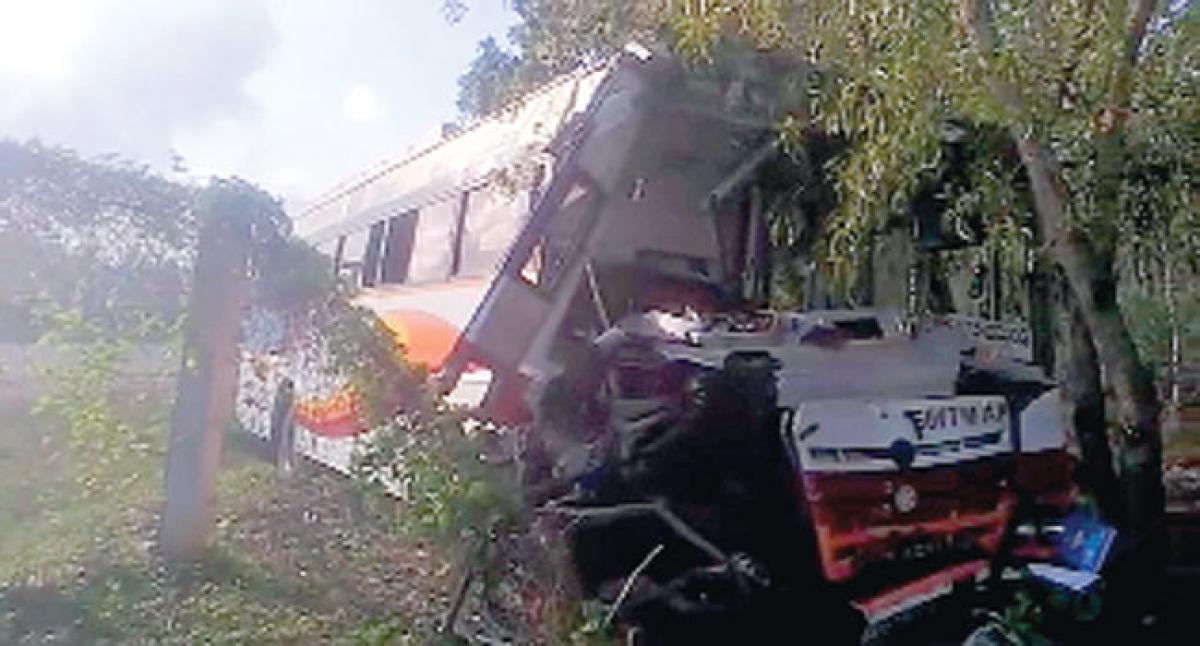 Highlights
An APSRTC bus heading from Chittoor to Rajahmundry hit a palm oil tanker before diverting onto the road margin and takes a halt by colliding trees in the early hours of the Sunday The police shifted the driver, who broken his legs and other passengers, who suffered minor injuries, to Rajiv Gandhi Institute of Medical Sciences in Ongole
Singarayakonda: An APSRTC bus heading from Chittoor to Rajahmundry hit a palm oil tanker before diverting onto the road margin and takes a halt by colliding trees in the early hours of the Sunday. The police shifted the driver, who broken his legs and other passengers, who suffered minor injuries, to Rajiv Gandhi Institute of Medical Sciences in Ongole.
According to Singarayakonda police and N Kiran Kumar, Chittoor 2 depot manager, the super luxury bus started its journey from Chittoor to Rajahmundry on Saturday evening. There are 36 passengers and two drivers on board the bus.
The mishap took place when the bus reached Bellam Kondaiah factory near Mulaguntapadu village in Ongole. The bus driver managed to pull the vehicle onto left side and the bus stopped after it collided with the trees and fencing on the road margin.
The eyewitnesses complained that the sleepiness of driver Venkatesh is reason for accident. The police and locals shifted the driver and injured 10 passengers to RIMS Ongole in the national highway ambulance.
The doctors admitted the driver Venkatesh and sent away the other passengers to home after first aid. After receiving a request from Chittoor 2 depot manager, the Kandukur depot manager arranged a bus to shift the passengers to Ongole, and then sent them to destinations in a super luxury bus.