14 Anganwadi Centres in Chittoor district secure ISO certification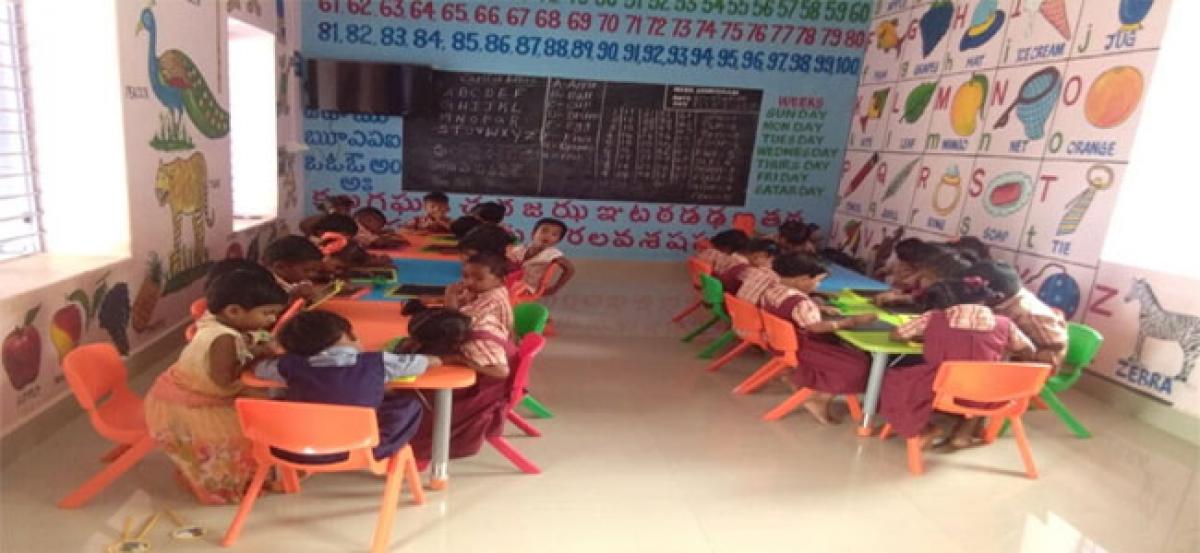 Highlights
The Anganwadi centres in Chittoor district are acquiring modern look and are getting International Organisation for Standardisation ISO certification So far 14 Anganwadi centres got this certification and another 16 centres are expected to get soon
Tirupati: The Anganwadi centres in Chittoor district are acquiring modern look and are getting International Organisation for Standardisation (ISO) certification. So far 14 Anganwadi centres got this certification and another 16 centres are expected to get soon. By maintaining certain standards at these centres, the district authorities have set parameters of high standards to develop all other centres. It all started with Mahasamudram Anganwadi centre in Bangarupalem mandal near Chittoor which received ISO certification in August this year.
Once, a low profile Anganwadi centre, this came into limelight ever since Shilpa Pradyumna, wife of District Collector PS Pradyumna, adopted it and shown keen interest in providing amenities. Earlier, there were no basic amenities at Anganwadi centres due to fund crunch. With the Collector's initiative, all Anganwadi centres are becoming modern in the district. He wanted to make all centres as 'five-star Anganwadi centres' by providing electricity, water, toilet facility, furniture along with TV, compound wall and kitchen garden.
In September 2017, about 2,000 government staff including Collector visited Anganwadi centres on a single day as part of 'Palle Nidra' programme. Besides providing the amenities, efforts were also taken to provide TVs to the centres. So far, 1,566 Anganwadis were equipped with TVs starting from Mahasamudram Anganwadi centre which has even the Nutri garden established by Horticulture department. It has also books and storage containers which were provided after Shilpa Pradyumna adopted it.
As a result of motivating mothers, enrolment has gone up at that centre significantly and learning levels of children have shown good improvement. Later, they applied for ISO certification which they received as was expected. With this, a competitive atmosphere was developed among other Anganwadi centres. As several Anganwadis do not have ample space for developing Nutri gardens, they have been growing kitchen gardens.
Later, the officials have applied for ISO certification to 30 centres out of which 13 centres were selected while the other centres have to fulfil some other parameters, said ICDS PD G Usha Phanikar. Speaking to The Hans India, she said that now, ISO certification has set a bench mark for all other centres. There were 4,768 Anganwadi centres in the district out of which 2,015 are in own buildings while 1,482 are in rented accommodation and the remaining 1,181 are in rent free accommodation like schools or community halls.
Taking the centres to further level, the Collector also launched YASHODA programme to train Anganwadi teachers which will have a positive impact in their day to day work. Sri Padmavathi Mahila Visvavidyalayam (SPMVV) took up the responsibility of conducting training classes for six months and held examinations to them in which 1,308 candidates were qualified out of 1,354 appeared. Now preparations were on for training second batch of Anganwadi teachers. All the Anganwadis are being made to see that the district to be declared free from malnutrition by December end three months ahead of State target, said, ICDS PD.
Interested in blogging for thehansindia.com? We will be happy to have you on board as a blogger.