Animal rights activists protest killing of tigress Avni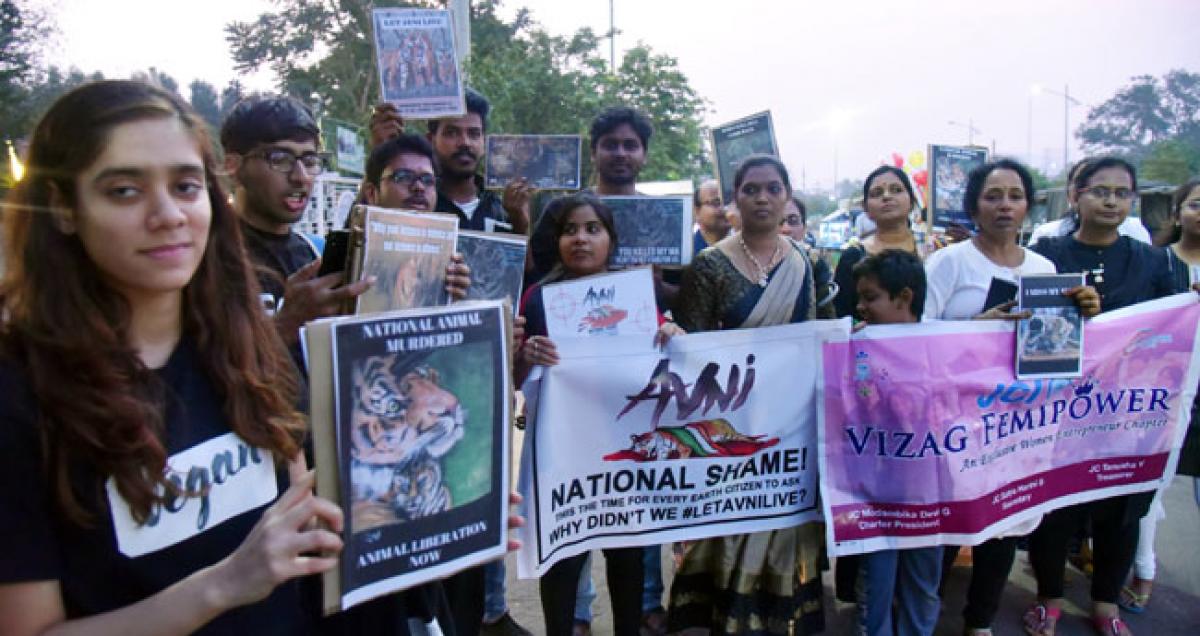 Highlights
As part of the global protest for Avni the tigress which was shot dead on November 2, volunteers of Vizag Vegans conducted a rally in the city on Sunday
Visakhapatnam: As part of the global protest for Avni- the tigress which was shot dead on November 2, volunteers of Vizag Vegans conducted a rally in the city on Sunday.
The killing of Avni, a tigress in the Loni Forest of Yavatmal district in Maharashtra has been going viral on social media demanding justice. Volunteers from the Vizag Vegan group and other animal rights activists organised an awareness campaign on the RK beach road stretch and campaigned continuously for a few weeks as part of the nationwide outreach programme.
Animal lovers from the city opine that this issue has been taken up very seriously by animal rights activists from all over the world and they have been demanding for the safety of wildlife.
More than 20 cities in India and seven other countries have come together to organisze a global protest for Avni on November 11. Animal rights organisations like People for the Ethical Treatment of Animals (PETA), Big Cat Rescue (BCR) and other organisations are also demanding justice for Avni and her cubs.
Gunwanth Theegala, a vegan and animal rights activist from the city, said that the cubs are still in the forest, hungry and desperate and the search operation has not been called off. They are next in line to either be captured or eliminated. Also, 20+ camera traps, thermal drones, paragliders, five elephants, two sniffing dogs were all set around the forests to search and kill Avni, Gunwanth said and added two live horse ponies were killed as bait to trap Avni. Now they have decided to use live pigs to lure the cubs of Avni, he stated.