Syllabus for Dairy Tech PG, Ph.D students to be changed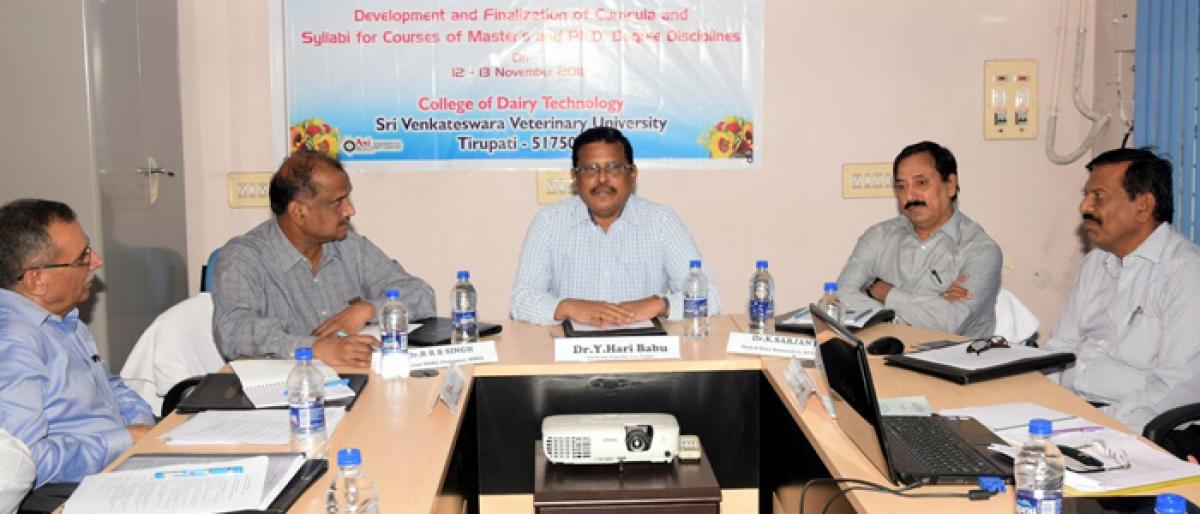 Highlights
Syllabus for dairy technology PG and PhD students of veterinary universities across the country will be chaned from next academic year
National level experts committee met at SV Veterinary University in Tirupati to finalise the new syllabus for Dairy Technology students.
ICAR is working on finalising the syllabus for next 10 years
Tirupati : Syllabus for dairy technology PG and Ph.D students of veterinary universities across the country will be chaned from next academic year.
Indian Council of Agricultural Research( ICAR), New Delhi had formed an academic experts committee at national level to modify and update the MTech and Ph.D syllabus of dairy technology for next 10 years.

That board of Subject Matter Area (BSMA) of 7 members experts committee had already met in Karnal (Haryana) and Anand city(Gujarat) on syllabus changes.
Finally the committee visited the College of Dairy Technology of Sri Venkateswara Veterinary University (SVVU) to finalise the new syllabus and courses.
Dr RRB Singh of National Dairy Research Institute (NDRI), Karnal (Haryana) is the chairman of the committee. He along with six members of the committee inspected Dairy Technology College of SVVU on Monday.
They held a meeting on Tuesday with professors and specialists and discussed the issue.
According to information, the BSMA committee is going to recommend the changes in dairy technology, dairy chemistry, dairy microbiology and dairy engineering subjects.
Already the committee had discussed in previous meetings on increasing the credit load at M Tech and Ph.D levels, research work in industry, teaching assistantship for Ph.D students. ,
.
In the final meeting one of the BSMA committee member from Gujarat of Anand city Dr Atanu Jana gave a power point presentation on final syllabus, reference books and research topics for dairy technology students.
Associate Dean of Dairy Technology College Professor Y Kotilinga Reddy also submitted his opinions on syllabus changes.
SV Veterinary University Vice Chancellor Y Haribabu told The Hans India that latest techniques in dairy technology should be incorporated in the country.