Pawan Kalyan flays Naidu for ignoring Muslims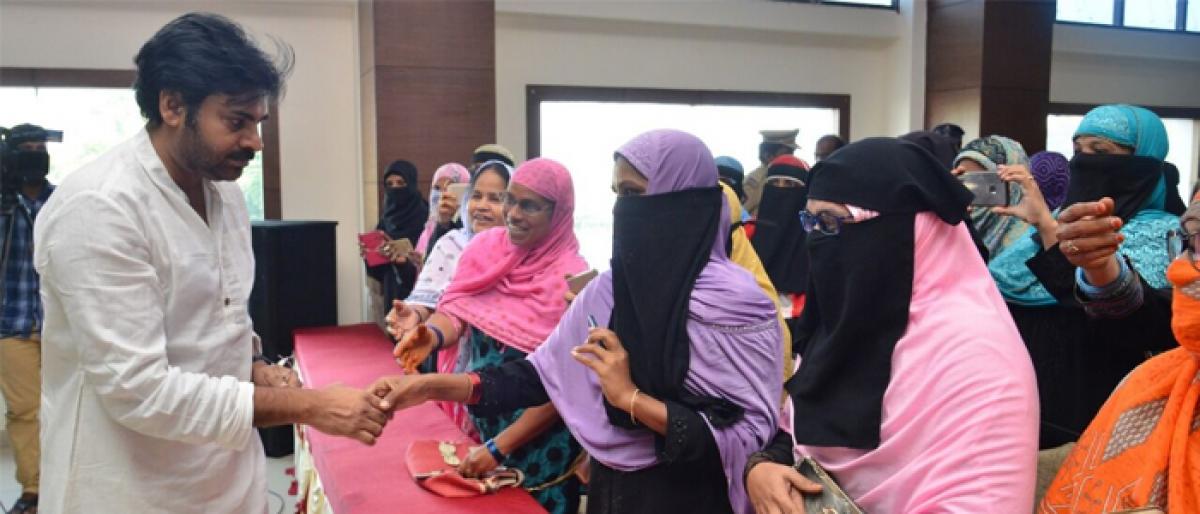 Highlights
All citizens of this country should be given equal respect and there should not be any discrimination against Muslims, said JSP president Pawan Kalyan
Kakinada: All citizens of this country should be given equal respect and there should not be any discrimination against Muslims, said JSP president Pawan Kalyan.
Addressing Muslim community members at a meeting organised here on Tuesday, Pawan assured to stand by Muslims, "If their self-respect is at stake." Pawan said that the 14 percent Muslim population in the country was on par with other religions particularly with Hindus.
Recalling the role of Muslim population in Independence movement, Pawan said that they too made several sacrifices for Independence of the country.
He criticised Chandrababu Naidu for remembering Muslims and STs at the end of his tenure and offering ministerial berths to these sections.
Commenting on the observation of Sayyed Salar, an advocate that 70 percent Muslim population were below poverty line and lagging in higher education, Pawan said that the JSP would definitely stand by Muslims and strive for their all round development.
"If you trust me, extend your support for JSP," he appealed to Muslims. Pawan also assured on implementation of Sachar Committee recommendations for the welfare of Muslims.
When some audience asked for his opinion on liquor, Pawan replied that he will adopt right policy on the issue.
The party leader Nadendla Manohar also spoke.