Playlets captivate audience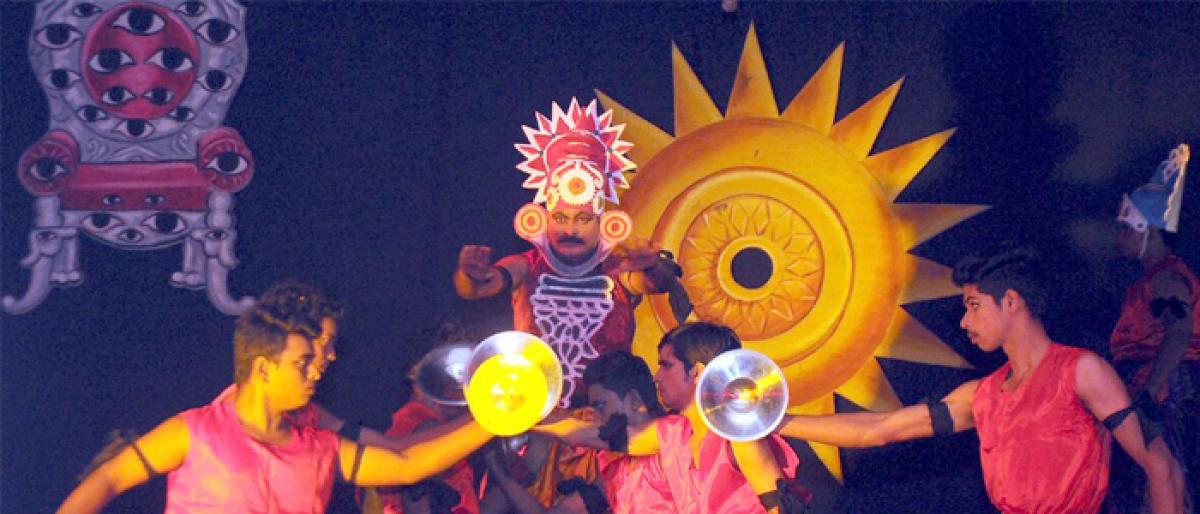 Highlights
Two playlets namely Controversy and Karnabharam were staged by the young theater personalities at Sidhartha auditorium, Vijayawada Andhra Pradesh Nataka Academy organised the event to commemorate the birthday celebrations of theater exponent AR Krishna
Vijayawada: Two playlets namely 'Controversy' and 'Karnabharam' were staged by the young theater personalities at Sidhartha auditorium, Vijayawada. Andhra Pradesh Nataka Academy organised the event to commemorate the birthday celebrations of theater exponent AR Krishna.
New Star Modern Theater Arts Welfare Association, Vijayawada has presented 'Controversy' playlet. The writer and director, MS Chowdary of the playlet had chosen a contemporary subject that the Government will be questioned by a common man for his anguish.
The main artistes, P Saiteja (common man), MS Chowdary (Judge), Sridhar (Public Prosecutor), Jashuwa (Journalist) rose to the level to made the playlet a success. The total team consists of 30 youngsters.
It was appreciable that the dialogue modulation of artistes was good. SP Sitaram, Sudarsan, M Dinesh Babu and Phanindra rendered technical support to the playlet.
The second playlet, 'Karnabharam', a mythological based script, was presented by the students of KBN College, Vijayawada. The support of sets and lighting was excellent.
The director, R Vasudevarao moulded this play in folk style. The artistes justified to their roles. V Bhagya Sasidhar as Karna, P Krishna Manasa as Kunthi, M Rajesh as Indra, G Akshay Kumar as Surya, V Ravindra as Salya, BPN Nithish as Brahma, B Syam Sundar as Brahmin, V Doondeswara Rao and Pavan Kalyan as Vyaktulu performed well.
The expressions and dialogue modulation was commendable. This was based on Bhasa Maha Kavi writings and script by Smitha Sri, technical support was rendered by SP Sitaram, Paramesh, Vidyasagar, Krishna, Kittu, Sai and Girish.