Collector PS Pradyumna moots Small Business Groups for urban middle class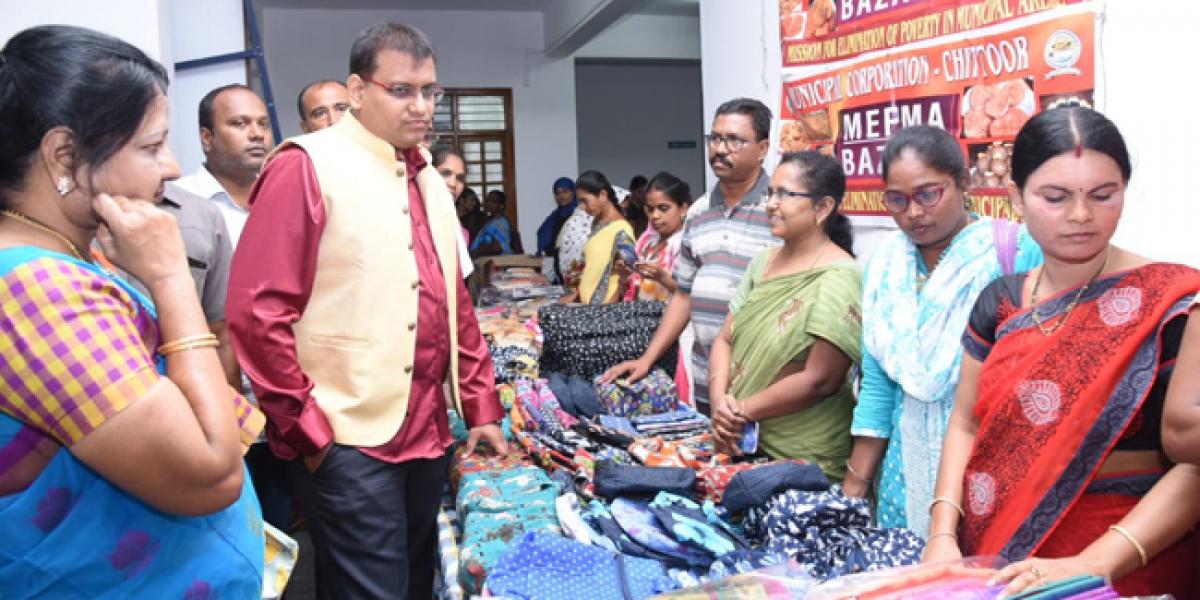 Highlights
After making the livelihood mission programme for Self Help Groups SHGs in municipal areas a grand success, District Collector PS Pradyumna has been contemplating with the novel idea of improving the life standards of urban middle class people by forming Small Business Groups SBGs, the first of its kind in the state
Tirupati: After making the livelihood mission programme for Self Help Groups (SHGs) in municipal areas a grand success, District Collector PS Pradyumna has been contemplating with the novel idea of improving the life standards of urban middle class people by forming Small Business Groups (SBGs), the first of its kind in the state.
With this, the middle-income groups in urban areas can avail bank loans to establish new businesses or any other units for not only their livelihood but also to provide an employment to a few others. They can get more loans than SHGs and can start bigger units and by the end of December these groups will come into a reality in the district. Already, the district has stood on top in the State in making more poor families, who were members of SHGs, to earn a minimum of Rs 10,000 per month as per Chief Minister N Chandrababu Naidu's initiative.
While the Department of Mission for Elimination of Poverty in Municipal Areas (MEPMA) was given a target of 44,000 families for this fiscal to make them earn a minimum of Rs 10,000 per month through various schemes, the Collector was not satisfied with that target, who fixed it as 1 lakh families.
Surprisingly, with the all-round efforts of all officials concerned, the district has increased the income of about 85,000 families during first eight months of the fiscal itself thus leaving behind only 15,000 families. The Collector hoped that this can be easily completed by December 20 and by the end of March 31, another 20 to 30,000 will be ready to earn 10,000 per month.
The district has about 10 lakh families out of which 7.5 lakh are in rural areas and looked after by DRDA while the remaining 2.5 lakh families live in urban areas and MEPMA was entrusted with their development activities. With this pace, the Collector expecting that by 2020 all the families in urban areas will earn a minimum of Rs 10,000 per month and they can have a better standard of living.
To achieve these targets, Collector has been putting pressure on bankers to provide loans to SHGs facilitating them to open new units or improve business potential of existing units by expanding them. The continuous motivating programmes by MEPMA Project Director AD Jyothi and other officials have made them to avail loans through bank linkage worth Rs 308 crore out of the target of Rs 440 crore.
MEPMA PD has said that even the repayment was quite good, and bankers were coming forward to provide more loans. A programme was organised in Tirupati with 1,000 families spread over eight municipalities in the district, who have crossed the monthly income levels of Rs 10,000 in which the Collector has participated and interacted with the members.
During the course, he found that several of them have crossed Rs 20,000 mark per month and the Collector assured that all the members can reach that stage in the next two years and life standards will be improved.
"Economic development, health and happiness are three important factors and we were taking steps to take all these three forward simultaneously," maintained the Collector. He cited an example of apiculture being practiced in the district for the first time recently in which 1,700 people were given six boxes of bees after trained them to keep and maintain the bees.
Within 4 to 5 months, honey production has started and till date 3,000 kg honey was produced. Similarly, new SHG members can make their units more successful and they need to think of e-commerce like options too. Chittoor MP Dr N Sivaprasad, Tirupati MLA M Suguna, MLC G Srinivasulu, TUDA Chairman G Narasimha Yadav, MEPMA PD AD Jyothi and others also spoke.

Interested in blogging for thehansindia.com? We will be happy to have you on board as a blogger.