Swachh Survekshan : MCT gives Tirupati complete makeover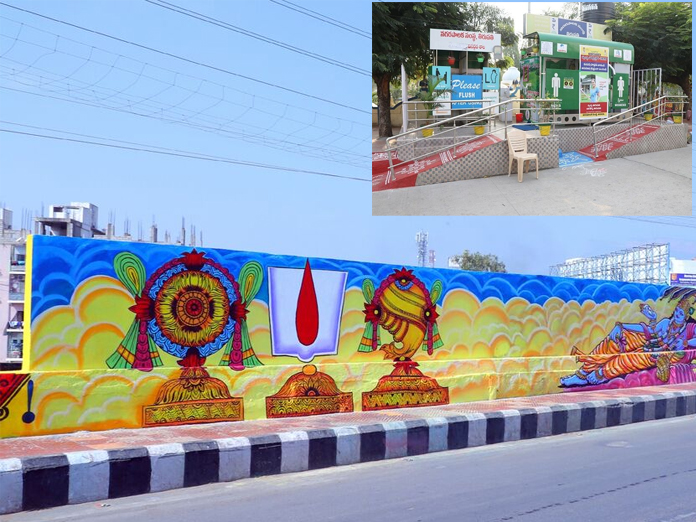 Highlights
Anyone visiting the pilgrim city will be in surprise with the city looking enormously better and nice despite a huge number of floating population of more than a lakh including pilgrims, students and others coming daily to the city for various purposes
Spruced up city looks enormously better and nice
Civic chief spearheading special cleanliness drive
Tirupati: Anyone visiting the pilgrim city will be in surprise with the city looking enormously better and nice despite a huge number of floating population of more than a lakh including pilgrims, students and others coming daily to the city for various purposes.
The streets, sidewalks are free of trash while no plastic or litter was seen stuck anywhere in the entire city and the pavements and building walls are free of graffiti and grim will naturally astonish anyone.
Even the open places like vacant sites, parks and other community facilities and even the railroad track spruced looking clean enhancing the tidiness of the city.
The civic authorities in a determined bid to get number one place in the nationwide 'Swachh Survekshan' took up a massive cleaning operation in the city covering all streets, roads, parks, playgrounds, schools, drains, vacant sites and railway tracks, ahead of the survey team arrival which is slated on Sunday.
The authorities did not stop with the health and sanitation works but went one step ahead by taking up the beautification of the city with enchanting wall paintings making the city look more pleasant.
The wide range of wall paintings include scenes and characters from Hindu mythology, panoramic view of holy Tirumala with namam and chakram to give a devotional touch to the pilgrim city and also message oriented on Swachh Bharath, greenery and cleanliness.
The authorities saw the building walls at railway station, bus stand and also the surrounding areas including the roads leading to TTD pilgrim amenities complex painted beautifully, greeting the pilgrims as soon as they land here after a long journey, soothing them.
It is needless to say that no passers-by more so the pilgrim did not miss to have a glance at the striking paintings of gods and sceneries turning the environment pleasant, while moving on with a look of appreciation on the city which hitherto appeared unclean with trash and litter, changed for better.
The wall paintings were taken up all over the city including on the walls of schools, colleges, parks and on the building on the arterial roads like Town Club to Alipiri, MR Palli road, Ramanuja Circle, women varsity etc.
Even the public toilets were not spared from the decoration and the public are in pleasant surprise while going in as with the colourful rangolis on the steps leading to the urinals.
Simultaneously, the health and sanitation staff also keeping a constant watch at all vulnerable places to check any public urination or defecation marring the cleanliness.
A health official said that the beautification of the areas that prone for public urination was to deter any one resorting to urination in public places.
Tirupati Municipal Corporation Commissioner V Vijay Rama Raju spearheading the special cleanliness drive in which about 830 health staff and also engineering, town planning and revenue personnel and
officials were involved.